The 4 Best At-Home Vitamin D Tests To Check Your Levels Of The Micronutrient
Contributing writer
By Jamey Powell
Contributing writer
Jamey Powell is a writer and editor living in Brooklyn, NY. Previously the senior market editor at Healthline.com, she has years of experience scouring endless product reviews and testing out the latest and greatest products in the sleep, fitness, and nutrition markets.

Expert review by
Ashley Jordan Ferira, Ph.D., RDN
mbg Vice President of Scientific Affairs
Ashley Jordan Ferira, Ph.D., RDN is Vice President of Scientific Affairs at mindbodygreen. She received her bachelor's degree in Biological Basis of Behavior from the University of Pennsylvania and Ph.D. in Foods and Nutrition from the University of Georgia.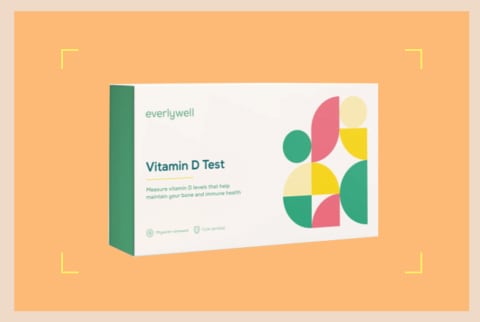 September 20, 2022
Our editors have independently chosen the products listed on this page. If you purchase something mentioned in this article, we may
earn a small commission
.
Vitamin D plays a crucial role in our immunity and the overall health of our bones, gut, and thyroid—but it's also one of the most common nutrient gaps in the world. While we can get vitamin D from certain foods, it's not enough to truly affect our levels of the "sunshine vitamin."
Instead, one of the main ways we get this beneficial vitamin is from—you guessed it—exposure to sunlight. However the length of time needed to get enough vitamin D differs by person (season, latitude, skin tone, etc.), and it may require partaking in unsafe skin practices to reach the optimal amount.
Considering how much of our time is spent sitting indoors at a desk or watching Netflix on the couch, it's no surprise that many people are still struggling to hit the recommended vitamin D intake levels of at least 3,000 IU per day (which is still on the low end).
If you're curious about your own vitamin D levels, you can ask your doctor for a lab biomarker for vitamin D status called the serum total 25-hydroxyvitamin D test, i.e., the 25(OH)D test, to shed some light on the situation. When an appointment with your health care professional isn't an option, an at-home vitamin D test is another way to test your vitamin D levels from the comfort of your home.
Below, learn everything you need to know about at-home vitamin D tests, as well as what counts as a vitamin D deficiency.
What is vitamin D?
Vitamin D1 is an essential fat-soluble vitamin that acts like a hormone in its active form. The micronutrient plays an important role in various bodily systems and functions, such as the musculoskeletal, immune, neurological, thyroid, endocrine, and cardiovascular systems.
Along with supporting thyroid health2, it also helps both the innate and adaptive immune systems by promoting white blood cell function3 and aiding the immune system in defending against threats4. It also plays a role in gut health, supporting beneficial gut bacteria and the gut mucosal lining.
Finally, vitamin D is key to healthy bones and strong muscles. It helps the body absorb calcium, which is essential for bones, and supports the body in maintaining a balance between calcium and phosphorus.
Needless to say, it's not something you want to be deficient in—and lack of the vitamin has been linked to bone, thyroid5, autoimmune6, and mood issues, to name just a few.
What counts as vitamin D deficiency?
It's estimated that 50% of people globally7 have insufficient levels of vitamin D, which are measured in nanograms per milliliter (ng/ml) clinically or sometimes referred to in nanomoles per liter (nmol/l) in research literature.
The Endocrine Society8 defines vitamin D deficiency as the level of 25-hydroxyvitamin (25(OH)D) of less than 20 ng/ml, and vitamin D insufficiency as a 25(OH)D result of less than 30 ng/ml. In other words, these are the baseline cutoffs for avoiding insufficiency and thus, numbers to avoid. Indeed, many health care experts and much scientific research push for levels closer to 50 ng/ml to support bone health, immunity, and whole-body health.
For example, the Endocrine Society recommends a preferred range of 40 to 60 ng/ml; founder and director of the Anti-Aging & Longevity Center of Philadelphia Seema Bonney, M.D., recommends an optimal range of 55 to 60 ng/ml given the importance of the micronutrient—and she's not the only one.
Board-certified endocrinologist Brittany Henderson, M.D., previously told mbg that the common 30 ng/ml baseline actually leaves clients underserved, and she personally recommends a higher level.
"As an endocrinologist, I know that achieving optimal serum 25(OH)D levels in the 50+ ng/ml range is imperative for immune health, bone health, and more," she explained. "Our population is heavily vitamin D deficient, and targeting an optimal level of 50 ng/ml has an enormous impact on all aspects of human health."
Here's your vitamin D levels status guide.
When testing your vitamin D levels, here is a simple and evidence-based guide for interpreting your 25(OH)D result:
Deficiency: ≤ 20 ng/ml
Insufficiency: > 20 ng/ml but ≤ 30 ng/ml
Sufficiency: > 30 ng/ml
Ideal: ≥ 50 ng/ml
Signs of a vitamin D deficiency.
Deficiency in vitamin D can stem from a number of factors, such as poor nutrient absorption, lack of sun exposure, or more serious conditions, like liver or kidney disease. Functional nutrition dietitian Whitney Crouch, RDN, CLT, once told mbg those most at risk of vitamin D deficiency include:
Anybody with limited sun exposure
People with dark skin tones, who may not be able to produce vitamin D from UV rays as easily due to melanin in their skin
Those with overweight or obesity, who may have increased vitamin D needs
Individuals with liver or kidney issues
People on low-fat diets or who struggle to properly absorb fat, as vitamin D is a fat-soluble vitamin
People who don't regularly take a vitamin D3 supplement
What are the symptoms of vitamin D deficiency?
Symptoms of vitamin D deficiency aren't always easily detectable because this micronutrient is so whole-body important. However, some symptoms (such as depression or bone loss) can be life-altering. You may want to take a deeper look at your vitamin D levels if you have any of the below symptoms or conditions:
Chronic fatigue
Depression (including seasonal affective disorder, or SAD)
Low calcium levels
An overactive parathyroid
Low bone density (osteopenia or osteoporosis in adults, rickets in children)
Bone pain
Musculoskeletal injury (e.g., bone fracture, muscle tear)
Muscle weakness
Frequent illness (i.e., lack of immune resilience)
If you think you're experiencing symptoms, the best course of action is to work with your health care provider to determine how to monitor your vitamin D levels and identify the root cause of your health concerns.
What is an at-home vitamin D test?
An at-home vitamin D test checks the level of the circulating form of vitamin D in your blood. This is your serum total 25-hydroxyvitamin D, or 25(OH)D9 level.
We receive vitamin D (vitamin D2 and vitamin D3) from foods, beverages, sun exposure, and certain supplements. That vitamin D is converted in our liver to 25(OH)D, the biomarker for vitamin D status in your body. You might also see this test referred to as the calcidiol 25-hydroxycholecalciferol test.
The other type of vitamin D in our bloodstream and acting inside our cells is 1,25-dihydroxyvitamin D, which is the biologically active, hormone-like form. This doubly hydroxylated form of the nutrient is created when 25(OH)D is further converted by our kidneys and targeted tissues for use in the body. This form, also known as calcitriol, isn't typically measured by tests (except in a kidney disease clinical setting) because it is tightly regulated and does not stay in the body as long as 25(OH)D.
How do vitamin D tests work?
Similar to tests run by your health care provider, at-home tests check the levels of your vitamin D status biomarker, 25(OH)D, using a blood sample. This requires pricking your finger with a lancet to either fill a vial of blood or collecting a sample on a collection card.
At-home vitamin D tests are typically shipped directly to your home and require you to mail back any samples within a required time frame for accuracy; some options with vial samples may ask for a same-day return to prevent the blood from clotting.
Sounds easy enough, right? As with any at-home tests, there are pros and cons to testing vitamin D at home versus in a lab or at a doctor's office.
The first advantage, of course, is ease. "One of the benefits of at-home testing is that you can take the test when it's convenient for you," explains Bonney. "Even if your doctor doesn't feel it's medically necessary to have this test done, with an at-home test you can still get the data to supplement as warranted."
However, it's important to feel supported in understanding your results, which will vary from company to company. "Like any other lab testing, you'll get a reference range, which doesn't tell you what optimal levels are," says Bonney. "These ranges are typically based on what most people are, not what they should be. Doing the test under the guidance of a physician who is focused on making sure you have the right amount of vitamin D is helpful to guide what your dosage of supplementation should be."
Another consideration is the margin for error. Leaving the test to a professional means you're not responsible for potential error (i.e., inherent variability) in your results. Some reviewers of at-home tests complain that they were unable to properly collect their sample—although typically companies are good about sending a replacement kit in these instances.
Are at-home vitamin D tests covered by insurance?
According to Bonney, for most people, vitamin D testing through a lab would be covered by insurance with the correct ICD-10 code(s) submitted by your health care partner. "But these at-home tests are not," she says. "And if your [at-home] levels are abnormal, this would warrant having them rechecked in a lab setting with proper phlebotomy" and an expert clinical opinion once the result comes in.
However, most of the at-home testing companies on this list do accept payment from a Flexible Spending Account (FSA) or Health Savings Account (HSA), if those are insurance benefits available to you.
How we picked.
Each of these blood tests checks your 25(OH)D using CLIA-regulated laboratories. The CLIA (Clinical Laboratory Improvement Amendments) is regulated by the Food and Drug Administration (FDA), Centers for Disease Control and Prevention (CDC), and Centers for Medicare & Medicaid Services (CMS).
We read hundreds of reviews (both positive and negative) from people who had tried these tests firsthand.
None of these companies make outlandish claims about what their tests can do.
As always, we tried to consider a wide range of price points to accommodate different budgets.
Our picks for the best at-home vitamin D tests of 2022:
Are at-home tests reliable?
According to our expert, yes. But Bonney warns that the main variable to watch out for is you.
"In general, [at-home] vitamin D tests may be as accurate as lab tests done by phlebotomy, but they do need to be performed correctly," she explains. "This means washing your hands with soap and water (as per the CDC) to remove residue like lotions that can affect the results. It's also vital that you produce a blood drop sufficient to fill the testing strip; otherwise, you'll have an insufficient sample."
Other possible variables include waiting too long before the blood sample is sent off and assayed for results, as well as testing method errors at the lab completing the assay, according to mindbodygreen's vice president of scientific affairs Ashley Jordan Ferira, Ph.D., RDN.
"At-home vitamin D tests are really at-home blood samples that are mailed off for vitamin D assay (testing) at certified labs using fancy equipment and analytical methods," she explains. "While no assay method is 100% free of error, the gold standard method for accurately testing your vitamin D status is called liquid chromatography-tandem mass spectrometry10 (LC-MS/MS)."
FAQ
Do you need a vitamin D test?

If you're concerned that you may have a vitamin D insufficiency or frank deficiency, or excess levels of vitamin D (insufficiency and deficiency are much more common), it's always wise to consult your doctor.
What is the difference between vitamin D and D3 test?

These are one and the same. That's because a serum total 25-hydroxyvitamin D test (i.e., what an at-home vitamin D test is measuring) quantifies both vitamin D3 and vitamin D2 quantities from all inputs: foods, beverages, sunshine, and supplements.
How accurate are vitamin D tests?

When used properly, at-home vitamin D tests can be as reliable as traditional lab tests, per Bonney. However, user error is always a variable when testing at home.
The takeaway.
From promoting strong bones and a healthy immune system to enhancing your sleep quality, vitamin D is a crucial nutrient that about half of the global population11 does not get enough of without proper vitamin D supplementation.
An at-home test can provide some insight into your biomarkers from the comfort of your own couch. Just be sure to choose a test that makes you feel supported and doesn't break the bank. And remember: If you're concerned about the results of your at-home test, it's best to speak with your health care provider.
Reset Your Gut
Sign up for our FREE doctor-approved gut health guide featuring shopping lists, recipes, and tips
Jamey Powell
Contributing writer
Jamey Powell is a writer and editor living in Brooklyn, NY. Previously the senior market editor at Healthline.com, she has years of experience scouring endless product reviews and testing out the latest and greatest products in the sleep, fitness, and nutrition markets. Her past gigs include copywriting for Daily Burn, teaching cycle classes at Swerve, and covering fitness for Greatist. She's obsessed with running, movies, and her dog, Bonnie.