69 Years of Love: My Grandparents' Tips for a Happy Marriage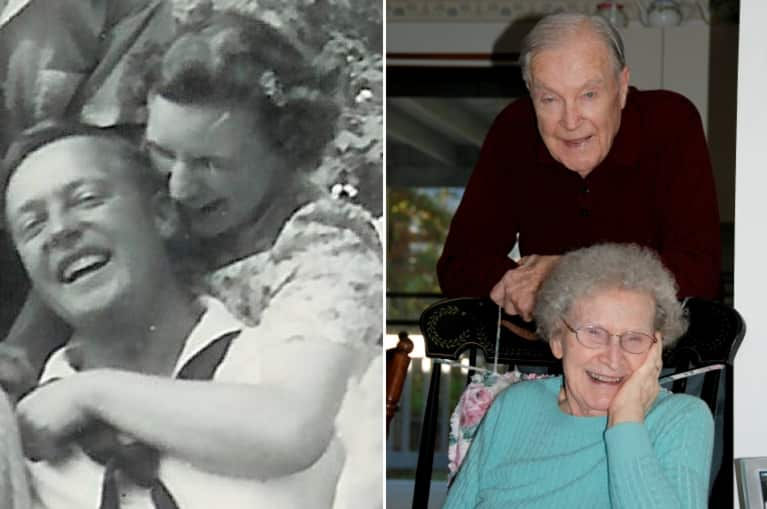 This past June, my grandparents celebrated their 69th wedding anniversary. They are both turning 93 this year, my grandpa celebrated his birthday on July 6th and my grandma will celebrate hers on November 19th.
They met over 70 years ago at Manchester Memorial Hospital in Connecticut. My grandpa was in the hospital for a minor surgery and my grandma was his nurse. He got her attention by tapping her butt in a flirty gesture that would never work now! "It was love at first sight," he said.
After he was released from the hospital he found out what time my grandma's shift was over. Every day he showed up in his car and asked her if she needed a ride home. Eventually she said yes, so every day he picked her up and drove her home.
They both joined the Navy during World War II. They couldn't date while enlisted in the military because my grandma was a higher rank than my grandpa. Never one to follow rules, my grandma would change her clothes on date night so no one would know she was in the navy!
When they married my grandma had to resign from the Navy because if you were a Navy nurse you couldn't be married to anyone in the Navy. The Navy then stationed my grandpa in Memphis, Tennessee where they moved and started their family.
Together they had six children, seven grandchildren and six great-grandchildren. Their entire house is full of pictures and memories of their life together.
I was lucky enough to be with them as they celebrated their 69th anniversary. They have always been such an inspiration to me, as I struggled with dating and finally finding my true love, I watched them in awe over the years as they held hands, smiled at each other and helped one another out. It is pretty amazing to watch two people be truly in love and genuinely respect and care for each other after 70 years.
On their 69th anniversary I sat down with them both to find out what their secrets of love and happiness are!
My Grandparent's Tips for A Happy Marriage!
1. Never Give Up!
When my grandpa first saw my grandma he instantly knew that he had to get to know her better. Anyone who knows my grandma knows just how spunky she is. My grandma is one of the most caring and loving people I have ever met, but you don't mess with my grandma. She has always been a strong, independent person who worked and had her own career plus raised a family who always knew her love. Together they never gave up on each other or their family. Sure, life gave them plenty of obstacles but they worked together in their relationship and never gave up.
2. Be A Good Husband, Be A Good Wife
"Nothing in life is perfect, but that's okay," my grandpa said. The most important thing to learn about life is that nothing is ever perfect. You have to learn how to go with the flow and adapt. If you are good to each other and everyone else around you, that is enough.
3. Enjoy Life 
My grandparents lived in many different places when they first got married. They loved to explore and once they retired they went on several bus tours all around the country and Canada. They always took the time to sample the different types of food and of course, dessert. "You need to enjoy life, eat sweets." (My grandpa never misses dessert!)
4. Take Care of Your Family 
My grandparent's always put their family first. Their parents lived close to them and every Sunday they had family meals together. When their parents got older they took care of them. "That is what families do, we take care of each other no matter what," my grandma said. They raised their children to be strong, independent and caring individuals. Together they showed them how to love and take care of each other and their families.
5. Keep Everything Simple 
"Keep everything simple, just don't make life to complicated," my grandpa said. The best piece of advice he ever received was when he was shopping for a new refrigerator. The sales guy told him to never to buy anything too complicated, if it breaks it will always cost more to repair. Just keep it simple! My grandpa said he used this philosophy in his own life, as long as you keep things simple the easier and happier life is.
6. Time Goes Fast 
Both of my grandparents agree that time goes by way too fast. "I can't believe we are turning 93 this year and celebrating our 69th wedding anniversary," they said. "Sometimes it feels just like yesterday that we met, got married and started our family. Never take anything for granted just enjoy everything and you will be happy", they said with a smile.