25 First Date Ideas That'll Actually Spark Connection & Romance

By Marj Ostani
mbg Contributor
Marj Ostani is a writer and artist producing feminist-centric works in BIPOC communities. Their works have been published in Next Shark, Bitch Media, Archer Magazine, Bobblehaus, The Scoop Asia, and more.
So you have finally decided to give dating another try after nearly two years of casually swiping left and right, virtual meetups, and the much-dreaded ghosting when the fire dies down. The early days of the pandemic limited ways we can truly connect with one another, but with the world quickly regaining a sense of normalcy, opportunities to date around town are plenty again.
If you're looking for a little first-date inspiration, here are a few first-date ideas perfect for sparking a connection that's meaningful and purposeful.
Advertisement
This ad is displayed using third party content and we do not control its accessibility features.
Prepping for a first date.
Getting ready for your first date can be quite daunting, especially if you're keen on making a lasting impression. The tendency for you to overthink this part is almost always a guarantee, but try to cut yourself some slack.
Focusing on yourself and the present–instead of what could go wrong–can help you gain a better sense of control over first-date anxiety, says sex and BDSM educator Kim Pham.
"Sometimes I find it's best to try and shake yourself from these cobwebs, and physical movement can be a great way to do this," she suggests. "Before every date, I crank up some tunes and dance to one or two songs while getting ready. This movement and joy really forces me 'back into my body' and gets me out of my head, which can be my biggest saboteur going into a first date."
Whatever it is you end up doing on the first date, one thing's for sure: It's not going to be perfect. And that's OK! However, you can do your best to create an experience that will really let your and your date's authentic personalities shine.
Advertisement
This ad is displayed using third party content and we do not control its accessibility features.
25 first date ideas: 
1.
Explore a new neighborhood.
Be tourists somewhere you've been meaning to visit. In addition to giving you both things to talk about and new things to experience, you just might discover new spots for your next date.
eHarmony.com
Find your match today with eHarmony. Free to join.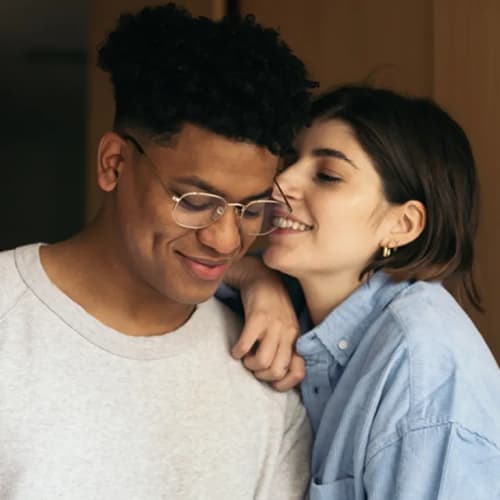 2.
Get tickets to a music festival.
Music is always a great conversation starter and can be a window to the soul. If your favorite band is playing, it's a great way to introduce them to your date, and vice versa.
Some libraries offer events and exhibitions that are great for sparking conversation if you're worried about awkward silences. You can also swap book recommendations and read together, exchanging thoughts when you feel like it.
Advertisement
This ad is displayed using third party content and we do not control its accessibility features.
4.
Take your pets on a playdate.
A good way to gauge how affectionate someone is is seeing how they interact with animals. You're also giving your fur baby a new friend, so that's a win-win situation right there.
Find out if you're destined to be together just for laughs. You might even discover something new to look forward to in each other's futures.
Advertisement
This ad is displayed using third party content and we do not control its accessibility features.
Challenge each other on who can get the best deal. Maybe even surprise your date with a unique gift from one of the stalls.
Dinner at a fancy restaurant is nice, but a picnic is more thoughtful because you get to be more hands-on. Picking a location that holds great memories for you can help fill in some possible dead air.
Advertisement
This ad is displayed using third party content and we do not control its accessibility features.
You can exchange visual inspirations beforehand and try them on the streets. This is also great for discovering new spots around the city.
If you really want to get adventurous, there's nothing quite like bonding over shared pain. Plus, exchanging ideas over which design to get can be a great activity before the date.
10.
‌Conquer an escape room.
Solving puzzles together gets the conversation flowing minus the awkward lulls. This is also a good opportunity to observe how your date deals with pressure, as escape rooms usually have a time limit.
For a creative spin on the classic coffee date, consider attending a coffee tasting or even a coffee-making course instead. You can discover new things about each other while learning a cool hobby.
12.
Attend a book reading.
Book readings can spark an interesting conversation between you that goes beyond the classic "Tell me about yourself." You and your date might even find a new author to fan over together.
Hiking is another great option if you're both feeling adventurous. Imagine reaching the peak together!
You can pick a scenic route and plan your stops beforehand. Check out cafés or cool spots along the way where you can offer to take each other's photos.
15.
Visit a botanical garden.
See what blooms between you while taking in a refreshing view. Some botanical gardens even have a café inside if you feel like continuing your conversation over coffee.
You can easily turn this into a picnic by bringing a blanket and some food items that'll go well with the fresh produce you're picking. If you're not feeling that, you can also suggest cooking for each other at home.
17.
Check out an art exhibition.
See if one of your favorite artists is doing a show, or try to discover new talent. Art can bring up lots of emotions, which creates space for your date to talk about themselves more organically.
Bonding over shared advocacies is an equally rewarding way to form a meaningful connection. You get to observe how your date functions within a community and values relationships.
19.
Go on a wellness retreat.
Making time together to do something good for your overall health can deepen your connection. Going on a meaningful journey like this together makes for a great memory.
20.
Visit a food festival.
Food transcends boundaries. Learn each other's preferences while refining your taste buds.
Shake off the first-date jitters while learning some new moves. If you're already a great dancer, this is your time to shine!
A classic for a reason, daytime mimosas and a lively atmosphere can inspire great conversation. Make it more fun by agreeing on a motif for your outfits.
Some good-natured competition can bring out your goofy side, which is perfect for breaking the ice. The winner can ask as many questions as they want.
24.
Take a trip down memory lane.
If this is someone you've known for a while, you can take each other to your favorite hangout spots from way back when and create new memories there together. It can be your regular café back in college or a shop you liked as a child.
25.
Visit the local drive-in.
See the latest flick without getting told off if you ever decide to talk in between scenes. You can bring your favorite snacks to share with each other.
Questions to ask. 
According to Pham, first dates are the perfect opportunity to dig in between the lines and move beyond the "Where are you from?" story. She recommends creating space for questions like:
What's something surprising that you learned about yourself recently?
Who are the most influential people in your life?
Who is your community?
When was your last relationship, and how did it go? (Getting your date to talk about their previous relationship can show you how they perceive relationships and take accountability.)
When was the last time you were giddily joyful and why?
What's your dream? (A vague question like this allows your date to interpret it however they wish and tell you a lot about themselves.)
Other questions can be about your surroundings:
This place has great interior design! What do you imagine your dream space looking like?
How long do you think that couple over there has been together?
That place across the street looks interesting! Do you want to check it out?
If you're going to make a playlist about this day, what would you call it?
Tips to keep in mind:
1.
Cut yourself some slack.
If you haven't been on a date in a while, "getting back out there" can feel difficult, notes Allison Raskin, mental health advocate and host of the Just Between Us podcast. That's especially true given the way the pandemic has affected dating. "There will be an adjustment period, and instead of judging yourself for that, offer yourself some much-needed compassion," she says.
You're likely not the same person you were before the pandemic, so it'd make sense if dating feels like a different experience for you. Accepting that is the first step to having the right headspace before your date.
Raskin suggests going for first-date activities that you would genuinely enjoy, regardless of company. "Leading with things that actually interest you will help you show up more authentically as yourself on the date, which will hopefully help the other person feel more comfortable to do the same," she notes.
3.
Reframe your mindset on what a "successful date" looks like.
"Dating is not about trying to get someone to like you," says Pham. "It's about being your true and authentic self and trying to find someone compatible."
Letting go of expectations on what the perfect date looks like can help relieve some of the pressure and give way to a more relaxed and enjoyable time.
The bottom line. 

Marj Ostani
Marj Ostani is a self-developing artist and storyteller producing feminist-centric works in BIPOC communities. They have a bachelor's degree in film from the Colegio de San Juan de Letran in Manilla, Philippines, and their works have been published in Next Shark, Bitch Media, Archer Magazine, Bobblehaus, The Scoop Asia, and more. Marj Ostani Studio is on a mission to build a community of artists centering women, queer, and non-binary stories through conscious creative expression.