The Tantric Principles Of Conscious Lovemaking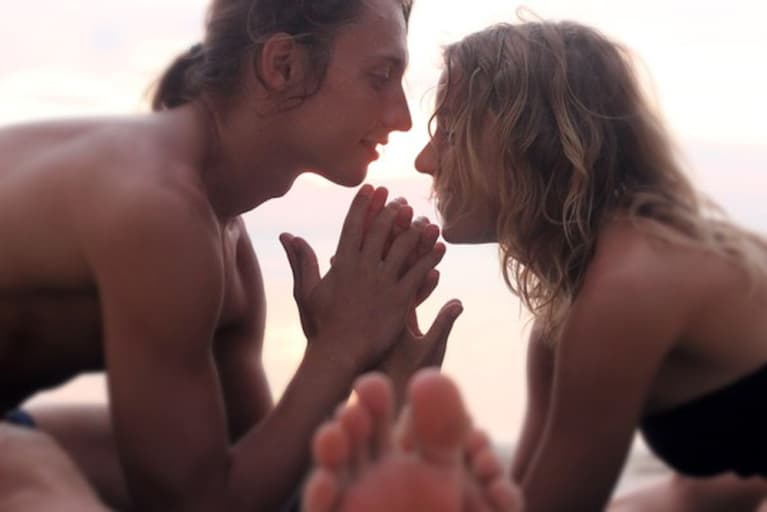 The distinction between sex and conscious lovemaking is that the latter goes beyond the physical. You are penetrating each other's hearts and souls, not just finding short-lived pleasure in friction and routine.
A conscious lover tunes into their beloved. They notice their beloved's movements, the flush of their skin, their breath and heart rate, the tremors or moans. They tune into the energy of their beloved and respond with passion and love.
While you may have a healthy curiosity, a desire to experiment, learning and practicing conscious sex is like opening your eyes for the first time. You won't be able to close them or forget what you have seen (or felt or tasted) ever again. This is the power of tantric sex—of conscious sex. This is the power of making love by embodying love.
Open your eyes with these four steps.
Candles, music, incense, romantic lighting, champagne, ice cubes, strawberries, a blindfold, mirrors, temperature control—consider all of these elements. Use your imagination. It can be as simple as one candle by your bed or as comprehensive as transforming your space into a sacred temple of love worship.
2. Gaze into each other's eyes.
Eyes are the windows to the soul and the spark of intimacy and passion. Face each other in kneeling positions or stand naked across the room from each other. Look deeply into the eyes of your beloved. Gaze into their right eye. In them you will see yourself. You will see love, oneness, unity, Divinity. What else can you see? What do you feel? Where in your body do you feel it?
(It's OK if you laugh, or if it feels awkward at first.) Push through this resistance. It's the only way forward into authentic vulnerability—of being truly seen as all that you are—beyond your body.
3. Practice sensual touch.
Where on your body (and on your partner's body) do you love to touch and be touched, explore and be explored, kiss and be kissed, massage and be massaged? Take turns exploring each other's bodies like this.
Start with areas other than the genitals, or even the breasts. Make your partner hungry, wet, hard, desirous, excited, turned on, desperate for more before you go near those sacred places.
4. Worship each other's bodies.
This is the time to slow-dance your way around the body temple. Yes, slow it down. Once you start exploring the erogenous zones—yoni, lingam, breasts—take your time. This should be a dance: enticing erotica. Foreplay is part of the art of lovemaking. It is being present in the heat of the moment—in the HEART of the moment. Then the experience of worshipping your beloved for all they are will unfold before you both and the dance of making love can play out.
You are on a sacred journey. Enjoy it. Be playful. Be loving together.