This Supplement I Trust To Bolster My Overall Mood, Longevity & More*

mbg Supplement Editor
By Morgan Chamberlain
mbg Supplement Editor
Morgan Chamberlain is a supplement editor at mindbodygreen. She graduated from Syracuse University with a Bachelor of Science degree in magazine journalism and a minor in nutrition.

Expert review by
Ashley Jordan Ferira, Ph.D., RDN
mbg Vice President of Scientific Affairs
Ashley Jordan Ferira, Ph.D., RDN is Vice President of Scientific Affairs at mindbodygreen. She received her bachelor's degree in Biological Basis of Behavior from the University of Pennsylvania and Ph.D. in Foods and Nutrition from the University of Georgia.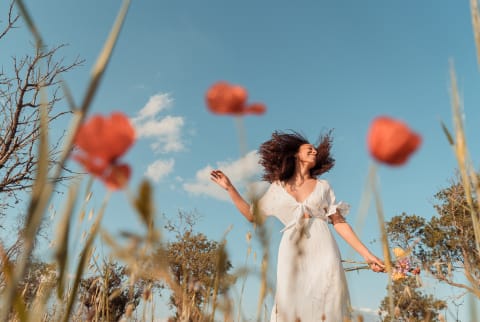 Image by Lucas Ottone / Stocksy
March 30, 2022
I love everything about food. Growing, cooking, eating—you name it, I'm fascinated by it and want to learn (and taste!) more. Even though my job revolves around health and nutrition, I still struggle to get in all of the nutrients I need every single day.
I like to eat intuitively whenever possible. That means I try to honor my cravings when they come up because I trust there's a reason my body is desiring a certain food (whether emotional, nutritional, or otherwise). Sometimes I want to snack on fresh fruits and veggies; other times I crave the grounding warmth of homemade soup or roasted root vegetables—it all depends on the weather, season, my stress levels, mood, menstrual cycle, and more.
Making sure my daily micronutrient needs are covered.
Because my cravings change on a daily basis, planning my meals on nutrition needs alone can feel a little like math homework (i.e., time-consuming and boring). I love my diverse diet too much to restrict my food choices by macro- or micronutrient content alone. And yet, I want to make sure I'm not missing out on key nutrients. Enter: mindbodygreen's ultimate multivitamin+.
With a truly comprehensive multi like mbg's, I don't have to worry about packing every single essential vitamin and mineral into my daily meals. Unlike other multivitamins that include notoriously low doses of essential nutrients (aka "fairy dusting") or forget crucial minerals altogether, I know all of the 33 ingredients in this high-potency multi are in their most bioavailable form, so I'm giving my body exactly what it needs.*
Cognitive function & mood support.
Beyond my basic nutritional needs, I find that my emotional health and mental clarity can feel a little "off" when I'm not getting enough B vitamins.* I started taking a stress B complex when I graduated college (because, you know—adulting), and I can't express how much high-potency doses of B's help to promote my overall mood and mental well-being.*
Thanks to a full array of bioactive B vitamins, mbg's multi helps support my energy, mood, and mental clarity needs.* Plus, a complete B complex with all eight B vitamins in their active forms is super rare to find in the multivitamin world! With a built-in B complex, mindbodygreen's ultimate multivitamin+ packs two of my major supplement requirements into one. Win-win!
Antioxidant activity & longevity.
The ultimate multivitamin+ features six incredible bioactives (including five key phytonutrients) that promote cellular resilience and integrity: the "master antioxidant" glutathione, cardio- and neuroprotective resveratrol, piperine from black pepper (an antioxidant in its own right and also added to aid the bioavailability of resveratrol), free-radical-scavenging lycopene, and potent carotenoids lutein and zeaxanthin.* These buddy botanicals support an already impressive lineup of micronutrients to bolster cellular health and whole-body well-being.*
The bottom line.
Life keeps me busy, and I need a multivitamin that can keep up nutritionally. With 14 vitamins (including eight fully activated B vitamins) and 13 incredible minerals at efficacious doses, plus six bonus botanicals for longevity support, mindbodygreen's ultimate multivitamin+ exceeds all of my multi expectations.* I know that taking this supplement daily will help support my emotional, mental, and overall whole-body health—today and for years to come.*
If you are pregnant, breastfeeding, or taking medications, consult with your doctor before starting a supplement routine. It is always optimal to consult with a health care provider when considering what supplements are right for you.

Morgan Chamberlain
mbg Supplement Editor
Morgan Chamberlain is a supplement editor at mindbodygreen. She graduated from Syracuse University with a Bachelor of Science degree in magazine journalism and a minor in nutrition. Chamberlain believes in taking small steps to improve your well-being—whether that means eating more plant-based foods, checking in with a therapist weekly, or spending quality time with your closest friends. When she isn't typing away furiously at her keyboard, you can find her cooking in the kitchen, hanging outside, or doing a vinyasa flow.