6 Healthier BBQ Side Dishes That Are Essential This Fourth Of July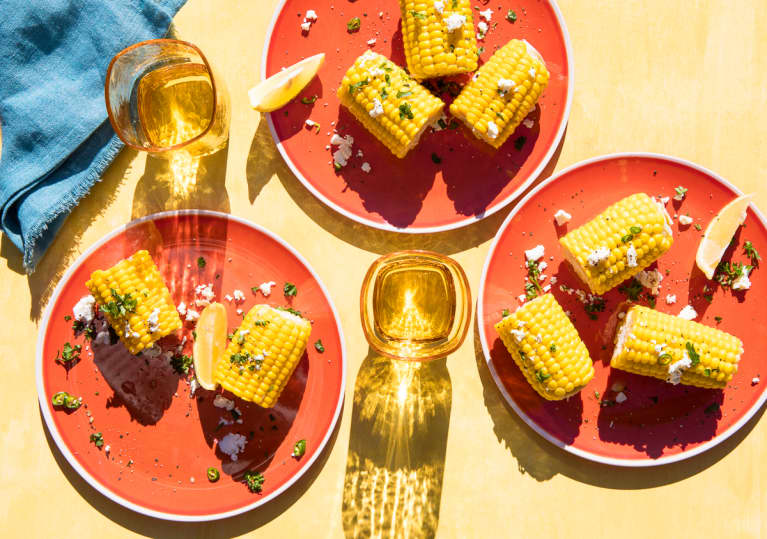 Fourth of July celebrations may look a little different this year, but one thing that will likely be the same is the family barbecues.
And while your grilled meal may start with black bean burgers or healthy hot dogs, the sides that go with your proteins are just as important to making the barbecue.
The very best grilled corn.
The sweetheart of the vegetable stand, fresh corn on the cob simply sings of summer. But just as important as buying a good local crop is making sure you cook it to showcase its best characteristics.
The perennial question when it comes to grilling corn on the cob—to husk or not to husk?—really just comes down to personal preference, but this careful guide will make sure you get the best from your corn.
And some other grilled veggies, too.
Why stop with the corn? Plenty of other veggies—and even some fruits—are great once grilled. If you're looking for an inspired take on grilled eggplant (or something plant-based to stand in as a main), try this simple grilled eggplant with cashew cream.
If shopping with the seasons is your aim, this combination of grilled asparagus with ramps and spring onions will be certain to please. For something a bit less conventional, you can try tossing romaine on the grill before tossing it into a caesar-ish salad.
An actually amazing coleslaw.
Another classic side at a barbecue spread, coleslaw is often made with a simple mix of cabbage and carrots and...not much else. But there's no reason not to add a whole bunch of other shredded veggies to the mix.
One perfect addition? Beets, like in this recipe. At their best when in season from June to October, these colorful root veggies will make this dish a beautiful site on your buffet table or an impressive offering to bring along to a potluck party.
Another good option? This slaw, with a blend of kohlrabi, zucchini, and peas—unexpected, but oh so delicious with the simple dressing.
A classic dip and vegetable platter.
An essential on any party table? A good crudités, which is of course anchored by a good dip. Ranch dressing is a classic option, but the bottled types aren't exactly a healthy pick. Conveniently, it's not that complicated to make your own, vegan-friendly ranch dip. Another popular option? A homemade hummus, with whatever flavor mix-ins you like.
Once you've sorted that out, don't limit yourself to carrots, broccoli, and celery sticks. Cauliflower, radishes, heirloom cherry tomatoes, and snap peas are some suggestions, and even if you do choose to use carrots, try using a multicolored variety.
A salad that isn't boring.
In certain settings, a leafy green salad is a good option—a crowd-pleaser. But when you're cooking and eating outside in the summer sun, those lovely leaves have a habit of wilting. Luckily, there are plenty of salads that opt to neglect the leaves in favor of slightly heartier, but equally refreshing, veggies.
For a burst of superfoods, try this Broccoli & Goji Berry Salad with a tahini dressing. For something a bit more indulgent, try this Vegan Greek Salad (which is made with cucumber in place of the lettuce).
Cocktails and mocktails that fit the occasion.
Whether in the form of an appropriately colorful cocktail or simply your standard drink of choice, drinks are as much a part of the necessary sides at a barbecue as anything else.
Looking for something new to try? These three simple cocktails are perfect for when you're missing a professionally mixed drink. Feeling like keeping things simple? Crack open a (keto-friendly) white claw.
Whatever you're cooking up for the Fourth, this year it's also important to be mindful of how you're gathering: Wear a mask when appropriate, and wash your hands, frequently.