Are Homemade Masks Effective Against COVID-19? Doctors Weigh In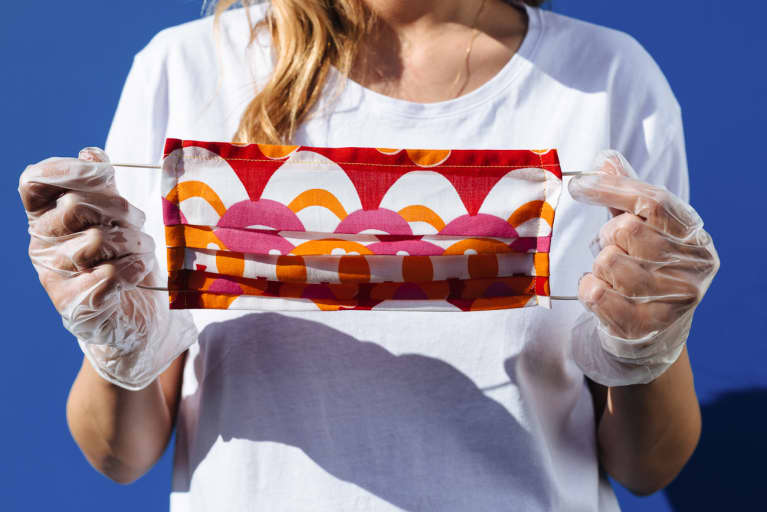 Our editors have independently chosen the products listed on this page. If you purchase something mentioned in this article, we may
earn a small commission
.
Since this article was published, the CDC has made the recommendation that the public should wear a
cloth mask in public
.
As hospitals in the U.S. reach surge capacity due to COVID-19, personal protective equipment (PPE) is becoming limited. In many cases, doctors and nurses are re-wearing what should be single-use surgical face masks, and in extreme cases, not wearing them at all. With this immediate need for PPE, many people are considering making homemade face masks—but how effective are they, and who should be wearing them?
The Centers for Disease Control and Prevention (CDC) released a list of strategies to help optimize face mask supplies. According to that statement, homemade masks (like bandanas and scarves), should only be used as "a last resort."
The efficacy of homemade masks.
"Homemade masks are not considered PPE since their capability to protect health care personnel (HCP) is unknown," the CDC wrote. "Caution should be exercised when considering this option."
That being said, if you have the virus or are directly treating someone who has it, homemade masks and scarves might be a better option than zero protection.
"Homemade masks or scarves are good at catching your respiratory droplets if you are sick," said integrative medicine doctor Amy Shah, M.D. "It's not necessarily a great protection if you're not sick, though."
Along with a homemade mask, the CDC recommends wearing a face shield. Ideally the shield would cover the whole face, including both sides and extending beyond the chin.
So who should be wearing the masks? 
Unless you're sick, the CDC said, "Face masks may be in short supply and they should be saved for caregivers." However, since research suggests many infected people might be asymptomatic or only have mild symptoms, it can be difficult to know who is sick and who is healthy.
Because of that challenge, White House coronavirus correspondent Deborah Birx, M.D., said, "the task force is still discussing whether to change the recommendation on masks."
Regardless of the guidelines, Shah said, "We need to make sure our health care workers have masks first."
If you are making and using a cloth mask, Bindiya Gandhi, M.D., said to "wash it regularly with soap and hot water and continue washing your hands regularly." You should also avoid readjusting the mask then touching other parts of your body to prevent cross-contamination of a virus.
"We release droplets while talking, singing, and shouting—it doesn't have to be sneezing and coughing," Shah said. Staying inside and away from others is one of the most effective ways to prevent that. So whether you have a mask or not, continue to practice social distancing.