Looking For A Creamy Dairy-Free Salad? Try This Take On A Greek Salad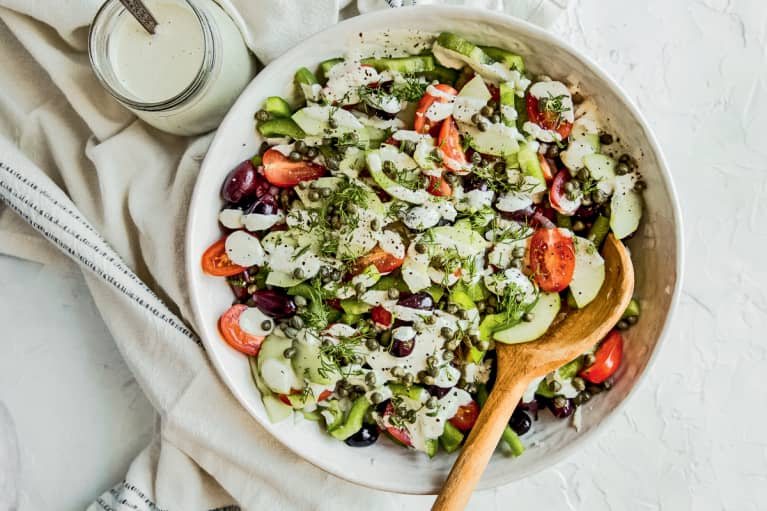 Our editors have independently chosen the products listed on this page. If you purchase something mentioned in this article, we may
earn a small commission
.
Salads are the perfect side for summer, but even the best green salads sometimes fall flat—or worse, wilt. This vegan and paleo-friendly Greek salad avoids that by swapping lettuce leaves for a collection of fresh vegetables.
While it's mostly made up of cucumbers, their refreshing flavor is accented by sweet notes from cherry tomatoes and a bit of salt from capers and olives. The dressing, a cashew-based take on tzatziki, adds to the light freshness while still lending a satisfying creamy texture.
The recipe, from the new cookbook Clean Paleo Real Life, is simple and can even be made ahead (having a bit of time to sit actually makes the dressing better), making it the perfect salad to bring to a summer potluck.
Greek Salad With Cashew Tzatziki
1½ cups raw cashews
1 cup filtered water
2 tablespoons fresh lemon juice
5 cloves garlic
1 tablespoon distilled white vinegar
¾ teaspoon kosher salt, plus more to taste
1½ cups grated English cucumber (about 1 large cucumber)
2 heaping tablespoons fresh dill, chopped, plus more for serving (optional)
Black pepper, to taste
6 Persian cucumbers, halved, seeded, and sliced
1½ cups (225 g) cherry tomatoes, halved
2 green bell peppers, diced
1 white onion, thinly sliced
1 cup (150 g) pitted kalamata olives
2½ tablespoons (25 g) capers, drained, plus more for serving (optional)
2 tablespoons (8 g) dried oregano
Kosher salt, to taste
Black pepper, to taste
To make the dressing, add the cashews to a bowl and cover with boiling water. Let sit, uncovered, for 1½ hours. Drain thoroughly and rinse well with cold water. Set aside.
In the pitcher of a high-speed blender, add the water, lemon juice, garlic, vinegar, salt, and cashews. Blend on high speed, scraping down the sides as necessary. You want it to be thick and creamy throughout.
Add the cucumber and blend until completely incorporated.
Transfer to a bowl and stir in the dill and pepper. Taste and adjust for salt and pepper. Refrigerate to allow it to thicken.
When you're ready to make the salad, toss together the cucumbers, tomatoes, bell peppers, onion, olives, capers, and oregano in a large bowl. Sprinkle with a large pinch of salt and black pepper.
Add your desired amount of tzatziki dressing, tossing to combine.
You will most likely have plenty of dressing left over, which you can store in an airtight container in the refrigerator for up to 5 days.
Serve right away, garnished with extra capers and fresh dill, if desired.