Close Banner
Advertisement
This ad is displayed using third party content and we do not control its accessibility features.
A Full Guide To Type 2C Hair: Tips & Product Recs
Assistant Beauty & Health Editor
By Hannah Frye
Assistant Beauty & Health Editor
Hannah Frye is the Assistant Beauty Editor at mindbodygreen. She has a B.S. in journalism and a minor in women's, gender, and queer studies from California Polytechnic State University, San Luis Obispo. Hannah has written across lifestyle sections including health, wellness, sustainability, personal development, and more.
We carefully vet all products and services featured on mindbodygreen using our
commerce guidelines.
Our selections are never influenced by the commissions earned from our links.
There's been a recent uptick in customized hair treatment routines—you know, where you take a quiz and receive a shampoo and conditioner based on your responses? These formulas may seem hyper-customized, but more often than not they're simply playing to your hair type—from straight to wavy and curly. But hair type is more complex than it seems.
If you've got type 2c waves, you already know hair care is never one size fits all. You might find yourself jumping back and forth between curly hair products and those designed for wavier locks—as finding your place in the vast world of hair care as a 2c can be quite daunting. Luckily, you've come to the right place—here's everything you need to know about 2c hair, from experts.
What is type 2c hair?
Before we jump into how to tend to type 2c hair, let us first explain what hair types are. On a scale, you have a total of 12 hair types. The three overarching categories are straight, wavy, curly, and kinky—also known as types 1, 2, 3, and 4. (For more information, check out our guides to type 2, type 3, and type 4.)
Within those categories, you have micro types known as A, B, and C. These letters dictate how much shape your hair has within your designated base type. Type 2a hair, for example, will have more waves than straight hair types but less shape than type 2b hair.
As the last stop in the wavy hair category, we have type 2c. "Type 2c hair is that beautiful balance between wavy and curly hair," stylist and colorist Cassandra Olivia tells mbg. Think of it like the cusp of wavy hair, almost entering the curly category but not quite.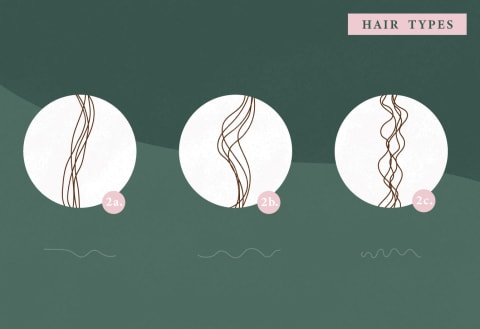 Image by mindbodygreen creative
What does type 2c hair look like?
This hair type comes with big waves, but they never quite form into an S curl—at least not consistently. "Even though 2c hair doesn't fall into the 'curly' category on the hair type chart, it can be treated similarly to 3a hair, which is hair that has a loose, true curl," Olivia explains.
"Type 2c hair has a strong wave pattern, and depending on the density of the hair, can look anywhere from light waves to beachy waves, to near-true curls," Olivia says.
If you have fine and thin 2c hair, then you may see waves starting 1 to 2 inches from the root, while the hair right at the follicle will appear straight. Thick 2c hair, on the other hand, may have more lift at the root given that there's more hair on your head, Olivia explains.
When categorizing your hair type as 2c, you might find it difficult as sporadic S-shaped curls can certainly appear in your mane. You'll want to gauge your head as a whole, taking into account the general wave shape. In fact, those random curls may be a dead giveaway of 2c hair—as it's playing the field between wavy and curly.
Hair care tips for type 2c.
"Treat 2c hair like it's curly and choose curl-friendly products," Olivia says. See, extra-wavy hair like that of 2c needs enough moisture to hold its shape, without weighing it down (just like curls). To follow, a few must-know hair tips for 2c strands:
If you walk away with one tip—it should be this: Don't overwash your hair. "2c hair types should follow the recommendations of their curly hair counterparts here—only wash your hair as needed, most likely two to three times per week max," Olivia says.
"Overwashing strips hair of the much-needed natural moisture that forms the 2c waves and gives hair its beautiful look," she explains. When the hair is too dry, it's more difficult to hold a consistent wave pattern.
So, if your hair feels greasy but you just washed it, try going for a water rinse and following up with a bit of conditioner on the ends. This will help refresh your strands without stealing the natural oils.
2.
Use a wide-toothed comb.
Olivia recommends skipping the fine-toothed combs and brushes for 2c hair types. "Similar to curly hair, detangle in the shower with a wide-tooth comb or with your fingers and conditioner," she says.
If you brush your hair after the shower, you'll deflate the waves and might even trigger some frizz.
3.
Keep a curl cream on hand.
To tame any potential frizz and further define your waves, opt for a curl cream. "Apply the cream starting from the bottom of your hair and work it up toward the root," Olivia recommends. Stay away from crunchy mousses, and look for creamy or milky formulas instead—our A+ pick below.
If you have type 2c hair, you'll want to dry your hair carefully and intentionally, Olivia says. The best method? A good hair plop—here's how:
Flip your hair in the shower: "While in the shower, flip your head upside down and scrunch your hair to get as much water out as possible," Olivia says.
Scrunch: Next, "Scrunch hair when out of the shower with a microfiber towel or old T-shirt to dry further (a terry-cloth towel is too irritating and can disrupt the wave pattern)," she explains.
Optional wrap: Lastly, wrap your hair if you have time. "You can either let hair dry naturally after applying styling products, or if you have the time, wrap the hair up to lift the root further from the top of your head. Wrap it up in a silk bonnet or old T-shirt to remove excess moisture and help the waves form," she says.
"If you prefer to dry hair with a blow dryer, use a heat protectant to help protect the integrity of the hair and use a diffuser," she says. Diffusers will be key to holding the shape of your waves, and even enhancing them—here's a quick how-to if you've never used one.
As mentioned before, sporadic gentle S-strands can certainly be found in type 2c hair. If you prefer the look of the wavier parts of your hair, then diffusing will help you regulate the wave pattern and hold on to bounce.
6.
Take the weather into account.
"In the winter, the air has less humidity; your hair is drier; take a look at your routine and modify what you do in the summer versus the winter," stylist and Matrix Global artistic director Michelle O'Connor tells mbg.
If you want to wear your hair wavy (read: not blown out and heat-styled every day), complementing your shape starts with a good cut. How your hair is trimmed, from layers to bangs and more, changes drastically if you're going for a wavy style.
When you go in to see the stylist, come with your hair in its natural state, and request they cut it to complement that shape and texture. If you can find a stylist that specializes in wavy or curly strands, that's even better.
8.
Keep your hair freshly trimmed.
Best products for type 2c hair.
You're probably wondering by now which products you should add to your collection. To help you out, we picked the best five steps to get you started, so get ready to shop.
Best leave-in
Act+Acre
Cold Processed Leave-In Conditioner
$48
When it comes to leave-in products for wavy hair, you'll want something lightweight like this formula. The blend is packed with squalane, protein, and meadowfoam seed oil—a cocktail that will help revive dry, damaged strands. For fine hair types, 1 pump will do. For medium to course hair, kick it up to 3 or 4 pumps to ensure your locks are deeply nourished.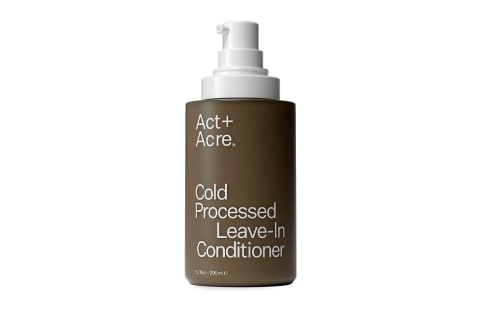 Best curl cream
Leaf + Flower
CBD Instant Curl Defining Cream
$34
As Olivia said, curl cream is essential for 2c waves to thrive. This CBD-rich formula is her pick: "It's a curl-defining cream that boosts hydration, minimizes frizz and leaves hair feeling soft (never crunchy) with flexible control for waves. It will give type 2c hair more defined waves," she says.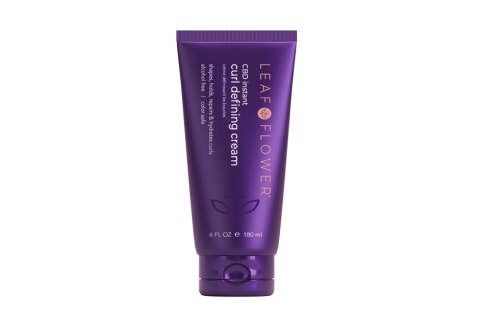 Best hair mask
Davines
Love Curl Mask
$38
You'll want a hair mask on hand if you have 2c hair—especially if you're already prone to dryness or seasonal changes. Whenever your hair feels thirsty, your waves are lacking bounce, or your shape is particularly inconsistent, reach for this curl-friendly hair mask. The formula consists of nourishing plant butters, rice extract, sweet almond oil, and other nutrient-dense standouts. Trust, your hair will thank you after just one use.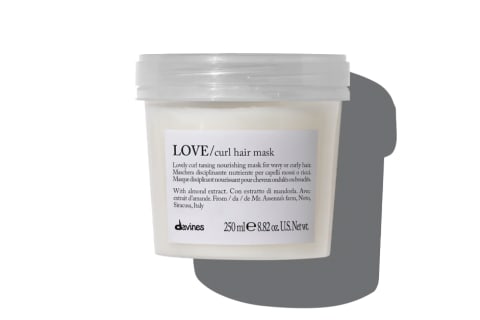 The takeaway. 
The 2c hair type is a beautiful matrimony between curly and wavy hair. While it may not technically fall into the "curly" category, caring for it like you would for curls is a must. Remember not to overwash your hair, use a nourishing curl cream, and ask your stylist for a cut that complements your wave. Not sure if you're more of a wavy or curly hair type? This guide will help you know for sure. Then you can check out our favorite products for curly hair.
Hannah Frye
Assistant Beauty & Health Editor
Hannah Frye is the Assistant Beauty & Health Editor at mindbodygreen. She has a B.S. in journalism and a minor in women's, gender, and queer studies from California Polytechnic State University, San Luis Obispo. Hannah has written across lifestyle sections including skin care, women's health, mental health, sustainability, social media trends, and more. She previously interned for Almost 30, a top-rated health and wellness podcast. In her current role, Hannah reports on the latest beauty trends and innovations, women's health research, brain health news, and plenty more.