Close Banner
Advertisement
This ad is displayed using third party content and we do not control its accessibility features.
The 11 Best Diffusers For Shiny, Frizz-Free Curls
mbg Beauty Director
By Alexandra Engler
mbg Beauty Director
Alexandra Engler is the beauty director at mindbodygreen and host of the beauty podcast Clean Beauty School. Previously, she's held beauty roles at Harper's Bazaar, Marie Claire, SELF, and Cosmopolitan; her byline has appeared in Esquire, Sports Illustrated, and Allure.com.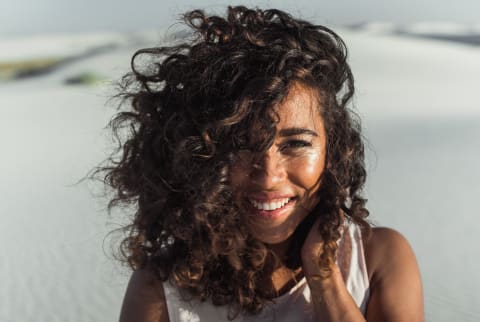 Image by Aaron Thomas / Stocksy
We carefully vet all products and services featured on mindbodygreen using our
commerce guidelines.
Our selections are never influenced by the commissions earned from our links.
Here's what all curly-haired folks know to be true: To get your springs just right, you need the right technique, products, healthy habits, and—yes—tools.
For many, diffusers rank at the top of the list of must-have-on-hand-at-all-time items. I
f you don't know, or are just now embracing your waves and curls, here's a primer on the hot tool addition: A diffuser is a blow dryer attachment (that comes in all shapes and sizes) that literally diffuses the airflow.
According to celebrity hairstylist Nate Rosenkranz, "A diffuser slows and distributes the airflow coming from within the dryer," he says. "It works to gently dry the hair without disrupting the curl pattern, which is typically highly susceptible to frizz."
What's great about the tool is it doesn't affect how much air is coming out, just how that air is directed.
Anyone with a wave or curl pattern can use them, but they are particularly useful for those with curls, kinks, and coils.
And if your strands fall in this broad hair type range—and you choose to use a hot tool instead of air drying—diffusers are a total necessity.
So right about now, you may be wondering which diffusers are the best? Well, take it from this beauty editor with a head full of curls and waves, these are the best for any price range.
Harry Josh Pro Tools 200 Diffuser
Harry Josh is a beauty editor cult-favorite professional-grade brand, made by the very cool celebrity hairstylist of the same name. (You may recognize their classic blow dryer's mint green hue and high-powered efficacy.) This attachment has a unique finger extension design that enhances styling control as you use it, so it's more comfortable to hold. And for those of us with strands that take forever to dry, that's a godsend.
Pro Tools 200 Diffuser, Harry Josh ($30)
Harry Josh
Dyson Supersonic Hair Dryer
Here's what I'll say about the famous Dyson blow dryer: It's expensive, but oh man is it worth it if your budget allows for it. The tool comes with a variety of attachments, including their diffuser. It's the option I personally use, and it's been a game-changer for my dry-down time, texture, and overall hair health. I don't often admit to this, but it's worth the hype.
Supersonic Hair Dryer, Dyson ($399)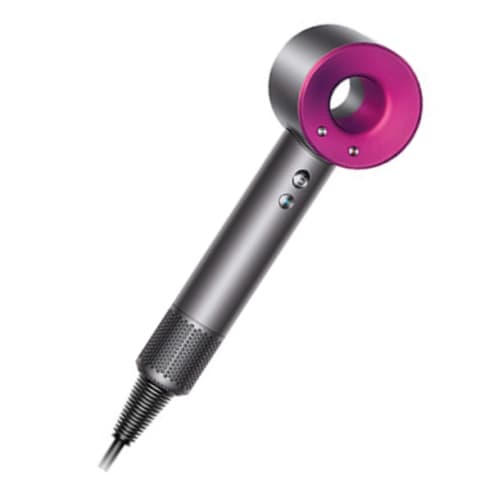 Dyson
DevaCurl DevaFuser Universal Diffuser
A classic curly-hair option, DevaCurl's unique diffuser is quite innovative on several levels. First up, the shape: The innovative 360-degree airflow surrounds curls for speedier drying time. The ceramic inner core helps preserve moisture to reduce frizz and enhance shine. A triumph for waves, springs, and coils everywhere.
DevaFuser Universal Diffuser, DevaCurl ($50)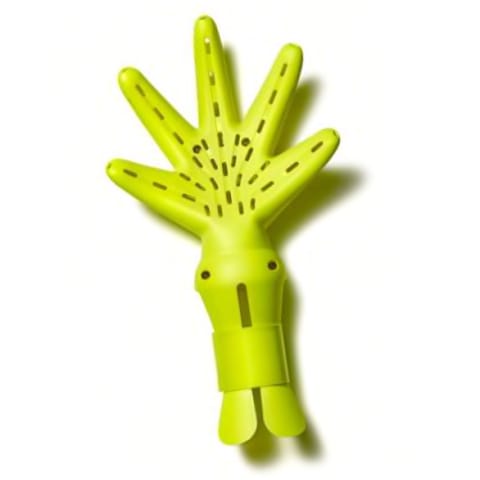 DevaCurl
DryBar The Bouncer Diffuser
Considering DryBar's entire brand is about washing and drying hair so it's expertly styled and coiffed, you'd probably assume they make a pretty decent hot tool. And, well, you'd be right! The holes in the spikes allow the airflow to get right to the scalp, which can boost the volume, making this perfect for those with flat roots. This attachment is technically made for their ButterCup blow dryer, but it will fit over most standard options.
The Bouncer Diffuser, DryBar ($34)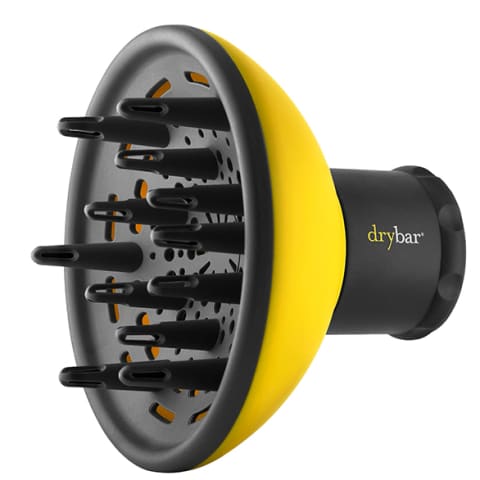 DryBar
Bio Ionic Universal Diffuser
If you're in the market for healthier-for-your-strands hot tools, Bio Ionic makes some pretty high-tech options. Their options are created with a trademark moisturizing heat innovation that fuses moisture into the strands as it dries. How? Well, without getting too complicated, it blasts ionic technology and natural volcanic minerals into the hair. The result is seriously shiny strands.
Universal Diffuser, Bio Ionic ($30)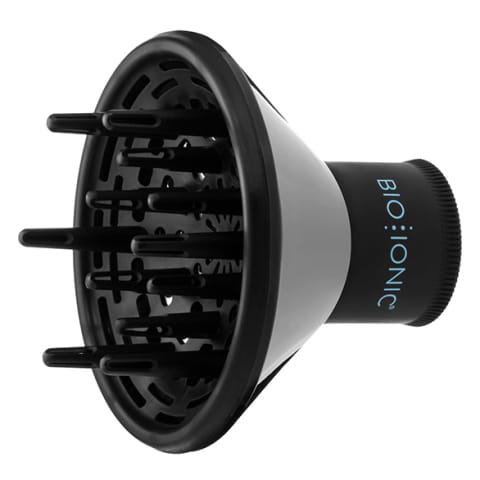 Bio Ionic
Karii Universal Hair Diffuser
Fun fact about diffusers: The more holes the better efficacy and softer curls you'll get. This one is spotted with them, making it a great option for old-school va-va-va-volume. The tool is a little bulky but fits over most nozzle sizes.
Universal Hair Diffuser, Karii ($14.49)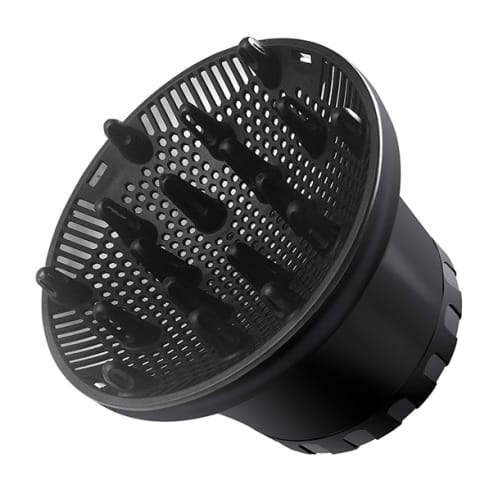 Karii
T3 Top Curl Diffuser
If you want soft waves and curls, here's your best bet. The vented style offers impressive air distribution, so you get the pillow end result, rather than crunchy curls. Of note? It's only compatible with T3 Cura or Cura LUXE dryers, so only go with this option should those be your go-to.
Top Curl Diffuser, T3 ($30)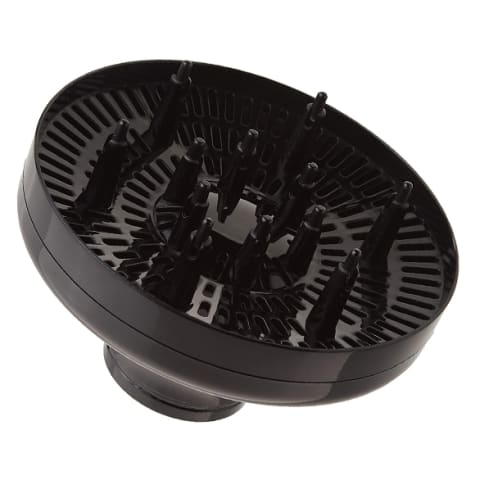 T3
Rizos Curls Pink Collapsible Diffuser
The major downside to diffusers? Ooh are they annoying to travel with or pack in a gym bag. (That bulk and size takes up a lot of valuable real estate in luggage and bags.) This option folds down like an accordion, so it can slip into most areas—but offers the same great results.
Pink Collapsible Diffuser, Rizos Curls ($19.99)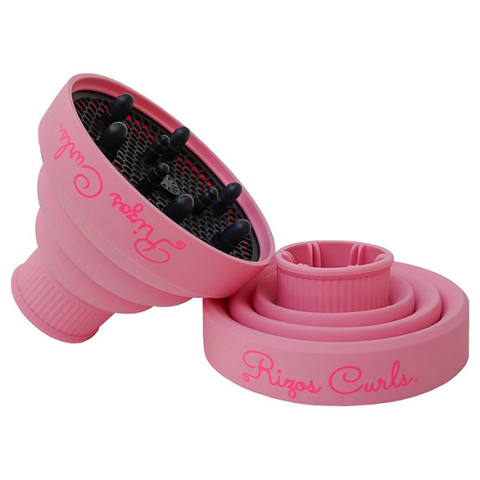 Rizos Curls
Conair Volumizing Diffuser Hair Dryer
Sometimes it feels like hair tools—well, effective hair tools—are all on the high end of the price range. But Conair makes solid options at decent prices. This one will give you frizz-free strands, no fuss. It only fits select models, so check out the product page before purchasing.
Volumizing Diffuser Hair Dryer, Conair ($9.99)
Conair
Hot Sock Diffuser
While not the most effective option for giving definition, "sock" diffusers will muffle the airflow for a more gentle blow-dry—especially great for those with shorter or wavy hair. The material is foamlike and has a tendency to wear (you may want to get a multipack), but they're budget-friendly, work on almost every dryer, and are travel-friendly.
Diffuser, Hot Sock ($7.80)
Hot Sock Diffuser
Bed Head Curls in Check
Most diffusers are just attachments that you pop on a standard air dryer. But this option has a much-wider-than-normal nozzle that functions something like a diffuser itself. Then the lime green attachment will help curl formation go to the next level.
Curls in Check, Bed Head ($35)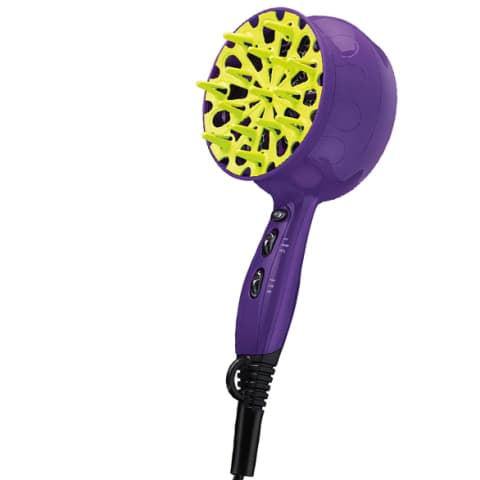 Bed Head
Usage tips from the pros. 
The first rule of diffuser use: Almost all ways are valid, as long as it works for you. You don't need to feel like you have to follow someone's exact routine (like say if you did a quick YouTube how-to search) just because they claim their way is "the best." Play around with your tool and find a technique that gives your curls some spring and volume!
That being said, if you want inspiration from your favorite beauty icons, we recommend finding one that has your curl type and length. This will give you a better idea of what you should be doing.
You want to use the diffuser on wet hair post-shower, and before you diffuse, apply all of your styling products (we believe that a heat protectant is mandatory) directly after you shower or wash your hair.
Once you start diffusing your hair, avoid touching your hair with your fingers. Touching your hair too much will increase the frizz.
You'll want to diffuse until the hair is about 80% dry. Then, let the rest of your hair air-dry for best results.
If you want your curls to look uniform and more on the tame side, you'll want to use less motion when drying with the diffuser.
For major volume, try flipping your head upside down and moving the diffuser up and down in a scrunching motion. This will amp up the roots.
Focus on the roots and the ends. Don't be afraid to take the diffuser close to the scalp and actually go into the hair so the hair is dried evenly.
The takeaway. 
Diffusing your hair can give you the springy, volumized curls of your dreams—especially with these top-notch tools.
Alexandra Engler
mbg Beauty Director
Alexandra Engler is the beauty director at mindbodygreen and host of the beauty podcast Clean Beauty School. Previously, she's held beauty roles at Harper's Bazaar, Marie Claire, SELF, and Cosmopolitan; her byline has appeared in Esquire, Sports Illustrated, and Allure.com. In her current role, she covers all the latest trends in the clean and natural beauty space, as well as lifestyle topics, such as travel. She received her journalism degree from Marquette University, graduating first in the department. She lives in Brooklyn, New York.