Type 2B Hair: Texture, Styling Tips From The Pros & Product Recommendations

By Dorian Smith-Garcia
mbg Contributor
Dorian Smith-Garcia is a diverse writer across beauty, fashion, travel, parenting, consumer goods, and tech. She has written for Inverse, Healthline Parenthood, The Confused Millennial, XONecole, Glowsly, and The Drive along with a variety of other publications.
May 13, 2022
We carefully vet all products and services featured on mindbodygreen using our
commerce guidelines.
Our selections are never influenced by the commissions earned from our links.
A wise fashion industry insider once said "prints are personal." Essentially this meant that what appeals to one individual might be a turnoff for someone else. Translated to hair, this can also mean that hair textures are personal. While there might be 10 (or possibly 11 depending on who you talk to) different types of textures, that doesn't mean that everyone can care for their hair identically and expect the same results.
And if you're a 2B head, you know that you've got more texture than your looser-waved 2A sisters on the left but not as much as the 2Cs on the right. Knowing how to care for your hair is essential—and not just because you want to look presentable when you leave the house every day. But because when you figure out what works (and what doesn't), as well as factors like wash frequency and porosity, giving your tresses the TLC they deserve becomes significantly easier.
What is 2B hair?
Before we jump into hair care tips, it's important to take a step back and start from the beginning. If you were the type who thought that there were only three types of hair textures (straight, wavy, and curly), you're forgiven. For the longest time, this was the accepted train of thought—until Andre Walker, a celebrity hairstylist to stars like Oprah, shook up the industry by introducing four hair types.
Andre Walker is probably best known for his hair-typing system that expanded texture classification to include coily hair. But beyond that, he also broke down the more textured types into additional subcategories. So, while Type 1 hair solely refers to straight tresses and isn't further broken down, Type 2, Type 3, and Type 4 refer to wavy, curly, and coily hair respectively. And each type is then classified into an additional three subtypes: A, B, and C.
If hair typing is entirely unfamiliar to you, Type 2 hair is for wavy textures with 2A being the loosest waves and 2C looking like oversize corkscrew curls. But in between those two is the 2B hair type.
What does 2B hair look like?
2B looks like relaxed waves and often has a very defined S-wave shape—even without the need for styling. While the roots are fairly straight, if you have 2B hair, you'll find that your wave pattern makes an appearance starting at the mid-length and continues through to the ends.
2B hair, much like hair types higher on the Andre Walker scale, can be deceptive because your defined wave pattern means that you can technically lose length in the pattern. This means that when wet, your hair may look longer than when it's fully dried. Kelly Harrison, the brand manager of BIOTOP Professional, notes that while 2B hair is "thick, full, and beautiful…if you don't know how to manage this hair type, your curls can look wild and unruly."
Because of your visible texture, you may find that dryness is a constant battle. Just like the true curlies and coilies in Types 3 and 4, natural oils that your scalp produces can struggle to fully travel down your hair's shaft. As a result, dry ends are a common complaint. And if you don't figure out the proper moisture balance, you might find that you experience more intense tangling, frizziness, and even split ends.
As if that's not enough, Type 2 hair can be fine, meaning that obvious go-to's like coconut oil or shea butter, which are fantastic for Type 3 and 4 heads, could leave you with oily locks that look greasy. Instead, you'll need to look for lighter formulations that help to quench thirsty hair without weighing it down.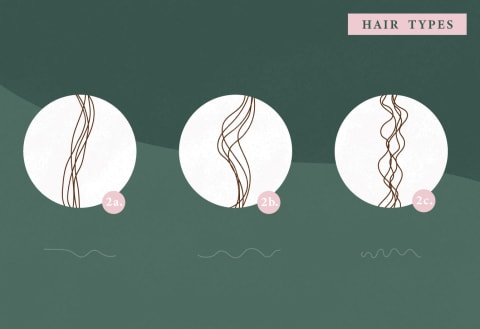 Image by mindbodygreen creative
Hair care tips for 2B hair.
Remember how we said that "prints were personal" in the intro? It might have sounded like an odd thing to say for a hair care article. But we're coming full circle here as hair care is personal. And the truth is, knowing your hair type is only half the battle.
Other factors such as porosity and hair density will also determine what products and styling tools should be in your routine—as well as which techniques will or won't work for you. And of course, don't forget that your natural body chemistry will also affect whether or not a product works for you. Plus, let's face it—some items may not be user-friendly or may have a texture or scent that is off-putting.
So, keeping an open mind and being willing to engage in a bit of trial and error can help you figure out what works best for you so that you can create a routine that yields the desired results every time. While we can't guarantee that these tips will help you avoid becoming a product junkie, they can at least point you in the right direction:
Usually when we talk about "thickness," what we're really referencing is hair density. Knowing your hair's density can go a long way toward helping you decide whether or not a product pick is going to be economical for you. In most cases, 2B heads tend to have dense, thick curls. So, while your product recommendations might be lighter in weight than what your Type 3 and 4 sisters will pick, you may find that you have to use more of a product than the instructions recommend to effectively cleanse, condition, or style your hair.
See also: The longer your hair, the more product you might need to use as well. And when performing a mental cost-benefit analysis in the hair care aisle, you may find that some products won't be a good investment because of this issue.
While Type 1 and 2A heads can quickly detangle with a brush, in most cases you'll want to avoid this depending on how thick your hair is. Harrison reminds us that "using a brush on dry 2B hair can cause frizz and volume in all the wrong places." Similar to everyone else higher on the hair typing scale than you, a wide-tooth comb is going to be your bestie, and brushes should be limited to specific wet styling techniques, such as shingling to enhance your S-wave pattern. And when you do detangle, it's best to do so on wet hair.
3.
Keep heat use to a minimum.
Excessive heat styling is bad for everyone, regardless of hair type. But as you climb up the hair type scale, relying on heat too frequently can lead to breakage that manifests as textures that don't return on wash day. But if you must use heat tools, always start with a good heat protectant. When blow-drying your hair, invest in a good diffuser attachment to avoid disturbing your waves and causing frizz.
You can still get gorgeous defined waves without relying on heat styling. And as a 2B head, this means you can take advantage of plopping. Plopping is a styling technique that minimizes manipulation and helps your hair dry naturally while leveraging the absorbency of a microfiber turban (or an old T-shirt if you prefer). In theory, anyone can do it, but it's a technique that tends to pair especially well with 2B through 4A hair types.
By using microfiber or a cotton tee, and simply dropping your tresses into the fabric and making a turban (as opposed to roughly trying to dry your strands by rubbing them with a terry cloth towel), you're not encouraging frizz. While you can completely dry it this way, you can also take it down when your hair is slightly damp. Run your preferred styling products through it, and scrunch your ends in your fingers to reinforce your wave. A blow dryer on low with a diffuser attachment is optional if you simply can't stand the idea of leaving the house with your hair slightly damp.
5.
Adjust your wash frequency.
In truth, not even people with straight hair have to wash their hair every day. But as you move up Andre Walker's typing classification, it's definitely not recommended to indulge in daily hair washing. Tiffany Scott, celebrity hairstylist and founder of Tiffany Scott Extensions, discourages frequent hair washing as it can strip the hair of critical oils and moisture. Adjusting to an every-other-day or maybe even twice-a-week cleansing routine can help to "reduce frizz [while] moisture will keep the curls bouncy and lustrous."
6.
Confirm your hair's porosity.
No matter how your hair grows from your head, porosity matters. It refers to your hair's ability to retain moisture. But for textured hair (wavy, curly, and coily hair), porosity can make maintaining the right moisture balance more frustrating. Remember, textured hair already struggles with dryness. But porosity can influence which products you can use to help boost moisture and have more good hair days.
There are three porosity levels: high, medium, and low. High porosity hair refers to strands where the hair shaft has cuticles that don't close. So, moisture can pass in and out too easily, leading to dryness. Medium porosity hair is referred to as normal. This means that your hair's cuticles are regularly aligned and can hold on to the right amount of moisture.
And finally, those with low porosity hair have strands that also struggle to hold on to moisture because the cuticles are too tightly aligned to allow moisture to penetrate the hair shaft. Unless you're already familiar with porosity, you probably don't know which category you fit. Take this quick porosity test to check by using a strand of hair and a cup of water.
7.
Consider the curly girl method.
We know, we know, talking about the Curly Girl Method can get contentious. But many people with textured hair from wavy to coily swear by this routine. The Curly Girl Method can be quite in-depth, but the hot takes include avoiding harsh sulfate-heavy shampoos that strip your scalp of much-needed naturally produced oils in favor of gentle cleansers or co-washes. The overall goal is to allow your natural texture to thrive without relying on harmful hair care practices like irritating product ingredients or high heat use that can cause dryness.
You'll also prioritize heat-free and tool-free styling and instead, leverage finger detangling and wash 'n' go's to bring out your hair's texture and let it thrive. While the Curly Girl Method isn't always effective or realistic for everyone, if you're just starting to create a hair care routine, it's worth giving it a shot for your 2B hair. To be clear, there are also modified Curly Girl Method routines where people do use traditional shampoo sparingly or rely on cold-air-only blow-drying with a diffuser attachment.
Type 2B hair has an interesting texture. While it's still usually fine like a 2A head, it's also incredibly thick and prone to frizziness and tangling, depending on how you care for it. So, unsurprisingly, going too long between trims means you could be encouraging split ends. And the longer you leave split ends unattended to, the more likely that you'll need a haircut rather than a trim at your next appointment. Sam Bucolo Denis of Allyoos shares that you should aim for a regular trim schedule every 10 to 12 weeks. "A great way to help natural texture and shape thrive…is to keep ends healthy and trimmed."
Products for 2B hair.
2B hair can be glorious. But if you're not using the right products every day, it can turn into a messy bun or hat day. Again, we can't stress enough that everyone's holy grail product is going to vary. Not only do you have to consider whether a product delivers on its claims, but you may find that the texture or scent—or the fact that it costs too much for how much product you need to use—could make it a dud. With that in mind, if you're trying to get started on building a hair care regimen that produces consistent results, consider checking out these starter picks.
Best shampoo for 2B hair
While some people might not want to use shampoo all the time, depending on your wash frequency and how much styling product you use between those washes, you might need a legitimate shampoo to get your scalp and strands clean. This number is specifically formulated to pair well with 2B hair. It works to control frizz and features an oil-based formula that multitasks as a detangler, smoother, and shine infuser. Plus, it's vegan and also protects against humidity.
Phyto Phytodefrisant Anti-Frizz Shampoo ($20); amazon.com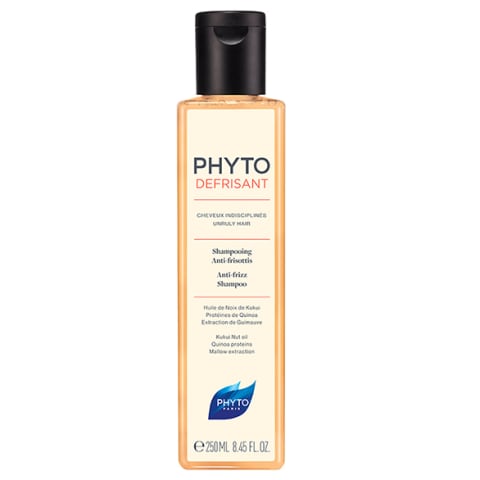 phyto
Best hydrating conditioner for 2B hair
In case you haven't gotten the message, 2B hair can suffer from dryness. So, this option is designed to boost your hair's moisture levels thanks to rich ingredients like mafura and baobab oils that help to soften hair and keep it looking healthier. Meanwhile, yogurt extract boosts moisture, and manuka honey improves shine.
Shea Moisture Manuka Honey & Yogurt Hydrate + Repair Conditioner ($11.99); ulta.com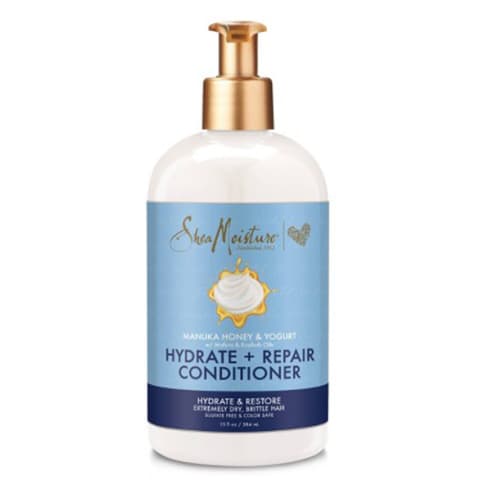 Shea Moisture
Best styling tool for 2B hair
Even though you shouldn't rely too heavily on hot tools, if you're going to use a blow dryer, you should invest in a good diffuser attachment. This fun collapsible option from Rizos Curls is a travel-friendly, universal fit attachment that's perfect for gently blow-drying your waves without disturbing them and causing frizz. Better still, it collapses so you can store it without it taking up too much space.
Rizos Curls Pink Collapsible Diffuser ($19.99): ulta.com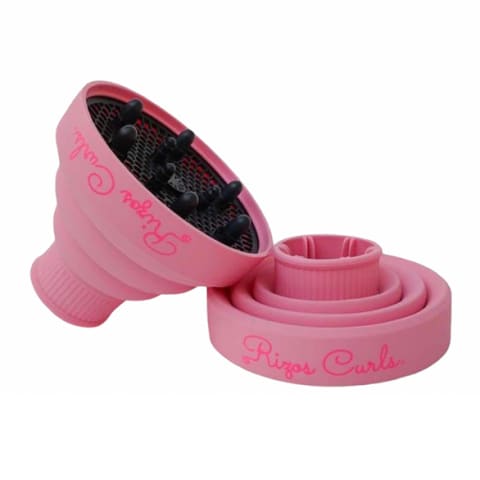 Rizos Curls
Best styling cream for 2B hair
Leave-in conditioners are going to be your friend if you want to let your natural texture flourish. This easy spray is great for all hair types but ideal for 2Bs as it's lightweight but also seals in moisture while softening and strengthening your hair.
Kristin Ess Weightless Shine Leave-in Conditioner Spray ($11.99); target.com
Kristin Ess
Best protective accessory for 2B hair
Once your hair texture becomes more pronounced, sleeping on cotton pillowcases or slapping a wool hat on your head are bad ideas. You Go Natural's T-shirt Buns, T-Shirt Turbans, and even silk-lined headbands are made with soft jersey knit and velvet exteriors and silk interior lining to prevent critical moisture from being leached out of your hair. Choose from a wide array of colors, patterns, and textures.
You Go Natural (from $15); yougonatural.com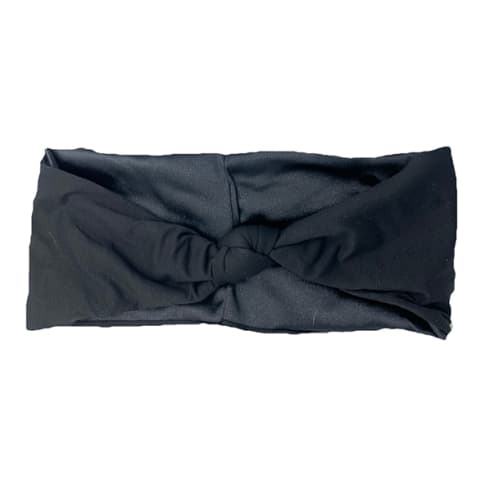 You Go Natural
Styles for 2B hair.
Type 2B hair is a fun texture that looks fantastic when worn natural. In most cases, all you need to do is plop or blow dry with a diffuser to bring out the best in your tresses. This texture is versatile, though, meaning that you can easily opt for a straight blowout if you prefer or even set your hair on hot rollers to create a voluminous effect. Still, heat use should be kept at a minimum as this texture can struggle with dryness and split ends if exposed to heat too often.
The takeaway.
Everyone deserves a good hair day. And half the battle of achieving that goal is knowing what you're working with on top of your head. Good hair starts with knowing your hair type, and your porosity level. With that knowledge, you can find the right products that will ensure you're never reaching for a hair tie or hat—unless you legitimately want to.

Dorian Smith-Garcia
Dorian Smith-Garcia is a diverse writer across beauty, fashion, travel, parenting, consumer goods, and tech. She has written for Inverse, Healthline Parenthood, The Confused Millennial, XONecole, Glowsly, and The Drive along with a variety of other publications. She is a bridal and beauty expert/influencer and the creative director behind The Anti Bridezilla. When Dorian's not writing she's collecting stamps in her passport, learning new languages, or spending time with her husband and daughter.