Close Banner
Advertisement
This ad is displayed using third party content and we do not control its accessibility features.
A Full Guide To 2A Hair Type: Products, Styling Tips & More From The Pros

By Dorian Smith-Garcia
mbg Contributor
Dorian Smith-Garcia is a diverse writer across beauty, fashion, travel, parenting, consumer goods, and tech. She has written for Inverse, Healthline Parenthood, The Confused Millennial, XONecole, Glowsly, and The Drive along with a variety of other publications.
We carefully vet all products and services featured on mindbodygreen using our
commerce guidelines.
Our selections are never influenced by the commissions earned from our links.
With so many ways to care for hair, it can feel like an overwhelming prospect to find the right products, tools, and styling techniques that bring out the best in your tresses. But did you know that by accurately categorizing your hair type, you can take a lot of the guesswork out of hair care?
While people used to think that there were just a few hair types—straight, wavy, and curly—it turns out that there are more than three. And there are even subcategories! Before you give up in frustration and resign yourself to endless bad hair days, keep reading. If you have very loose, wavy hair, you need to learn about the different subtypes of this hair pattern. You might be a 2a head.
Sound confusing? Don't worry, keep reading for the lowdown on 2a wavy hair.
What is 2a hair?
Hair typing might sound like a weird thing, but it's one area of your life where knowing what category you fit into can be the difference between having more good hair days than bad ones. While many factors go into hair care, knowing specifically what hair type you have is one of the most influential.
And thankfully celebrity hairstylist Andre Walker decided to create a simple typing system to make things easier. In total there are four hair textures or types, which are listed from 1 to 4. While Type 1 hair simply refers to all straight hair, the remaining types 2 through 4 refer to wavy, curly, and coily hair textures. But to take it a step further, types 2 through 4 are each then divided into three subtypes.
For reference, Type 3 is for curly hair (and it's further broken down into 3a, 3b, and 3c). Type 4 is for coily hair textures (and is further broken down to 4a, 4b, and 4c). Type 2 hair is for wavy textures and is further labeled 2a, 2b, and 2c, with 2a being the loosest of the waves and 2c almost mimicking a true very loose corkscrew curl.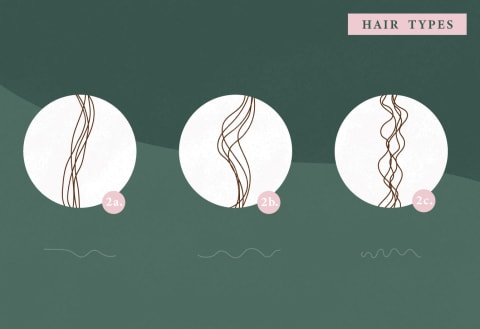 Image by mindbodygreen creative
What does 2a hair look like?
Type 2a hair is a very loose wave pattern. As Meerika Khanna, an Ayurvedic hair wellness expert and founder of Rthvi, notes, "2a hair type is usually flat at the top and slightly wavy at the bottom." So, think beachy waves that might have fallen a bit. While there is body and definition, the wave isn't as pronounced as with 2b and 2c hair types.
But, as with Type 3 and 4 heads, Type 2 beauties still have to worry about dryness. Even though their wave pattern isn't as intense, they'll still struggle with dry ends as natural oils produced by the scalp will still have difficulty traveling down the hair shaft to reach the ends.
However, picking the right moisturizing products is critical as Type 2 hair tends to be finer. This means that opting for heavier moisturizing ingredients like pure shea butter or coconut oil (which are ideal for many Type 3s and 4s) could weigh your hair down.
Hair care tips for 2a hair.
Knowing your hair type can help point you in the direction when you're shopping for hair care products or trying to determine styling tips that will bring out the best in your tresses. But we can't deny that there's a bit of trial and error when it comes to developing a stellar hair care routine that creates consistent desirable results every time.
Even if your favorite social media star is the same hair type as you, factors like body chemistry, porosity, and even your commitment level to certain routines will affect what processes you choose to adopt and which ones you despise.
1.
High heat is not your friend.
In general, pretty much anyone with hair on their head will do well to avoid using too much heat. But with 2a hair, your wave pattern isn't pronounced. So, if you rely on a blow dryer to dry your tresses, don't be surprised if your waves go from barely there to nonexistent. If straight hair is your goal, then proceed as usual—but for those looking to amp up the texture, you'll want a new styling route. Khanna reminds 2a heads to "stick to air drying if you want to wear a wavy look. Type 2a becomes mainly straight when you use heat to dry it. Using a curling iron on air-dried hair gives the best results for this hair type."
2.
Skip daily hair washing.
Because this hair type is flat at the root, people may be tempted to wash daily to give the hair some lift. However, this habit can lead to unwanted texture side effects. Once your hair has a more visible texture, daily hair washing usually isn't a good idea. Tiffany Scott, a celebrity hairstylist and founder of Tiffany Scott Extensions, notes that you shouldn't wash too frequently as you need to retain oils and moisture. This will help to "reduce frizz [while] moisture will keep the curls bouncy and lustrous."
Porosity affects everyone no matter whether you have naturally pin-straight hair or are rocking a fro. However, when your hair has more texture (think wavy, curly, and coily hair), porosity can exacerbate your hair's tendency to be dryer than those with straight hair. As a result, maintaining a moisture balance is critical. Knowing where your hair stands on the porosity chart can help you pick the right products to help boost moisture, which can translate to better hair days.
Porosity is defined by three categories: high, medium, and low. High-porosity hair has hair shafts with completely open cuticles. This means moisture can easily slip out. Medium-porosity hair is also referred to as normal because the cuticles are regularly aligned and can maintain the proper moisture balance. Meanwhile, low-porosity hair struggles with moisture like high-porosity hair but for different reasons. In this case, the cuticles are so tightly aligned that water or moisture struggles to penetrate the hair shaft. If you're not sure which category describes your hair, you can do a quick porosity check using this test, along with a strand of hair and a cup of water.
While 2a heads do have some texture, this hair type tends to be finer. Kelly Harrison, a hairdresser and U.S. brand manager for BIOTOP Professional, reminds wavies that "using too much product or product that is too heavy can cause unwanted weight, leaving your locks looking dirty and flat instead of bouncy and fun."
5.
Detangle before styling.
It's always a good idea to detangle before styling your hair. But when you've got texture, waiting until after you've styled can leave you with nightmarish snarls. Kenny Duncan, the North American artistic team lead for Andis Company, recommends that 2a hair types use "a rake comb then a wet brush before actually blow drying your hair." This "will help prevent breakage to your hair during the process." And of course, don't forget to invest in a good heat protectant to prevent burning your hair when you use any kind of hot tool.
6.
Trims help your hair thrive.
Type 2a hair is naturally fine. This means that it can easily look a little wild. Samantha Bucolo Denis of Allyoos reminds us that if you have this hair type, you should be trimming it every 10 to 12 weeks. "A great way to help natural texture and shape thrive for 2a hair types is to keep ends healthy and trimmed. If this hair type gets too long, it will look stringy and straggly. A good length for this hair type is shoulder or a little longer. This will help waves stay shapely with nice bounce and movement," she says.
7.
Choose hot tools wisely.
You know that you shouldn't rely on a hot styling tool every day. But it's unrealistic to assume that you'll never use one. Gina Rivera, celebrity stylist and founder of Phenix Salon Suites, recommends picking a "hot tool that utilizes infrared technology because it acts to lock the moisture into the hair, styling it from the inside out." But don't forget to embrace your natural curl pattern. She also recommends that you visit a professional stylist who's experienced with your hair type. This ensures that they'll bring out the best in your hair as well as give you smart tips so that your hair looks great between salon visits.
8.
Swap the shampoo for a cleanser.
Textured hair can often get away without having to be washed daily. Bucolo Denis recommends that 2a's "should alternate shampoo days with a gentle hair rinse. We can still get clean but without suds or stripping. The less shape and natural oils we strip away, the better our hair dries and the more we help balance our scalp in the long run." Looking for a good option? We love an apple cider vinegar hair rinse for wavy hair folks, as it can increase shine and manage oil.
Products for 2A hair.
Type 2a hair can be a versatile texture. While you have a slight wave, you can easily switch it up between straight or truly curly hair using heat-free techniques or hot tools. But if you're looking to revamp your hair care collection, these items might do the trick. Just keep in mind that hair is personal. So, everything from how efficiently a product works to whether you like the smell or texture will affect whether something becomes a holy grail or an unwanted bottle of nearly full product in your sink cabinet.
Best Shampoo: BIOTOP Professional 911 Quinoa Shampoo
Maintaining moisture balance and restoring your hair's pH are important for nailing a good hair day. This shampoo is packed with proteins that work to replenish essential nutrients like amino acids, fatty acids, and vitamins that will leave your hair more manageable, shiny, and vibrant.
BIOTOP Professional 911 Quinoa Shampoo ($37); amazon.com
BIOTOP Professional
Best Repairing Mask: Allyoos Juice Drench
Incorporating a hair mask once a week is a great way to nurture your strands and bring out the best in them. Here's an easy-to-use mask that's 99.4% plant- and water-based. Mango seed butter, organic watermelon seed oil, spinach, spirulina extract, and more combine to create a thirst-quenching mask that not only hydrates your hair but can even work as a leave-in mask.
Allyoos Juice Drench ($30); amazon.com; verishop.com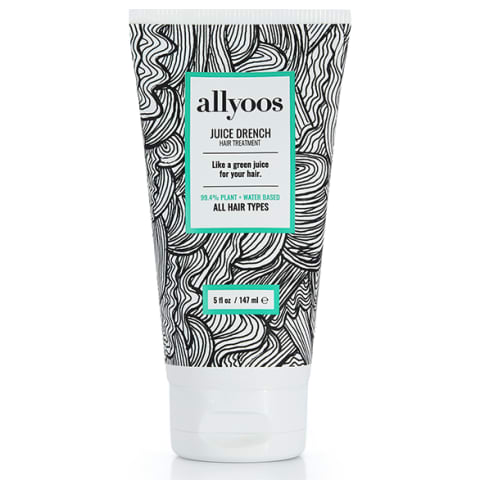 Allyoos
Best brush: Wet Brush Original Detangler
In reality, everyone should detangle before washing or styling their hair. But when you have texture, it's even more important to detangle before washing to prevent even worse knots from forming. This option is great for this task as it quickly works through stubborn knots. For best results, use on damp hair. And for particularly difficult tangles, use a mix of conditioner and water to help work through your hair faster.
Wet Brush Original Detangler ($13); amazon.com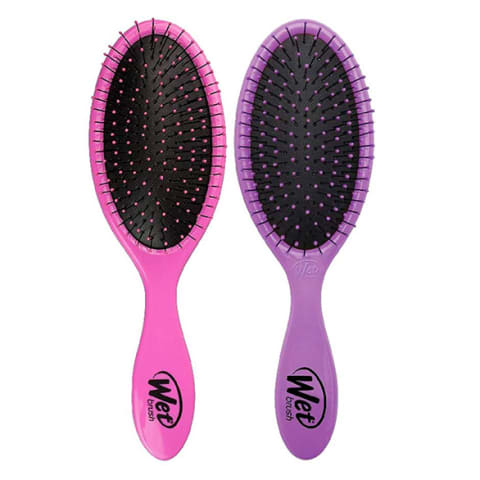 Wet Brush
Best oil: Rthvi Hibiscus Oil
Even though everyone needs to moisturize their hair, 2a hair has to walk the fine balance between giving their tresses what they need without weighing them down. Consider trying out some Ayurvedic oils from Rthvi. Their hibiscus, amla, and bhringraj oils are great for a once-a-week oiling session. Focus on the scalp and hair, and leave it either for four to six hours or overnight before washing it out.
Rthvi Hibiscus Oil ($20); rthvi.com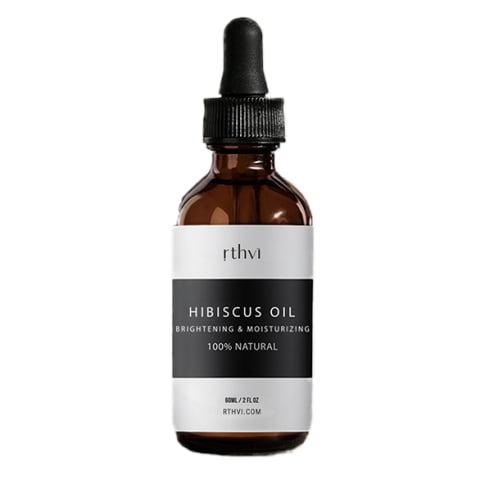 Rthvi
Styles for 2a hair.
Many people consider 2a hair to be the best of both worlds. The finer texture and gentle wave pattern can make it easier to style and manage. Meanwhile, you can still easily shift between straight, wavy, and curly hair depending on your styling goals.
Just remember that you shouldn't rely regularly on heat tools as they can cause damage with prolonged use. This can manifest as excessively dry hair that's prone to breakage and split ends. And once your hair is damaged, no matter what the hair product commercials promise, the only way to truly fix it is to cut it.
The takeaway.
It's astounding that there are so many hair types in the world. While 2a is the lightest of the textures, it's still a versatile hair pattern that has unique requirements for a hair care routine that brings out the best in these tresses. While there's no substitute for a salon visit to an experienced stylist who knows how to care for your hair, knowing how to keep your hair looking its best between visits is also important. To level up, check out our tips on keeping strands shiny and frizz-free.
Watch Next
Enjoy some of our favorite clips from classes
Watch Next
Enjoy some of our favorite clips from classes
What Is Meditation?
Mindfulness/Spirituality | Light Watkins
Box Breathing
Mindfulness/Spirituality | Gwen Dittmar
What Breathwork Can Address
Mindfulness/Spirituality | Gwen Dittmar
The 8 Limbs of Yoga - What is Asana?
Two Standing Postures to Open Up Tight Hips
How Plants Can Optimize Athletic Performance
What to Eat Before a Workout
How Ayurveda Helps Us Navigate Modern Life
Messages About Love & Relationships
Love & Relationships | Esther Perel
Love Languages
Love & Relationships | Esther Perel
Related Videos (10)
What Is Meditation?
Box Breathing
What Breathwork Can Address
The 8 Limbs of Yoga - What is Asana?
Two Standing Postures to Open Up Tight Hips
How Plants Can Optimize Athletic Performance
What to Eat Before a Workout
How Ayurveda Helps Us Navigate Modern Life
Messages About Love & Relationships
Love Languages
Advertisement
This ad is displayed using third party content and we do not control its accessibility features.
More On This Topic
more Lifestyle
Advertisement
This ad is displayed using third party content and we do not control its accessibility features.
Advertisement
This ad is displayed using third party content and we do not control its accessibility features.