Type 3C Hair: What It Is, How To Care For It & The Best Products To Use

By Dorian Smith-Garcia
mbg Contributor
Dorian Smith-Garcia is a diverse writer across beauty, fashion, travel, parenting, consumer goods, and tech. She has written for Inverse, Healthline Parenthood, The Confused Millennial, XONecole, Glowsly, and The Drive along with a variety of other publications.
January 25, 2022
We carefully vet all products and services featured on mindbodygreen using our
commerce guidelines.
Our selections are never influenced by the commissions earned from our links.
The world of curly hair is a diverse one. While some people might have loose corkscrew curls, others might look much tighter. And don't get us started on shrinkage—which can be the bane of every natural head out there! One of the first steps toward creating an effective hair care routine is to not only understand your hair type but create habits that bring out the best in your hair.
Bad hair days don't have to be frequent, and a good routine can make those days far and few between. From pineappling to make a fresh style last, to better understanding the chemistry behind your hair, whether you're newly transitioning into the natural life or caring for someone with 3C hair, here's everything you need to know to create the perfect curl-poppin' 3C hair routine.
What are the hair types?
Let's take a step back and start by talking about hair types. While curly hair is one common texture, it's not as simple as saying all curlies should care for their hair the same. Thanks to celebrity hairstylist Andre Walker, hairstylists and aficionados know that the four main hair types are Type 1, 2, 3, and 4.
So, what is 3C hair?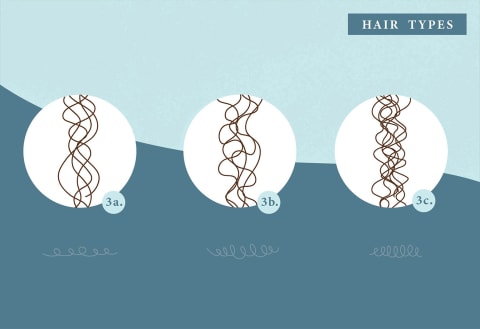 3C hair is considered the densest of true curly hair (or type 3 hair). While 3C hair tends to have the most volume, these curlies also struggle the most with shrinkage (for true curly hair—note that Type 4s often also fight shrinkage). Shrinkage is when the hair length is technically lost in the curl pattern.
For example, someone with MBL (mid-back-length) hair when stretched might look like they only have shoulder-length hair when it's dry. It's not uncommon for shrinkage to be measured in percentages. So, if someone says they have 50% shrinkage, that means that when dry, their hair looks only half as long as the actual length.
What does 3C hair look like?
However, this hair is often categorized as a classic corkscrew curl. While strict definitions say that this hair type has a curl circumference of a pencil or straw, this isn't always accurate. Also, note that it's incredibly common for Types 2 through 4 to have multiple wave or curl patterns throughout their hair. So, someone could mostly 3C but may have 3B at the front hairline or 4A at the nape.
Hair care tips for 3C hair.
Beauty is personal. So, the routine that works best for one 3C head may not apply to all 3Cs! Beyond simply liking one product or technique over another, there's the reality that your hair chemistry will also affect how well a product works (or doesn't) or whether or not a technique like a wash 'n' go might work for you.
However, 3C hair tends to follow the same general care rules as most other natural hair types. Keep in mind that someone can be 3C but relax their hair. And while they're still technically 3C, relaxers permanently alter your hair's chemical composition. So, hair care tips for 3C naturals will be different from someone who's relaxed with 3C hair.
For this article, we're focusing on natural heads only.
1.
Determine your porosity.
No matter your hair type, one key factor that everyone—even straight- and wavy-haired people—need to know is porosity. If you don't know your hair's porosity, you might spend more time managing the trial and error of finding the perfect routine and products. Porosity determines how easily your hair can retain moisture.
While wavy and curly hair tends to struggle more with moisture than straight hair, a person's porosity level can make that mission even harder. Patricia G. Williams, Creme of Nature brand educator, reminds us that "Knowing the porosity of your hair is as important as knowing your texture in selecting products for your hair care and styling regimen. Low or high porosity impacts what products work best on your texture."
There are three porosity levels: high, medium, and low. High porosity hair struggles to retain moisture which slips out of the hair shaft through fully open cuticles. Medium porosity has less of an issue with moisture retention as the hair's cuticles are regularly aligned. Note that medium porosity hair is often referred to as "normal" because it retains moisture well.
Similar to high porosity hair, low porosity hair also fights moisture issues because the hair cuticles are tightly aligned. This means that moisture can't penetrate the hair shaft easily. If you're wondering how to determine porosity, all you have to do is try this quick one-minute test.
2.
Cleanse your hair properly.
Contrary to what some gurus would have you believe, you don't need to use 20 products on wash day to get poppin' curls. But you should be regularly washing your hair. Wash frequency recommendations can vary widely within the natural hair community with some people washing their hair every other day and others once a week or less.
Wash frequency is going to depend on how much product you're using when you're styling your hair, and truthfully, your availability. But Evan Joseph, an advocate and curl stylist with Authentic Beauty Concept, recommends that 3C curlies wash their hair two to three times a week. "As long as you are using a naturally derived gentle cleanser, it won't dry your curls out and will keep your hair and scalp clear—creating healthy scalp and curls!"
3.
Be gentle with your hair.
Curly hair is usually considered more fragile. But naturals know that ripping through your hair like you're getting revenge on an enemy is a bad idea. While conventional wisdom says that wet hair is more fragile, detangling is one time when it's OK to manipulate your hair when it's wet.
For best results, you should make sure that your hair is fully saturated with product (detangler or even conditioner) that offers plenty of "slip." That extra product ensures that knots or tangles will come out easier, and you're less likely to pull your hair. Meanwhile, either opt for finger detangling or a good seamless wide-tooth comb to avoid creating additional tangles.
4.
Invest in a good brush.
Unlike Type 4s, where a brush might create more frizz than help, Type 3s can incorporate a good brush to help make curls pop. As with detangling, don't brush your hair dry, as this will encourage frizz. But if you're focused on further defining your curl pattern, a good wide-bristle brush can help you create more obvious corkscrew curls. Avoid boar-bristle brushes and instead opt for a good nylon-bristle brush with soft tips. Detangling brushes are perfect for this task.
5.
Embrace heatless styling techniques.
Natural hair is amazing for its versatility. You can easily shift between straight, super curly, or soft bouncy curls. But it's important to remember that frequent heat use can put your curls in danger. Excessive heat exposure, similar to relaxers, can permanently change your curl pattern.
And that translates to hair that doesn't return to its original texture the next time you wash your hair. More importantly, this means that the only remedy is to cut the damaged hair. Avoid this heartache by prioritizing heatless styling methods and reaching for hot tools occasionally.
If shrinkage is the bane of your existence, consider heatless methods for stretching hair such as using CurlFormers, flexible rods, or banding. While not everyone loves wash 'n' go's, Type 3 hair tends to yield consistent results with air-dried styles—especially if shrinkage isn't as much of an issue for you.
6.
Focus on moisture retention.
Curly hair suffers from moisture retention as natural oils produced by the scalp have a harder time making it completely down the hair shaft. And don't forget that if you have high or low porosity hair, this struggle just got worse. Victoria Stiles, the beauty director of ShikSona Beauty and Glam Set Go notes that "the goal is to keep 3C hair types drenched in moisture without using heavy products, which can add to its natural density, weighing hair down." So, if you want to bring out the best in your hair, you need to focus on moisture retention.
Properly moisturized hair tends to hold styles better, has a healthier overall appearance, and can ensure that wash days and styling sessions are less of a struggle. As a general rule, curly heads are encouraged to focus on products such as humectants that help to boost hydration.
But don't forget that water is the original moisturizer. Many curlies swear by creating a mix of water, aloe vera juice, and natural oils (i.e., coconut, or jojoba) to spritz their hair throughout the day. Also consider other long-term solutions such as the LOC (liquid, oil, cream) method when styling or GHE (greenhouse effect—but also known as baggying) to help boost hydration.
While you should keep heat styling to a minimum if you do rely on a blow dryer to dry your curls, invest in a good diffuser attachment. Diffusers ensure that the air doesn't disturb your curls and encourage frizz.
Similarly, every time you reach for a hot tool, make sure you first use a good heat protectant. This will help to minimize the risk of heat damage. Likewise, don't crank your hot tools to the highest setting. Unless you're getting a silk press, there are very few reasons to set your hot tools to 450 degrees Fahrenheit. When using a flatiron, set the temperature to one that allows you to effectively straighten your hair in one pass.
Within the natural community, a secondary goal besides "curl poppin'" is length retention. And unfortunately, many people forgo regular trims because they're concerned about losing length. However, skipping routine trims can sabotage your overall growth goals.
According to Biolage brand ambassador and celebrity hairstylist Sunnie Brook, "When you have split ends, what happens is the hair slowly splits up the shaft, which leads to breakage and slower growth." And when it's time to finally go in for a salon visit, you'll need to chop—not trim—to prevent further damage. Had you trimmed regularly, you would have prevented those split ends from growing.
8.
Pineapple to preserve styles.
Day One hair is always amazing, but many naturals know that you can stretch a style several days if you put in the work at night. Make sure those curls stay poppin' beyond the first day by "pineappling" before bed. This simply means that you're putting your hair into a high bun (think a top knot but not so tight). Go the distance by using either silk pillowcases or a bonnet to further protect your tresses from losing moisture.
Products for 3C hair.
Haircare is personal; we can't stress this enough! Even if your hair looks just like your favorite natural hair muse, and you swear up and down you have the same porosity, your body chemistry will determine whether the same products or techniques are going to work.
Similarly, you may find that some routines are too tedious to maintain. Finding the right products can take some trial and error. So, consider the following recommendations as a starting point for your hair care routine journey.
Best shampoo for 3C hair
If you prefer a cleanser that won't strip your hair, this sophisticated number is a great solution. This vegan-friendly formula is free from sulfates, parabens, and silicones, as well as dyes. It relies on coconut ingredients to properly clean the hair while cationic guar boosts detangling efforts.
Concept Hydrate Cleansing Cleanser, Authentic Beauty ($28)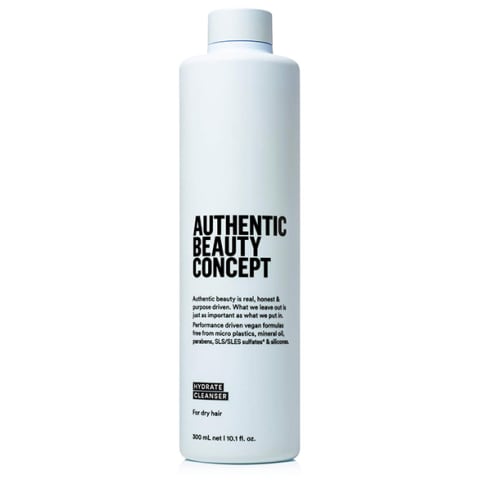 Authentic Beauty Concept
Best hair moisturizer for 3C hair
Leave-in products are perfect for boosting hair's hydration and manageability. This effective option pulls double duty as a conditioner that works on dry or wet hair and can even be used whether your hair is straight or curly. Plus, this pick helps to banish frizz while also minimizing split ends, shedding, breakage, and fallout.
Aloe and Black Castor Oil Reconstructing Anti-Breakage Leave-in, Cream of Nature ($10)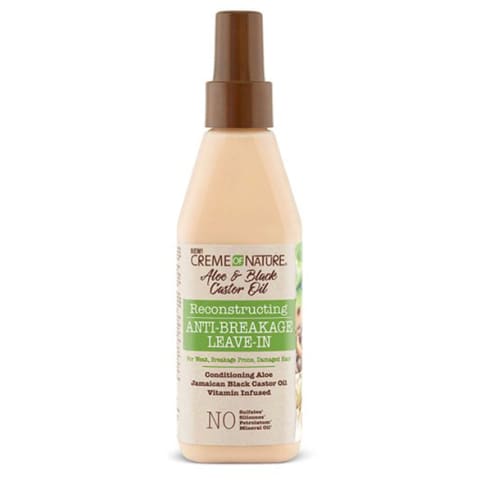 Cream of Nature
Best curl definer for 3C hair
Even though 3C hair has a more visible curl pattern, some people still need a good product to boost definition—here, a perfect option. Along with providing a bit of light hold, this silicone-free product is perfect for enhancing your curl pattern. You'll also get organic avocado and camellia oil to serve as a heat protectant that also nourishes your curls.
Defining Cream, Kavella ($11)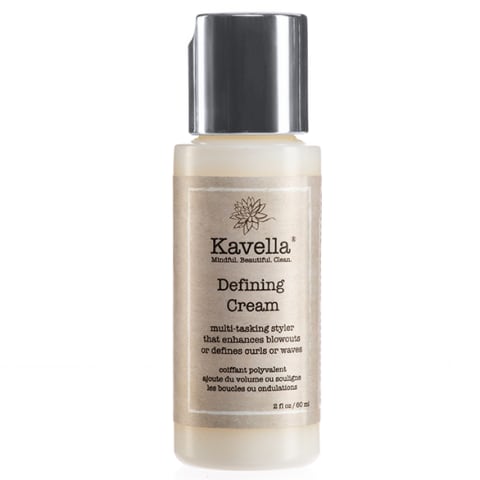 Kavella
Best Styling Tools for 3C Hair
Styling tools can make the difference between nailing a style or missing the mark. And these tools are perfect for keeping in your hair care arsenal.
Best diffuser for 3C hair
A diffuser is great if you want to heat-style your curls. While you should use a cooler heat setting, the large design ensures that your curls won't struggle with frizz. And the collapsible design makes it a great travel-friendly solution. Better still, it's a universal size that should fit most blow dryers.
Curls Pink Collapsible Diffuser, Rizos ($29.99)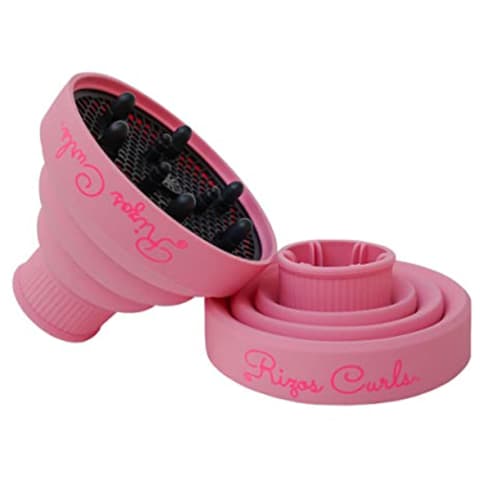 Rizos
Best curling brush for 3C hair
If you're interested in further defining your curls to create those coveted corkscrews, you're going to need a good brush that has just enough bristles to do the job without snagging your hair. Denman is a fan favorite for good reason: Along with featuring fewer rows of bristles, it's perfect for expertly flowing through your hair to help clump curls to create the ultimate definition on wet or damp hair.
D31 Freeflow Styler 7 Row Brush, Denman ($19.95)
Denman
Best protective gear for 3C hair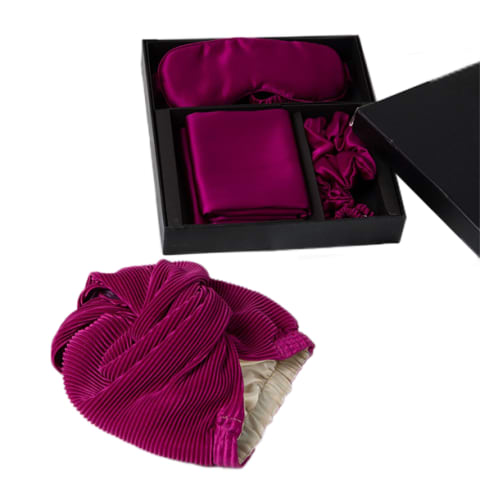 You Go Natural
Styles for 3C hair
Much like other natural hair types, 3C hair is incredibly versatile. You can easily transition from straight to wavy to curly styles depending on your mood. If you're all about your natural curls, consider incorporating wash 'n' go's or focus on plopping and plunking with either a T-shirt or microfiber towel to remove excess water.
When opting for straighter styles, either utilize heatless methods such as Curl Formers or banding, to stretch the hair before you move to the styling step. And when you do turn to hot tools, always use the lowest heat setting possible and first prep your hair with a heat protectant.
Similar to other naturals, you'll have your pick of protective styles. Whether that's wigs, weaves, braids, or crochet styles, don't forget to care for the hair underneath. Avoid going longer than four to eight weeks with a protective style to reduce the risk of hair damage.
Conclusion
3C hair is the curliest of the Type 3 group and can often be mistaken for 3B or 4A depending on how it's styled. While typified by a well-defined curl pattern and corkscrew shape, 3C heads need to focus on moisture retention to bring out the best in their curls. Best practices for this hair type tend to fall in line with general guidance given to all natural hair types. However, this group can often opt for wash 'n' go's as a go-to solution or invest in a good curling hairbrush if enhanced definition is desired. For more product picks, here are mbg's favorite products for curly hair.

Dorian Smith-Garcia
Dorian Smith-Garcia is a diverse writer across beauty, fashion, travel, parenting, consumer goods, and tech. She has written for Inverse, Healthline Parenthood, The Confused Millennial, XONecole, Glowsly, and The Drive along with a variety of other publications. She is a bridal and beauty expert/influencer and the creative director behind The Anti Bridezilla. When Dorian's not writing she's collecting stamps in her passport, learning new languages, or spending time with her husband and daughter.