How To Prep Your Home Abundance In 2022, From A Feng Shui Expert
Designer & Feng Shui Master
By Dana Claudat
Designer & Feng Shui Master
Dana Claudat is a modern Feng Shui Master and founder of The School Of Intention Feng Shui Certification Program. She holds a B.A. from Stanford University.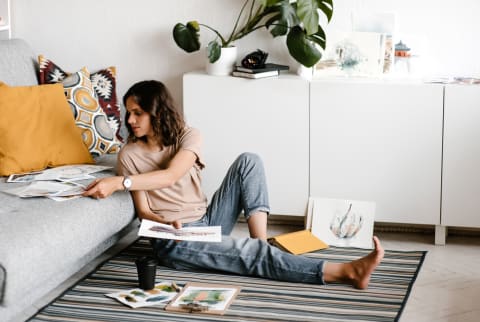 Image by Alina Hvostikova / Stocksy
January 2, 2022
We carefully vet all products and services featured on mindbodygreen using our
commerce guidelines.
Our selections are never influenced by the commissions earned from our links.
The year 2022 is a decidedly new new year in so many ways, as its themes are a great departure from the past several years. Practices from numerology to astrology are predicting that it will be full of transformational personal breakthroughs, innovative art-making, lightness and joy, prosperity, and expansion. In short, there is a lot to suggest that 2022 will bring us the pleasure that is always needed—and perhaps craved now more than ever.
In broad strokes, let's look at some of the big energetic shifts of 2022 and how to use feng shui to start activating this energy in your home and life.
Why 2022 is poised to be such a unique year.
It's a 6 year in numerology.
The energy of the Universal Year 6 has a lot to do with feng shui: home, love, creative power, and balance are all spotlighted in this number. According to numerology, this can be a time to build your personal energy and confidence as well as create a sanctuary that makes you feel grounded and ready to take big creative leaps in life.
It's a busy moment in astrology.
In 2022, Jupiter is spending lots of time speeding through Pisces (now through May 10 and then back again from October 28 to December 20). In this emotional sign, the planet's themes of luck, expansion, gift-giving, and flourishing can truly shine. Jupiter has not been "spreading its proverbial wings" of fortune as far and wide in the past two years, but this sense of magic and infinity could be coming in strong in 2022.
Jupiter also meets up with Neptune in the sign of Pisces in April—a rare event that astrologers are predicting could usher in revolutions in art and creative self-expression.
One more big astrological shift is the move of the North Node to Taurus (earthy, pleasurable, physical, rich, and rewarding) and the South Node to Scorpio (emotional, passionate, and mysterious)—supercharged combinations that could leave us yearning to connect to the Earth, and our emotions, in new ways.
It's the Lunar Year of the Tiger.
In Chinese astrology, Tiger years are thought to be forward-facing, successful, abundant, powerful, and incredibly vivacious. Not bad energy for 2022.
It's associated with a divine color.
Even the Pantone Color of the Year has a spirit of optimism in 2022. Pantone's blue-violet, "Veri Peri," is a periwinkle that screams divine inspiration. According to Leatrice Eiseman, executive director of the Pantone Institute, "Very Peri displays a sprightly, joyous attitude and dynamic presence that encourages courageous creativity and imaginative expression."
How to welcome this auspicious energy into your home.
So, what does all of this mean for your home? By using principles from the ancient philosophy of feng shui, we can capitalize on all of the infinite potential, exuberance, and abundance of the new year. Here are a few powerful ways to get started:
1.
Pay attention to how you feel in your home.
This is a simple exercise that is great to do at the very beginning of the year. Walk through your home and sit in each room, observing it quietly. As you do, ask yourself, How do I feel? By really feeling into each room, you can get a sense of what shifts will have the biggest impact on your home and life.
The goal is to feel "at home" in your home, and that can be as simple as cleaning up or getting brighter light bulbs, or as crafty as creating a wall full of your own artwork. Follow your instincts and see where they lead you this year.
2.
Add an energetic cleanse to your cleaning routine.
Developing a quick energy-clearing routine that you can do weekly is a fabulous way to keep your home glowing. I like to mix mine in with my weekly house cleaning.
Your energy clearing might include simple things like burning incense in every room, lighting a candle (I like to place my candle on a plate and circle it with sea salt to boost the energy-clearing power), burning a few bay leaves from the spice rack like incense, or diffusing your favorite essential oil.
3.
Clear all kinds of clutter.
You knew this would be on here! By clearing away clutter, you create space for more expansive energy. You carve out room for opportunities, love, and abundance all around.
In addition to giving your home a deep clean and declutter, now is a great time to prioritize your desires and focus on what matters most. Try dropping any extra chores that keep you busy but bring you few rewards, or commitments that leave you feeling overwhelmed and overextended.
4.
Hone your creative vision.
Are you ready to build or expand your creative empire? Since all signs are pointing to a creative year, now is an excellent time to create a vision board (physically or virtually) for what you want to bring to life in 2022. Really explore the facets of your visions for the year ahead. What goals and experiences are calling to you? Mine magazines and the internet for the perfect pictures that represent your dreams and start envisioning a year of thrilling innovation.
This year is about big dreaming and big doing, so let your vision inspire you to take lots of inspired action.
5.
Connect to the Earth from home.
Given the earthy nature of the North Node in Taurus, now is a great time to start growing food at home. In addition to bringing you a fresh bounty, your garden will help you ground and connect to the outdoors from home.
6.
Set the stage for flow.
7.
Schedule time for self-care.
With all the action and motion of a Tiger year, the best suggestion I can offer is to schedule self-care and sleep time like they're a part of your job.
When you're inspired or feel very driven, it's easy to stay up late, skip out on lunchtime, or otherwise push your health aside. The key here is to elevate your self-care to design a life that makes you feel fabulous, first and foremost. Small additions like blackout curtains in your bedroom, sleepytime tea in the pantry, or daily reminders to take walks can feel less than revolutionary, but their effects are far-reaching.
8.
Experiment with new colors.
Pulling in some fresh colors in the new year is another great way to harness bright, optimistic energy. You might consider buying new multicolored pillow covers, painting a wall or a room in a hue you've never considered before (like my soon-to-be-pink dining room), getting a set of markers or Sharpies to use a full rainbow of options while brainstorming and making lists, and even wearing new colors that are appealing to you.
Color therapist Walaa AlMuhaiteeb taught me that our favorite colors are a great place to begin when blanketing our lives in color energy. From there, you can follow your curiosity and cravings, reaching for colors that make you feel fantastic. (2022 is a great year to learn more about color therapy as well!)
Moving forward into 2022.
Every year, I set a theme and pick a word to focus on. The most successful year of my life across the board was the year I decided to make happiness my priority. I'm making that my theme again for 2022, and you're welcome to join me using these tips. I hope this year brings you immense joy, fulfillment, and tons of rewards!
Dana Claudat
Designer & Feng Shui Master
Dana Claudat is a modern Feng Shui Master and founder of The School Of Intention Feng Shui Certification Program. In the last 15 years Claudat has pioneered her own approach to Feng Shui that is rooted in infinite possibility, creativity and empowerment. Rather than hope for lucky results and outcomes, she helps her clients to create them every day.
She's a Stanford-educated art historian with more than a decade of experience in design yet her approach to space is simple. Claudat is a longtime mindbodygreen contributor and instructor (she may have had a hand in the hundreds of plants in mindbodygreen headquarters!), and her work has been featured in design and lifestyle publications around the world.
You can work with her from wherever you are in the world in her online Feng Shui Camps and through her Online Feng Shui Consultations.
You can sign up for her weekly Feng Shui Rituals, including rituals for every New and Full Moon, right here!