Trend Alert: Edible Cookie Dough Is Now Packed With Functional Ingredients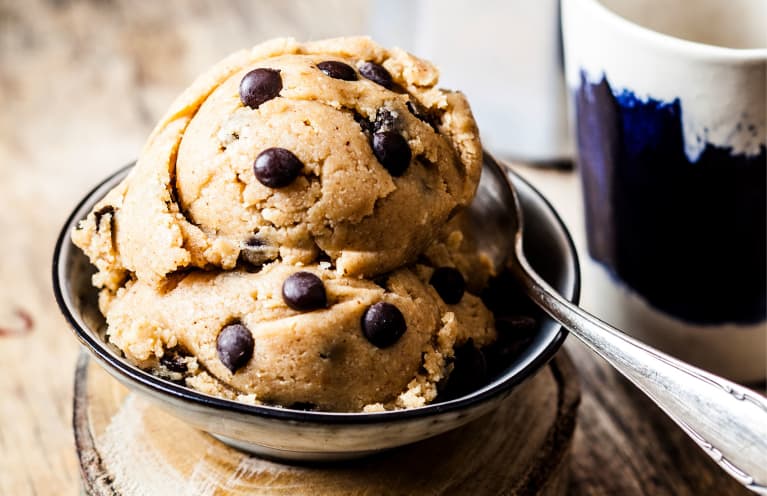 Our editors have independently chosen the products listed on this page. If you purchase something mentioned in this article, we may
earn a small commission
.
OK, I admit it: I'm totally one of those people who loves sneaking a spoonful of cookie dough before it hits the oven. A food safety hazard? Probably. Delicious? Absolutely.
Like so many of us (I know I'm not alone here), this cookie dough fandom started when I was a kid. I grew up in a pretty health-conscious household (think more fruits and veggies, fewer sugary sweets), but on those special nights when baking cookies was on the agenda, I always loved sneaking some raw dough—much to my mom's dismay. Now, as a health editor and well-being-aware adult, I regularly dream up ways to make more nutritious alternatives to so many of my favorite treats—and that includes cookie dough.
That's why I was so thrilled when I started noticing healthier edible cookie dough products hitting the market recently. Not only are these products free of raw eggs and generally plant-based, but you'll also find functional foods on their ingredient list (maca! vitamin C! baobab!).
I'm not the only one taking notice: Nutritionist Frances Largeman-Roth, R.D., shared that she's a fan of the promising trend, as well. "Garbanzo beans and pea protein are often in the mix, which is a great way to add extra plant protein to your diet," she says. "Just keep your eye on the added sugars. Even 'healthy' cookie dough can become not so healthy if it's overloaded with added sugars, including coconut sugar and maple sugar."
Curious to give one a try? Here are some of the alternative cookie dough brands we're drooling over at mbg—which we're hopeful are just the beginning. Get ready to grab a spoon and dig in!
Deux Enhanced Cookie Dough
I'm pretty obsessed with this brand's cookie dough offerings, which feature powerhouse ingredients like elderberry, aloe vera, and collagen. I also appreciate that they use natural sweeteners like maple syrup and coconut sugar.
Largeman-Roth is a fan, too: "They are super delicious, and a couple of spoonfuls are the perfect pre-run or pre-yoga fuel," she says. "You can bake them into cookies, but I've never gotten that far!"
My personal favorite is the ginger doodle flavor, which includes cinnamon, ginger, and ashwagandha!
Deux Ginger Doodle Enhanced Cookie Dough, eatdeux.com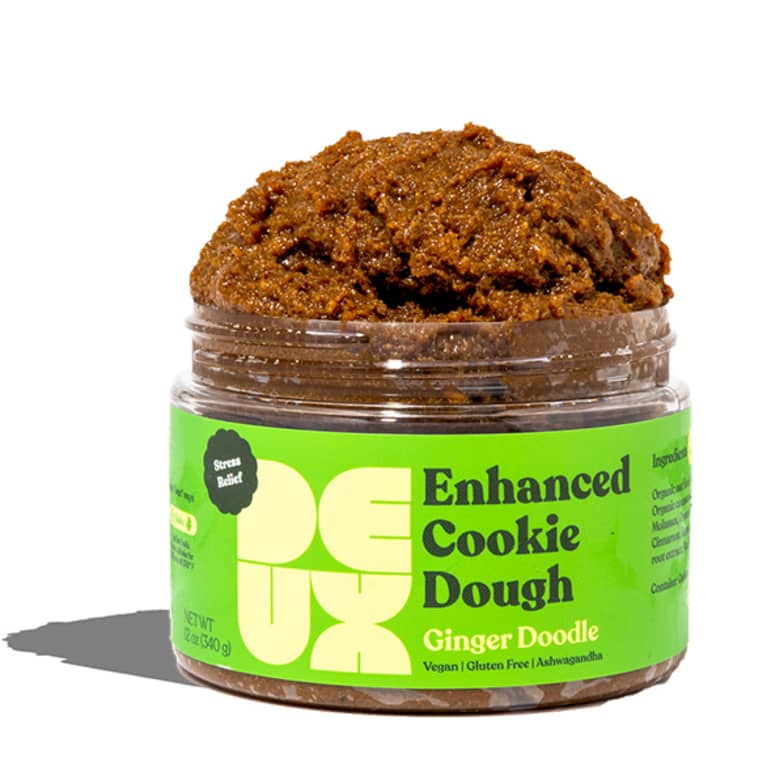 Daily Harvest Bites
I've honestly enjoyed every product I've tried from Daily Harvest's frozen food selection, but when DH launched these "bites," they were an instant standout. There are a few different flavors, including chocolate hazelnut and lemon, but my go-to is the cacao nib (probably because they feel closest to a classic chocolate chip cookie dough).
This blend features an ingredient list that reads just like a recipe (something I look for in any packaged food). Most notably: fiber-packed organic chickpea puree and organic date paste; organic cassava root flour, which is a great prebiotic source; and adaptogenic organic maca powder.
Daily Harvest Cacao Nib + Vanilla Bites, dailyharvest.com ($7.99)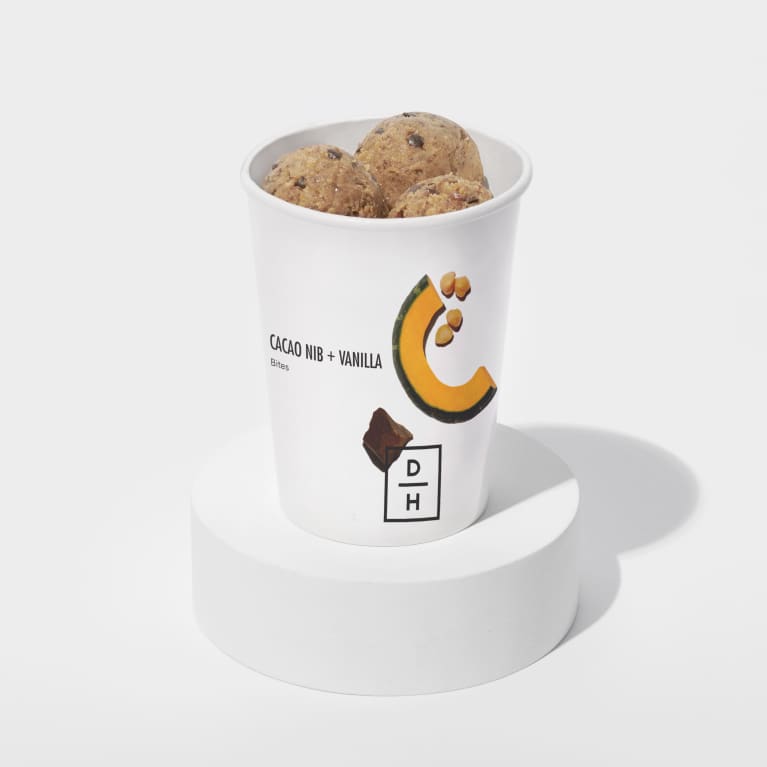 Daily Harvest
Toto Cookie Dough
This healthier cookie dough is a favorite of mbg's CEOs and co-founders, Jason and Colleen Wachob. All of Toto's flavors are vegan, gluten-free, and low in sugar (just 4 grams of coconut sugar per serving). This sea salt chocolate chip blend also features omega-3-rich flaxseeds along with mood-supporting maca.
Toto Sea Salt Chocolate Chip Cookie Dough, totofoods.com ($20)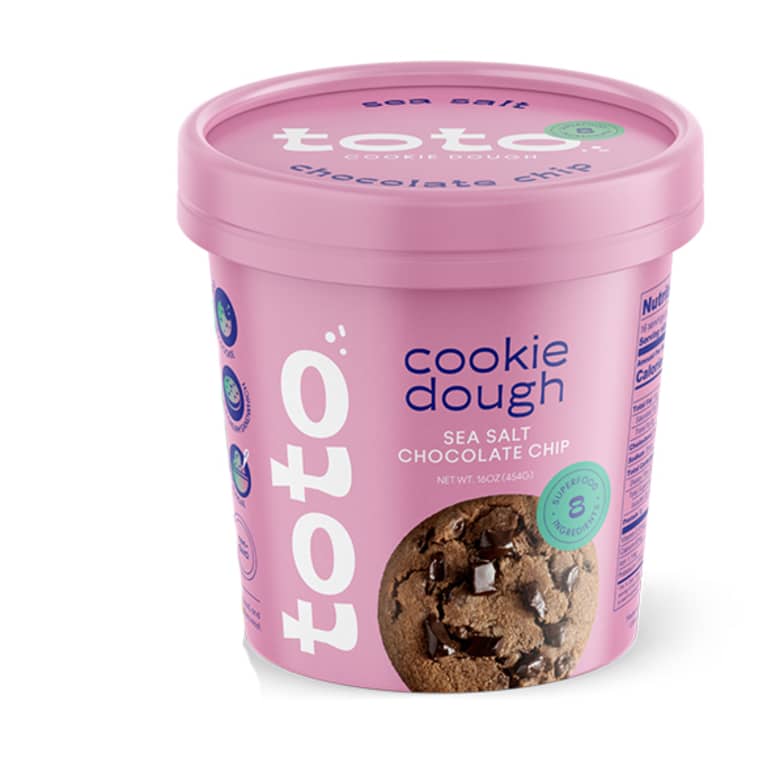 If you're new to the whole healthy cookie dough thing and want to give it a try before you buy, follow this paleo cookie dough recipe, featured from Kristen Tomlan, the founder and CEO of DŌ, Cookie Dough Confections—and find out how to bake it, here!
Ingredients:
2 cups almond flour
½ cup coconut flour
1 teaspoon baking soda
½ cup pasteurized egg whites, at room temperature
½ cup coconut oil
1 cup almond butter
1 cup coconut sugar
2 teaspoons vanilla extract
½ cup vegan chocolate chips
Flaky salt, like Maldon, for topping
In a medium bowl, whisk together the almond flour, coconut flour, and baking soda. Set aside.
In the bowl of a stand mixer fitted with the paddle attachment, whip the egg whites on high until very frothy and they have enough structure to form a shape but not enough to hold it, about 1 minute.
Using a rubber spatula, scrape the egg whites into a small bowl.
In the bowl of a stand mixer, beat the coconut oil and almond butter on medium speed until smooth and creamy, about 2 minutes. Add the coconut sugar and mix on medium until light and fluffy: About 4 minutes will do the trick. Use a rubber spatula to scrape the bowl. Add the egg whites and vanilla, and mix until fully incorporated, about 2 minutes.
Add half of the flour mixture and mix on low just until the powdery texture of the flour disappears, about 15 seconds. Immediately, add the rest of the flour mixture and mix until combined. Scrape the bowl and mix a final 15 seconds.
Remove the bowl from the mixer and use a rubber spatula to fold in the chocolate chips. Sprinkle with flaky sea salt.
Store uneaten in an airtight container in the refrigerator for up to 1 week.
Want to turn your passion for wellbeing into a fulfilling career? Become a Certified Health Coach! Learn more here.