How To Make Paleo Chocolate Chip Cookie Dough (Yes, It's A Thing)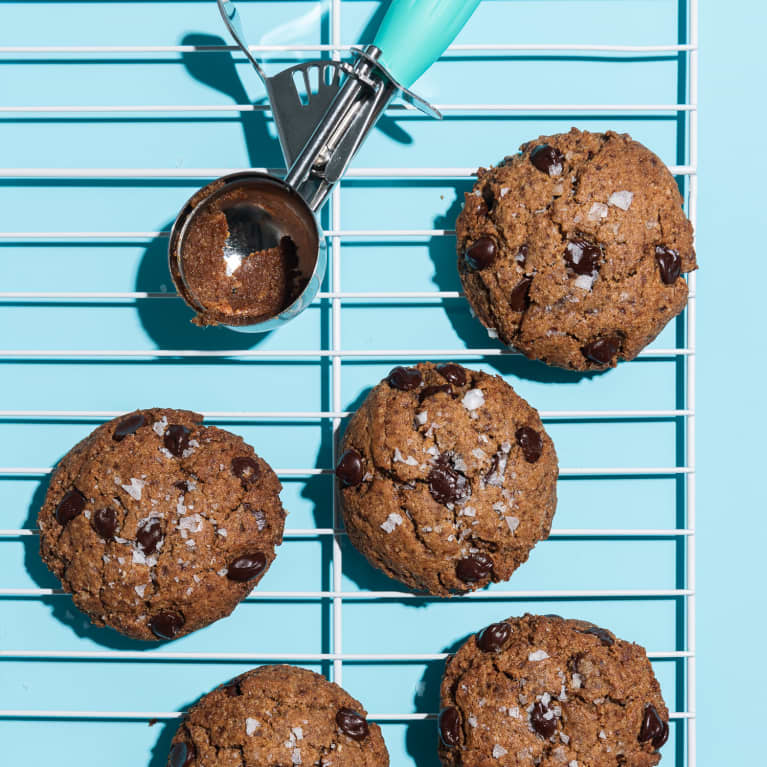 Our editors have independently chosen the products listed on this page. If you purchase something mentioned in this article, we may
earn a small commission
.
It seems as if the paleo diet has taken the world by storm, with decadent treats and breakfast pastries alike that rival traditional dessert. But the one thing the paleo community just hasn't seemed to get quite right is a good paleo cookie dough. Not to be mistaken for paleo cookies (which are incredible, by the way), a paleo cookie dough that you can devour straight from the bowl has been a distant, yet eager dream.
Enter the new cookie dough recipe from Kristen Tomlan's new cookbook, Hello, Cookie Dough. As the founder and CEO of DŌ, Cookie Dough Confections, Tomlan sure knows her way around a mixing bowl. It's only fitting that her next venture was to create a paleo version of her beloved unbaked treats, rightfully named, "Paleo People Deserve Cookie Dough, Too." With this dessert, you'll be able to experience the rich, fudgy taste of Tomlan's conventional cookie dough creations without sacrificing your healthy diet. Paleo people, rejoice.
"Paleo People Deserve Cookie Dough, Too" Cookie Dough
2 cups almond flour
½ cup coconut flour
1 teaspoon baking soda
½ cup pasteurized egg whites, at room temperature
½ cup coconut oil
1 cup almond butter
1 cup coconut sugar
2 teaspoons vanilla extract
½ cup vegan chocolate chips
Flaky salt, like Maldon, for topping
In a medium bowl, whisk together the almond flour, coconut flour, and baking soda. Set aside.
In the bowl of a stand mixer fitted with the paddle attachment, whip the egg whites on high until very frothy and they have enough structure to form a shape but not enough to hold it, about 1 minute.
Using a rubber spatula, scrape the egg whites into a small bowl.
In the bowl of a stand mixer, beat the coconut oil and almond butter on medium speed until smooth and creamy, about 2 minutes. Add the coconut sugar and mix on medium until light and fluffy: About 4 minutes will do the trick. Use a rubber spatula to scrape the bowl. Add the egg whites and vanilla and mix until fully incorporated, about 2 minutes.
Add half of the flour mixture and mix on low just until the powdery texture of the flour disappears, about 15 seconds. Immediately, add the rest of the flour mixture and mix until combined. Scrape the bowl and mix a final 15 seconds.
Remove the bowl from the mixer and use a rubber spatula to fold in the chocolate chips. Sprinkle with flaky sea salt.
Store uneaten in an airtight container in the refrigerator for up to 1 week.
Paleo people, this dough is for you!
Press a piece of plastic wrap onto the top of the cookie dough. Place the whole bowl in the refrigerator to chill for 24 hours or in the freezer for at least 2 hours.
Preheat the oven to 350°F.
Line baking sheets with parchment paper or a silicone baking mat. Use a cookie scoop to portion the dough onto the baking sheets, leaving about 3 inches of space between scoops. Bake for 4 to 6 minutes, until the edges are lightly golden brown.
Remove from the oven and let cool on the baking sheets for 5 minutes. Enjoy warm or transfer to a wire rack to cool completely.
Recipe excerpted from Hello, Cookie Dough by Kristen Tomlan. Reprinted with permission from Hachette Book Group Inc., 2019.