The Best Blood-Sugar-Balancing Desserts, According To Top Wellness Experts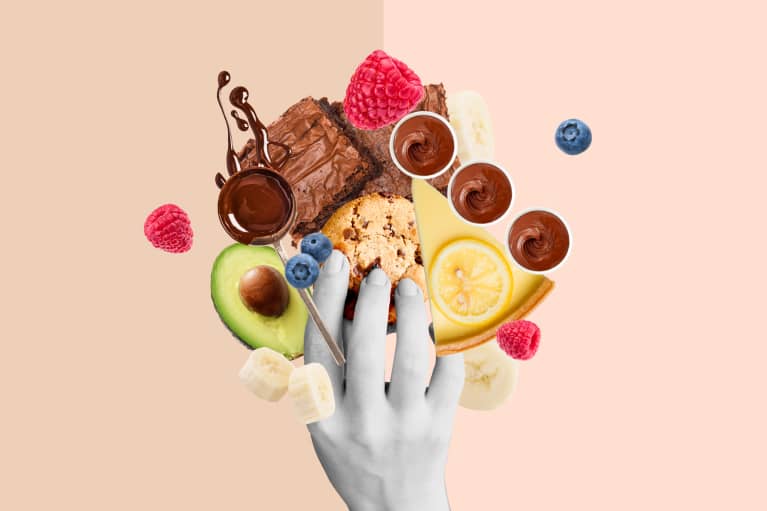 Our editors have independently chosen the products listed on this page. If you purchase something mentioned in this article, we may
earn a small commission
.
We all want to have our cake and eat it too, enjoying desserts that satisfyingly quell our sweet tooth while keeping our blood sugar from spiking, setting off the uncomfortable cascading hormonal reactions that inevitably follow. The good news? If a dessert comes with enough fiber, protein, and healthy fat, it can keep your blood sugar super stable—while still being absolutely delicious. We reached out to the country's top wellness experts and asked what they eat when a sweets craving strikes—here were their top picks.
I enjoy fresh berries topped with unsweetened whipped cream and chopped almonds as a nightcap. What makes it so special is the simple, high-quality ingredients—plump, juicy strawberries; organic whipped cream; and chopped almonds. It's the perfect trifecta of taste, health, and convenience.
—Jessica Jones, R.D., founder of Food Heaven Made Easy
Fresh berries served with a whipped Greek yogurt topping—combine plain Greek yogurt and coconut flour with maple syrup in a food processor and process until fluffy. Honestly, even just berries with a dollop of grass-fed whole milk yogurt is delicious. Again, you can add a little sweetness with a light drizzle of maple syrup or honey.
—Jessica Cording, R.D., founder of Jessica Cording Nutrition
Lemon curd, especially in the springtime, is my favorite way to feed my sweet tooth. My favorite version uses coconut oil instead of butter and tastes just as creamy and luscious. It's a perfect topper for my almond flour tart crust. Pretty enough for company but easy (and wholesome) enough to whip up a half batch just for my husband and me.
—Phoebe Lapine, mbg Collective member, founder of Feed Me Phoebe, and host of the SIBO Made Simple podcast
Banana & avocado chocolate pudding
My favorite dessert is a chocolate pudding made with banana, avocado, maple syrup, and cacao powder. After blending this up, you refrigerate for one hour before serving, then eat up!
—Nicole Rivera, D.C., founder of the Integrative Wellness Group
I love black bean brownies because they give me that fudgy chocolate fix with the added bonus of the fiber and protein from the beans. You can't even tell the beans are in there—if anything, they only add to the fudgy texture.
—Allison (Aaron) Gross, M.S., RDN, CDN, founder of The Nutrition Curator
Cashew chocolate chip cookie skillet
Healthy chocolate milkshake
I love making my own cacao creations. I add raw cacao powder to the blender along with some combination of hazelnuts, dates, cinnamon, coconut oil, collagen, ghee, banana, and whatever flavor I'm in the mood for like mint or cardamom, and water.
—Ellen Vora, M.D., top holistic psychiatrist, mbg Collective member, and class instructor
Dates with nut or seed butter
I quell my sweet tooth with Medjool dates stuffed with cashew or seed-based butter. It's sweet, but there's no added sugar (just the sugar from dates!), and you get a mixture of savory (add some salt for extra-savory). It's also rich in minerals, iron, and magnesium.
—Isabel Smith, R.D., founder of Isabel Smith Nutrition
Lately my favorite dessert is a concoction of a frozen banana, organic soy milk, cocoa powder, cinnamon, and sometimes a drop of vegan chocolate protein powder. It sounds like a smoothie, but the key is not to add too much liquid, so it's almost pudding consistency. It's delicious, easy to make, and always hits the spot!
—Leah Silberman, R.D., co-founder of Tovita Nutrition
My go-to desserts are keto smoothies, which are lower in sugar and higher in healthy fats. By using almond or coconut milk as my base, I add in superfoods like spirulina, greens, matcha, and adaptogens as well as some clean plant proteins like almond butter or hemp powder. You can sweeten with some low-fructose fruits like blueberries or a little stevia.
—Will Cole, D.C., mbg Collective member and author of Ketotarian
My favorite dessert is my adaptogenic fudge. It contains hormone-balancing ashwagandha and shatavari, with cacao, cinnamon, coconut oil, and sunflower seed butter, with a couple of droplets of monk fruit sweetener to sweeten it up without any sugar! It's so delicious, and the fat allows the herbs to absorb better into your system!
—Sahara Rose, ayurvedic expert and author of Eat Feel Fresh
This combination of chocolate plus fats and sea salt is extremely satisfying, and storing it in ice cube trays makes for easy portion control. To make it, just combine 1 cup of melted coconut butter, ⅓ cup of nut butter, and ¼ cup of raw cacao until smooth. Pour into ice cube trays and sprinkle with sea salt. Let sit in freezer for one hour before enjoying!
—Stephanie Middleberg, R.D., founder of Middleberg Nutrition and author of The Big Book of Organic Baby Food
Want to turn your passion for wellbeing into a fulfilling career? Become a Certified Health Coach! Learn more here.