These Chickpea-Based Recipes Are Packed With Protein & Flavor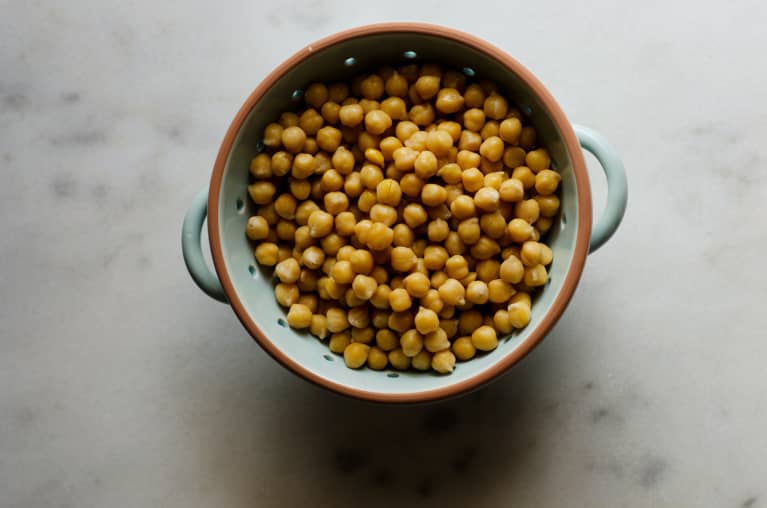 When it comes to plant-based proteins, chickpeas are a favorite for good reason: They're easy to work with and pack 14 grams of protein in each cup. They're also super versatile, and even their liquid is useful as an egg substitute.
"Chickpeas are wonderful to add directly to your dish—like salad, pasta, or soup—for extra protein and fiber," Abby Cannon, J.D., R.D., CDN, previously told mindbodygreen. But they're also a great base for a warming vegetarian and vegan winter dinner (or a good Sunday cook for a week of lunches since a few of these will definitely reheat well).
While tossing them on a sheet pan with oil, spices, and some veggies is one of the simplest routes to a chickpea-powered meal, you can do better than that: These are some of our favorite recipes, with inspiration from the Mediterranean and beyond:
1.
Black-Eyed Pea, Pumpkin & Chickpea Stew
There's lots to love about this recipe: Double the legumes with black-eyed peas and chickpeas paired up with pumpkin for a hearty meal that's absolutely perfect for warming up any winter day. You'll have to go deep into your spice cabinet for this recipe, too: It uses cumin seeds, ground cumin, cinnamon sticks, coriander, turmeric, and cayenne pepper to create a rich base of flavor.
2.
Baked Feta With Greens & Lemon-Tahini Dressing
Though chickpeas don't feature in the title of this recipe, they're a key component of its rich flavor and diverse textures. Creamy baked feta, charred baked kale, and crisp chickpeas are topped with a bright dressing of lemon and tahini and then a handful of pumpkin seeds for a final level of crunch.
3.
Oven-Baked Super-Green Falafels
We could hardly write a list of warming chickpea dishes without mentioning falafel, and this recipe for a green-hued version is as simple as it is delicious. Start with canned chickpeas, herbs, kale, frozen peas, and a food processor—and finish up with the perfect nugget of goodness to base your meal around. It's your choice what to pair these with, though we're big fans of having them with flatbread, homemade hummus, and even more greens.
4.
Chickpeas With Cilantro & Coconut
If there's one lesson learned from this list, it's that chickpeas are the perfect canvas for a whole lot of spices. This recipe's yellow tones are thanks to turmeric, which is paired with fresh ginger and chili powder. But look out: The recipe also includes two Scotch bonnet peppers, a variety of chili pepper that's categorized as "very hot."
Don't have enough canned chickpeas on hand? That's OK—there are plenty of ways to use your favorite canned beans for rich, warming dinners this winter: For example, if you've got black beans, you're well on your way to an amazing veggie burger.