This Protein-Packed Chickpea Recipe Is The Perfect Immune-Building Winter Meal
mbg Contributor
By Caroline Muggia
mbg Contributor
Caroline Muggia is a writer, environmental advocate, and registered yoga teacher (E-RYT) with a B.A. in Environmental Studies & Psychology from Middlebury College.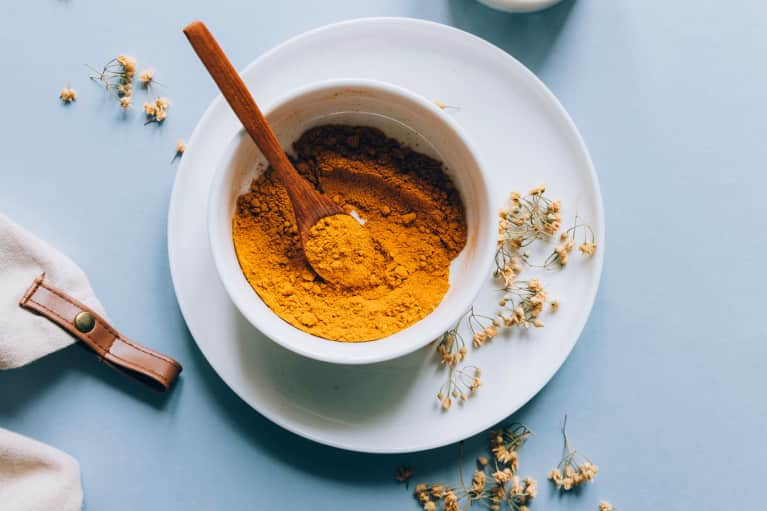 Our editors have independently chosen the products listed on this page. If you purchase something mentioned in this article, we may
earn a small commission
.
Jamaica-based sisters Michelle and Suzanne Rousseau, stars of the television series Two Sisters and a Meal, have long made it their mission to share healthy Caribbean flavors with the rest of the world. In their new cookbook Provisions: The Roots of Caribbean Cooking–150 Vegetarian Recipes, the Rousseau sisters delve into the history of Caribbean cuisine through personal stories highlighting secret ingredients and recipes passed down by the women in their family. Their passion for local vegetables, fresh tropical fruits, and roots add life and an exotic touch to the flavorful dishes.
Their vibrant chickpea dish features warming and metabolism-boosting chili peppers and fresh ginger and turmeric for anti-inflammatory and immune-building properties. "The dish features so many beloved spices and ingredients that are also common to the Caribbean islands—grated coconut, green mango, fresh cilantro—that we had to create our own version," they write. They first tried this dish in India, where it is considered a "beachside snack" in some areas. It's the perfect way to warm and brighten up a cold winter day while benefiting your immune system—and your palate.
Chickpeas With Cilantro and Coconut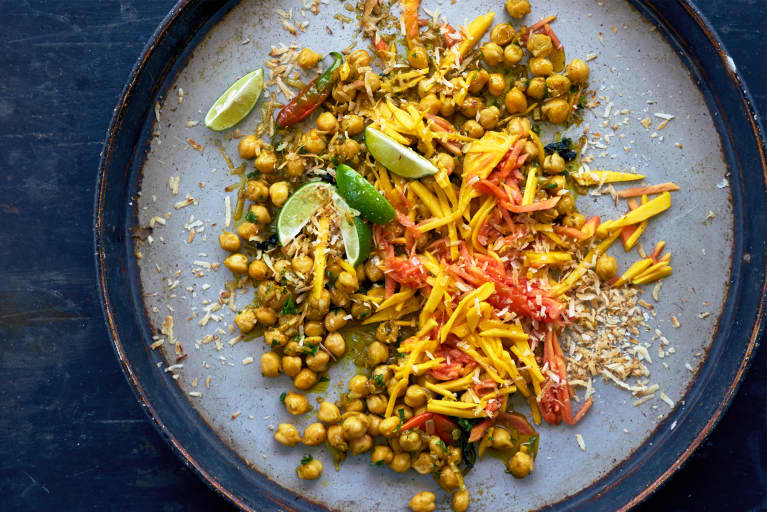 1 tablespoon coconut oil
2 small red chili peppers (whole)
½ medium yellow onion, chopped
2 Scotch bonnet peppers, coarsely chopped
1 tablespoon diced fresh ginger
½ teaspoon chili powder
¼ teaspoon turmeric
1 10-ounce can chickpeas, drained and rinsed, salt to taste
2 tablespoons chopped cilantro, some reserved for garnish
½ "turned" (not quite ripe) mango, peeled and grated
½ "turned" papaya, peeled and grated
2 tablespoons grated dry coconut (unsweetened)
4 limes, cut into wedges
In a sauté pan, heat the coconut oil over medium heat.
Add the red chili pods, onion, Scotch bonnet pepper, ginger, chili powder, and turmeric.
Cook for about 2 minutes.
Add the chickpeas, and sauté until all the ingredients are combined and the chickpeas are well-coated with seasonings.
Reduce the heat to low, and cook for 2 minutes more.
Season to taste with salt. Stir in the cilantro, reserving some for garnish.
Serve topped with the grated mango and papaya, coconut, fresh cilantro, and lime wedges.