This Black-Eyed Pea, Pumpkin & Chickpea Stew Will Warm Up Any Winter Day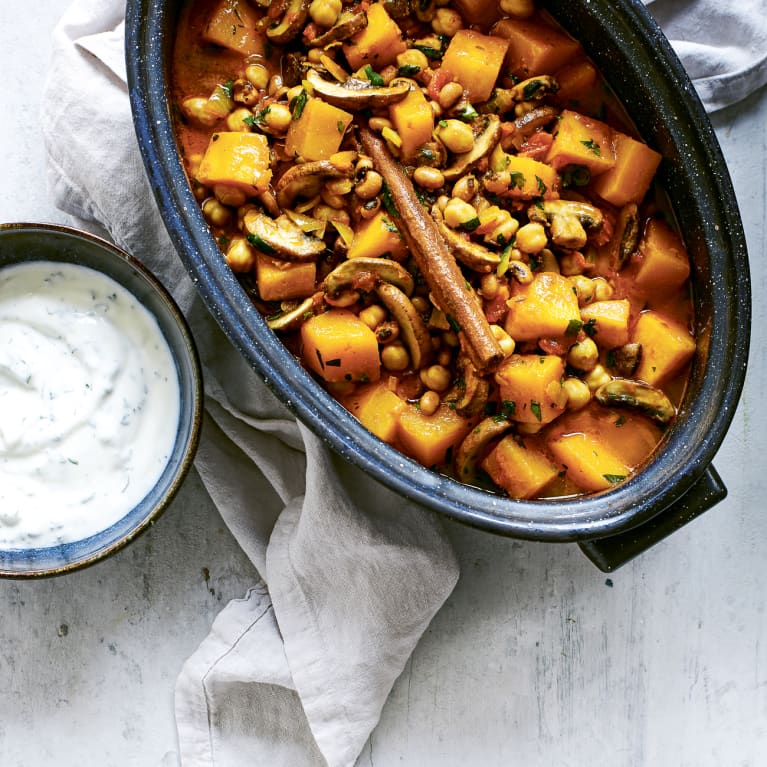 Our editors have independently chosen the products listed on this page. If you purchase something mentioned in this article, we may
earn a small commission
.
One of the very best vegetarian one-pot dishes! What's not to like about black-eyed peas, chickpeas, and pumpkin with lots of spices? It's delicious on its own but equally good with a roast chicken or a few lamb chops. You can also eat this dish with flatbreads or rice pilaf, if you prefer.
No matter how you prepare the dish, you'll have a cozy winter meal on your hands.
Black-Eyed Pea, Pumpkin & Chickpea Stew
6 tablespoons extra-virgin olive oil
1 teaspoon cumin seeds
1 x 1-inch cinnamon stick
5½ ounces onions, chopped (about 1⅓ cups)
4 garlic cloves, very finely chopped
8 ounces fresh mushrooms, sliced approx. ⅛ inch thick (about 4 cups)
1 pound pumpkin or butternut squash, peeled and cut in ¾-inch cubes
14 ounces fresh tomatoes, peeled and chopped or 1 x 14-ounce can of chopped tomatoes
2 teaspoons ground coriander
1 teaspoon ground cumin
½ teaspoon ground turmeric
Pinch of sugar
¼ teaspoon cayenne pepper
1 pound (about 3 cups) cooked black-eyed peas, strained (reserving the cooking liquid)
8 ounces (about 1⅔ cups) cooked chickpeas, strained (reserving the cooking liquid)
1 teaspoon salt
Freshly ground black pepper
3 tablespoons chopped cilantro
1⅓ cups plain yogurt
1 tablespoon chopped mint leaves
Heat the oil in a sauté pan over medium-high heat. When it is hot, put in the cumin seeds and the cinnamon stick. Let them sizzle for 5 to 6 seconds, then add the onions and garlic.
Stir-fry for 3 to 4 minutes until the onion is just beginning to color at the edges. Add the mushrooms and cook until the mushrooms wilt, then add the pumpkin or squash, tomatoes, ground coriander, cumin and turmeric, a pinch of sugar, and the cayenne.
Cook for 1 minute, stirring, then cover with a lid and cook over gentle heat for 10 minutes.
Turn off the heat and tip in the drained beans and chickpeas. Add the salt and pepper, together with 2 tablespoons of the cilantro.
Pour in scant ⅔ cup of the bean cooking liquid and ⅔ cup of the chickpea liquid (or 1¼ cups of vegetable stock if you've used canned pulses). Return to a boil, and then reduce the heat and simmer for 10 to 15 minutes, stirring occasionally, until the beans and chickpeas are tender.
To make the mint yogurt, combine the yogurt with the chopped mint in a bowl.
Remove the cinnamon stick from the pan before serving, and sprinkle with the remaining cilantro. Spoon into serving bowls and top with a dollop of the mint yogurt. Accompany with a good green salad and rice, if you wish.