Close Banner
Advertisement
This ad is displayed using third party content and we do not control its accessibility features.
The 10 Best Sex Toys For Women Of 2023, According To Experts & Our Team Of Testers


Medical review by
Heather Irobunda, M.D.
Board Certified Obstetrician-Gynecologist
Heather Irobunda, M.D. is a board certified obstetrician-gynecologist based in Queens, New York.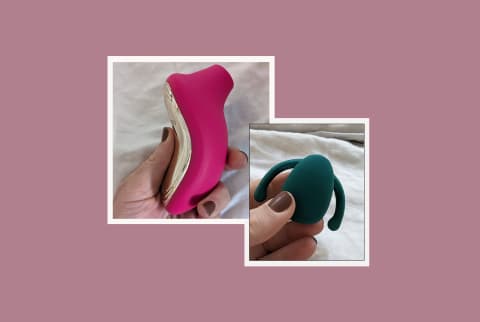 We carefully vet all products and services featured on mindbodygreen using our
commerce guidelines.
Our selections are never influenced by the commissions earned from our links.
Still, the search for the best sex toys can feel just as tricky as the orgasm itself—but it's a hill that's worth the climb. And with the help of 10 certified experts (and a whole lot of testing), we've done the bulk of the trek for you.
The best sex toys for women:
The best sex toys for women of 2023

How we picked:

Expert guidance: We asked sex therapists what to look for when searching for the best vibrators and used their expertise as a guideline for selecting these options, and we even included some of their personal recommendations.
Body safe: When finding and testing the best sex toys for women, we searched for products made from body-safe and nontoxic materials. We also paid attention to each brand's sustainability mission and provided rankings for the selected products.
Testing: Our team has tested dozens of sex toys and accessories over the years. When selecting products for this list, we prioritized products that have truly helped us enhance pleasure and learn more about our bodies. We tested for ease of use, durability, volume, aesthetic, customization, and battery life.
Inclusivity: We chose these products from reputable and inclusive sellers who support diversity and the LGBTQ+ community with their product offerings and sexual wellness resources.
Best rose toy
Lovehoney Rose Clitoral Suction Stimulator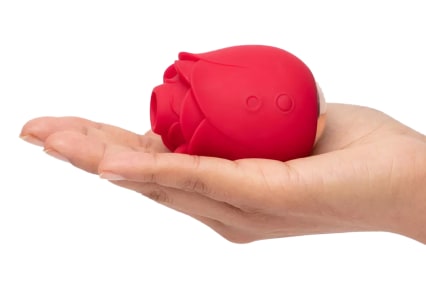 Rose sex toys became popular a few years ago for their unique combination of suction and vibration. Quite a few brands on the market make rose designs, but we like this option from Lovehoney best (a reliable brand in the sexual wellness space).
The floral design is less in-your-face than other sex toys, so you'll feel comfortable leaving it on your bedside table. It also has 10 air intensity levels, which our tester describes as ranging from surprisingly subtle to shockingly intense.
Pros & cons

Pros

Great for beginners
Material is very soft
Incredibly stimulating

Cons

Battery life is not great
Volume is a bit loud
Our tester's take

Our tester had never tried a rose sex toy before and confirmed that this Lovehoney design is a great option for beginners. The material is as soft as real rose petals, and the device is easy to operate. While the battery life could be longer, this toy brought our tester orgasms in record time.
Best wearable
Dame Eva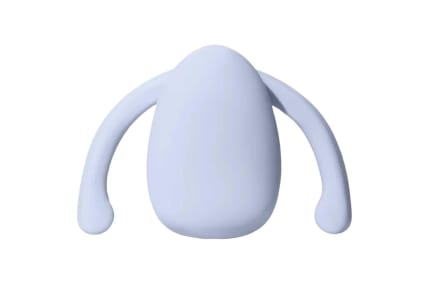 The vibrator has two little arms that tuck under your labia, which places the vibrator right over your clitoris. Tiny but mighty, it delivers vibrations at three intensities to help you get off during penetration, per our tester.
Pros & cons

Pros

Can we be worn for penetration
Quiet enough to not disrupt sex
Aesthetic and discreet design

Cons

Not great for solo sex
Could be more powerful
Doesn't work for all positions
Our tester's take

Our tester is someone who rarely finishes during coupled sex, but she found adding Eva to the mix made it possible to orgasm in less than 15 minutes at the highest setting. While some positions make the Eva less secure, it's quiet enough to not disrupt the mood. Plus, it's held up to at least three years of use without showing signs of wear and tear.

To be clear: We don't think this is a standout toy for solo time—there are much better ways to get off by yourself—but we think this vibrator is a great way to break down the pleasure gap between partners. And the storage container is discrete enough to keep on the bedside for easy access.
Expert take

"[The Eva] is an external-only clitoral stimulator that a clitoris-owner can wear during any type of sex. It's buzzy, on the lighter side, and great for folks figuring out how to integrate clitoral stimulation during other types of play," says relationship and sex therapist Rachel Wright.
Best eco-friendly
The Womanizer Premium Eco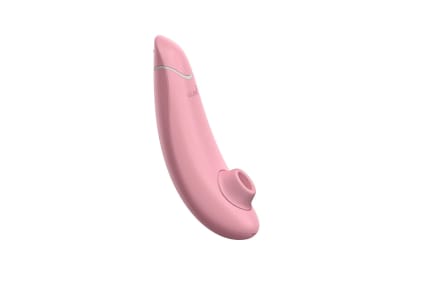 There are very few truly sustainable vibrators on the market—and even fewer that go beyond a basic rumble. The Womanizer Premium Eco upgrades the brand's original clitoral suction vibrator into an eco-friendly option.
Instead of plastic, the toy is made with Biosense, a renewable raw material. Yet it still offers 12 different intensity settings with a long-life battery that can be recharged up to 300 times (!!!).
Pros & cons

Pros

Eco-friendly design made with renewable materials
Long-last battery good for 300 recharges
Customizable head attachments to suit different bodies

Cons

Sensation is slightly rumbly
Tip is not always the most comfortable on clitoris
Our tester's take

Our tester thinks the Womanizer's suction is slightly more rumbly than Lelo's (the latter is their preference) but this toy offers such a unique eco-friendly way to orgasm that we still had to keep it on the list. Plus, it still offers Womanizer's signature customized stimulator head; the removable piece comes in two sizes to better fit different clitoris sizes.
Expert take

Certified sex therapist Bat Sheva Marcus, Ph.D., MSW, MPH, notes this is a brand she recommends often. "It's not inexpensive, but because the suction needs to be fairly powerful, it's worth paying up for this. Many women say it feels like oral sex. So if you are an oral sex fan, and that gets you off, this one might be for you."
Best anal sex toy
We-Vibe Ditto Butt Plug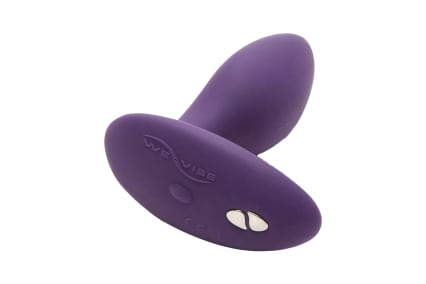 The best anal sex toys are a great tool for exploring pleasure on your own or with a partner. Those new to the game will want something beginner-friendly, such as this surprisingly chic butt plug.
Small enough to fit in the palm of your hand, this tiny-yet-mighty toy was dubbed by our testers as a great choice for beginners—and Consul agrees. She adds that the smooth material and tapered shape help with easy insertion.
Pros & cons

Pros

Small design
Very durable
Lots of customization options

Cons

Sound is distracting for some
Our tester's take

When testing the We-Vibe Ditto, we were impressed by how intense such a mellow vibration can feel. We also love that there are seemingly endless customization options, with a remote control function that's a great perk for long distance couples.
Expert take

"This butt plug is great for both newbies and experienced folks," Consul says. "It's a fun way to explore with your partner whether you're in the same room or across the country," she adds.
Best for beginners
Maude Vibe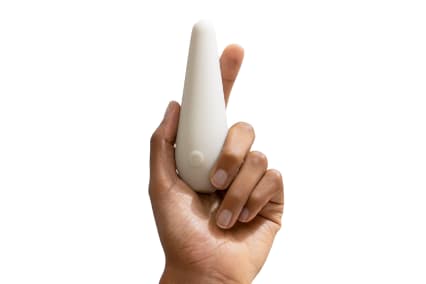 Aesthetics drew us to this gorgeous vibrator first, but it proved its spot on our list tenfold. A strong choice for newbies and those of us with dedicated sex toy drawers, the Maude Vibe is very easy to use (operated with just one button) and pretty enough to be on display.
Pros & cons

Pros

Very easy to operate
Quiet vibrations & discreet design
FDA grade silicone feels extremely soft and pleasurable against the skin

Cons

Not a ton of customization options
External use only
Our tester's take

We like that, while powerful, this vibrator is very quiet (even on its strongest setting). And it brings intense orgasms, according to our testers. In fact, one tester ranked this on the top of her list after trying dozens of other options.
Expert take

"Maude's vibe is perfect for vulva-owners," Miller says. "Its cone-like structure targets the spots that matter for you to get off with an easy-to-use device."
Best for couples
We-Vibe Chorus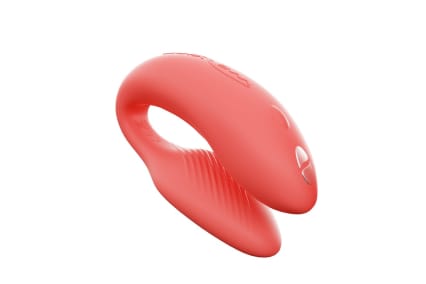 This wearable vibrator is great for couples. With two bendy, flat arms, the device can stimulate the clitoris, G-spot, and penis simultaneously when worn inside the vagina during sex.
You can choose from three touch-sense settings within the app, or use the remote control to customize your experience.
Pros & cons

Pros

Can be controlled via app or remote control
Adjustable fit stays comfortably secure once inserted
Touch-sense technology

Cons

Bluetooth can be tricky to connect
Our tester's take

We found the Chorus to be surprisingly flexible, which makes it very comfortable to use (even for beginners). The device stays secure once inserted and can be operated by a remote control or app, making it a great choice for solo or partnered pleasure.

What's fun about this one is you can actually adjust the vibration intensity based on how hard you (or your partner!) squeeze the remote itself.
Expert take

"The We-Vibe is a highly recommended waterproof vibrator that is designed to be worn during partnered sex. It is app-controlled, allowing for customizable patterns and intensities," Lilithfoxx says.

She adds that the remote is splash-proof, but not waterproof—so be careful not to submerge it.
Best wearable ring
Maude Band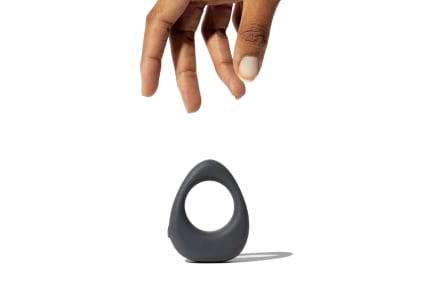 One of the most discreet sex toys we tested, this sleek wearable ring is designed for comfortable wear around the penis.
We prefer using this one with lubricant applied directly to the inside of the band. Just note, the brand recommends using something aloe- or water-based, as oil-based lubes degrade the silicone.
Pros & cons

Pros

Sleek, discreet aesthetic
Smooth silicone material
Five settings to choose from

Cons

Some say the sizing is a bit off
Can't use with oil-based lube
Our tester's take

Our testers say the material feels soft against the skin and the ring adds a new level of pleasure to sex. We love that the band has five settings—but level two was more than enough for us.
Expert take

Per Miller, "The band is a great hands-free device for both penis- and vulva-owners. It sits at the bottom of the penis, offering longer-lasting erections while stimulating the clitoris at the same time."
Best suction vibrator
Lelo Sona Cruise 2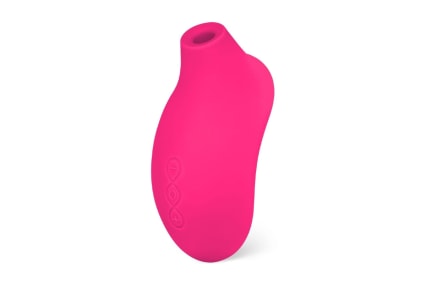 If you can only buy one sex toy from this list, it should be the Lelo Sona Cruise 2. The clitoral suction vibrator is so good, our tester regularly finishes within minutes of hitting the power button—even on the lowest setting.
Why is this vibrator so good? Well, it's designed around the idea that 90% of the clitoris is actually hidden from view—and it's rarely stimulated by traditional vibrators. The suction and pulsing of a clitoral vibrator have a strong (and further reaching) effect that better stimulates the clit.
The end result? A waterproof toy that brings you to orgasm every single time. Simply align the sculpted silicone with your clitoris and choose between 8 settings.
Pros & cons

Pros

Extremely powerful, even on the lowest setting
Eight settings to choose from
Our testers achieved orgasms every time

Cons

Sound can be distracting for some
Our tester's take

We recommend the sixth setting for the biggest bang—just be warned it's loud enough to alert your roommates.

Needless to say, our tester has had this toy in her rotation for almost four years, and it's still going strong (except for a small knick in the silicone along the base that's made the device not-so-waterproof).
Bonus pick: Best lube
Woo More Play Coconut Love Oil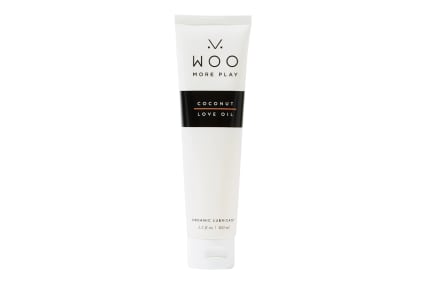 Okay, so this one isn't a sex toy, but we've said it before and we'll say it again: Sex is better with lube. We should know—once our tester tried this particular organic lube, she immediately signed up for a monthly description.
Woo More Play's Coconut Love Oil is a vegan formula with just four ingredients: coconut oil, beeswax, stevia, and vanilla essence. It's a great option for anyone who wants to increase wetness during partnered sex or solo pleasure. Just keep in mind it should not be used with latex condoms or silicone toys.
Pros & cons

Pros

Natural and organic ingredients
Enhances pleasure
Smells and tastes great

Cons

Can't use with latex condoms
Oil base can damage silicone toys
Our tester's take

As impressed as our tester was with how much this Coconut Love Oil enhances pleasure, she was equally impressed with ingredient list. Plus, it's smooth and lightweight (not sticky at all), smells great, and a little bit goes a long way.

This lube enhances pleasure so much, our tester won't have sex without it.
Expert take

"Woo More Play's Coconut Love Oil lives on my bedside table because I love its vanilla taste and smooth texture," says Natassia Miller, sexologist and founder of Wonderlust. "It's versatile, so you can use it for both massages and sex. Just beware if you use latex condoms—coconut oil is not compatible as it causes the latex to break down and rip."
The benefits of sex toys for women
Orgasms are good for you
Yes, orgasms feel great. But did you know they also come with a slew of health benefits?
So, it's true: The best sex toys for women are like a bridge to your most intense pleasure and an improved well-being.
Sex toys add excitement to the bedroom
According to certified sex therapist and psychotherapist Lee Phillips, LCSW, CST, CSCT, sex toys are a tantalizing addition to your sex life because they add diversity, excitement, and creativity to the bedroom.
"Routine sex and masturbation can get boring, so why not spice it up and try something new? Sex toys can help you achieve the orgasm you desire," he says.
Sex toys offer a pathway to experiment with new kinks individually or in partnered scenarios. Trying out anal beads, remote-controlled vibrators, or internal g-spot vibrators can empower you to try the things you've always been curious about.
Sex toys help with positioning and hard to reach areas
Certified clinical sexologist and sex dating coach, Myisha Battle, M.S., adds, "Sex toys are also great for accessibility. If you or your partner has physical limitations, toys can help make sure each of you is getting the kind of stimulation and pleasure you need."
For years, experts have been recommending pillows as a way to increase pleasure and keep the proper pelvic alignment during sex—and there's not a sex expert in town who won't preach the power of lube for better sex.
Maybe you're hoping to try a new position, reach those hard-to-reach areas, or add some more moisture to the equation. No matter the desire, sex toys and accessories are a great way to improve your sex life.
Sex toys help with exploration
"They take the focus away from penetration being the coup de grâce of sex and bring the focus back to what's really important—which is all of the fun, pleasurable sensations, and just the adventure of being sexual together," she explained.
Of course, sex toys can help you discover what you love on your own, too.
"Sex toys are great for exploring what kinds of sensations you like and what areas of your body need stimulating during sex," Battle adds. "With toys, you get to make adjustments in speed, intensity, and in some cases pulsing, suction and rhythmic patterns."
Whether you use them as an exploration device with a partner or with yourself, the best sex toys for women are bound to help you learn more about what brings you pleasure.
Sex toys enhance pleasure
"There's a level of intensity that you can't duplicate with your hands, your mouth, or penetration," licensed psychologist and AASECT-certified sex therapist Megan Fleming, Ph.D., previously told mindbodygreen.
Balestrieri added, "We can't expect our bodies to do everything all the time, so sometimes it can be really nice to give [our bodies] a little help and a break so we can experience pleasure without having to do all the hard work."
That's where sex toys come in—and they've come a long way in recent years. Once bulky, loud gadgets, the best sex toys for women are now often discreet, quiet, and surprisingly aesthetically pleasing. And they don't sacrifice power or speed.
We only included toys on our list that our testers found to seriously increase their pleasure.
Types of sex toys for women
Clit suction vibrators, butt plugs, and dildos—where to begin? No matter your desire, rest assured you can find something to meet it.
Here are a few types of sex toys to consider:
Vibrator: A vibrating sex toy that can be used on the clitoris, vagina, or erogenous zones to stimulate pleasure. Vibrators come in many forms, such as a wearable toy, wand, rabbit, or bullet.
Dildo: A phallic-shaped sex toy used for penetration inside the vagina, anus, and mouth.
Suction toys: An air-pressure sex toy that mimics oral sex by applying suction to the clitoris to increase blood flow.
G-spot toy: These toys are specifically shaped at an angle to easily access the so-called "G-spot," a sensitive area on the upper wall of the vaginal canal about two to three inches in.
Butt plugs: An insertable sex toy that stimulates the nerves and muscles around the anus for pleasure.
Finger sex toys: A (sometimes vibrating) sex toy meant to be worn on the finger to enhance solo or partnered sex.
Sex accessories: There are many other aids and accessories meant to add to your sexual play, such as lube, sex pillows, handcuffs, or nipple clamps.
How to choose the best sex toy for women
"Just because one toy is popular, doesn't mean it's what you want and need in your experience," says sexologist Lilithfoxx—and don't we know it.
Our team has tested and reviewed many of the best sex toys and while some were home runs all around, we've learned a thing or two about how to narrow down the massive selection.
Trial & error
Lilithfoxx recommends having fun and enjoying the creativity and exploration of trying out different types of sex toys. "Ultimately, I encourage users to try different toys, materials, and sensations," she says. "Consider practicality, cost, and the experience you're wanting to have."
Pay attention to the materials
The FDA doesn't regulate the sex toy industry since they're not considered medical devices, so they're classified as "novelty items." Therefore, it's important to have some awareness about the chemical makeup in your sex toys to avoid any dangerous compounds.
The exact material of your toy plays a heavy consideration here, and body-safe materials are king. "Don't use toys made from anything besides silicone, borosilicate glass, or stainless steel. It's OK if a handle is made of ABS plastic, but anything going on or in your bits needs to be body-safe," Wright says.
Lauren Consul, LMFT, agrees and recommends choosing a toy that is non-porous and easy to clean, such as those made out of materials like medical-grade silicone, stainless steel, or a non-porous plastic.
"Be aware of how the material of the toy may also interact with certain lubricants," Consul adds. "For example, silicone lubricants will degrade silicone toys, so you'll want to use a water or oil-based lubricant with those toys."
Be selective about the brand
Since sex toys are an unregulated industry, Lilithfoxx recommends sourcing sex toys from reputable shops because many counterfeit and unsafe toys are usually sold at major online retailers like Amazon. (Note: We did vet the Amazon links included in this article, but always double-check before you make a purchase!)
Identify the sensations you already like
You can't find the right toy unless you know what makes your body tick. Think about what you already like in bed and then look for a toy that fits the bill.
"For example, if you really like using your fingers in a fast, pressure-filled way on and around your clitoris, try something that vibrates on and around your clitoris," Wright advises.
"If you like the feeling of flickering on your clitoris, find a toy that mimics this either with air, a tickler, or suction," she continues. "If you like dual-stimulation (penetration and clitoral stimulation) find a toy with dual stimulation."
Decide what you want to explore
Not sure what you like yet? No problem.
Phillips suggests running through several questions to help you figure out the particular features you'll want with your sex toy:
Is it to spice up your sex life with your partner?
Are you not being pleasured enough?
Are you tired of using your hands and fingers?
Are you having a difficult time achieving an orgasm?
Getting down to the nitty-gritty opens you up to explore your pleasure zones and the type of touch you would prefer, which narrows down your choices.
How to clean your toys
Sex toy hygiene is super important. Not only does it protect your body from infection, it also increases the lifespan of your toys.
Wright recommends using a sex toy cleaner that's gentle enough for the genitals but also strong enough to get rid of bacteria. "How you clean a toy varies depending on the material that the toy is made out of," she says—so read the brand's instructions carefully.
"Some say gentle soap and water is fine," Wright explains. "However, there are so many variables when it comes to the ingredients in soap that I prefer to use something I know isn't going to mess up vaginal pH."
Wright's expert tips on how to properly clean sex toys:
Store toys in a relatively temperature-controlled place to prevent bacteria growth.
Don't store silicone on silicone (the same reason you don't use silicone lubricant on silicone toys; it creates microscopic holes for bacteria growth).
If something is glass or stainless steel, boil them! Especially if they're being used anally.
If they're only being used vaginally and on one person, a toy cleaner will suffice.
Clean the sex toy before and after use to wash away dirt, bacteria, microscopic organisms, body fluids, etc.
Depending on the material of the toy, leave it out to air dry or towel dry before storage.
The takeaway
Finding the best sex toy requires a bit of research and experimentation. Thankfully, our team tested dozens of sex toys to help narrow it down. Use this expert-guided list as a starting point to help fulfill your sexual needs and stay curious about what turns you on—and don't be afraid to try more than one. After all, a better sex life leads to better well-being.
Watch Next
Enjoy some of our favorite clips from classes
Watch Next
Enjoy some of our favorite clips from classes
What Is Meditation?
Mindfulness/Spirituality | Light Watkins
Box Breathing
Mindfulness/Spirituality | Gwen Dittmar
What Breathwork Can Address
Mindfulness/Spirituality | Gwen Dittmar
The 8 Limbs of Yoga - What is Asana?
Two Standing Postures to Open Up Tight Hips
How Plants Can Optimize Athletic Performance
What to Eat Before a Workout
How Ayurveda Helps Us Navigate Modern Life
Messages About Love & Relationships
Love & Relationships | Esther Perel
Love Languages
Love & Relationships | Esther Perel
Related Videos (10)
What Is Meditation?
Box Breathing
What Breathwork Can Address
The 8 Limbs of Yoga - What is Asana?
Two Standing Postures to Open Up Tight Hips
How Plants Can Optimize Athletic Performance
What to Eat Before a Workout
How Ayurveda Helps Us Navigate Modern Life
Messages About Love & Relationships
Love Languages
Advertisement
This ad is displayed using third party content and we do not control its accessibility features.
More On This Topic
more Relationships
Advertisement
This ad is displayed using third party content and we do not control its accessibility features.
Advertisement
This ad is displayed using third party content and we do not control its accessibility features.