7 Clitoral Suction Toys That Simulate Oral Sex Pretty Damn Well

Psychotherapist
By Rachel Wright, LMFT
Psychotherapist
Rachel Wright, LMFT, is a psychotherapist recognized as one of the freshest voices on modern relationships, mental health, and sex. She has a master's degree in Clinical Psychology from The Chicago School of Professional Psychology and has worked with thousands of humans worldwide.
July 25, 2021
Our editors have independently chosen the products listed on this page. If you purchase something mentioned in this article, we may
earn a small commission
.
When it comes to buying sex toys and sexual wellness products, sometimes it can feel overwhelming. There are so many brands, so many options, and it's hard to know what we like when we haven't tried it before. So let me throw you an idea: If you know you tend to enjoy oral sex, consider narrowing down your search to a clitoral toy that can actually recreate a similar feeling. Yes, they exist!
If you're craving more of an oral stimulation feel, a suction vibrator or air pressure toy will definitely take your partnered or solo play to the next level. Let's help you ease in by sharing many different options that have rave reviews from me and my team. (Hi, sex therapist here!)
Advertisement
This ad is displayed using third party content and we do not control its accessibility features.
Satisfyer Pro 2
If this is your first suction toy rodeo, the Satisfyer Pro 2 is an excellent toy to start out with. It starts with simple, gentle settings and can definitely pack a punch as the intensity is upped. Also, if you're unsure about investing in a suction toy but are feeling curious, the Satisfyer Pro 2 is on the cheaper side. Also, it's waterproof! This allows you the freedom to experiment in all your favorite places while knowing your toy will be a-OK!
Satisfyer Pro 2, $50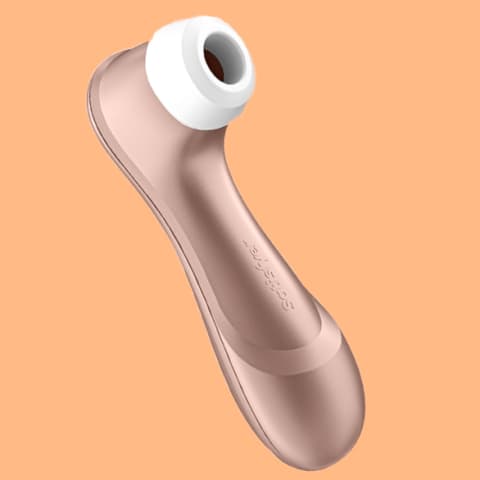 Satisfyer
Biird Cuddly Bird
Sucking, air, and vibrations...oh my. One of my favorite toys of all time that duals as a nightlight while it charges, the Cuddly Bird by Biird (also called the Obii Biird) is one of the most incredible oral sex simulators on the market. The lowest vibration and suction (oral sex mimicker) setting is gentle enough for most folks, and it can assist vulva owners in squirting! In addition, the range of intensity is quite large, which makes this toy multipurpose and one I highly recommend having on your nightstand.
This biird is made with medical-grade silicone, shaped to fit perfectly in your hand, soft in the places you're going to want to squeeze, and firmer in the areas you need firmness. It's an absolutely brilliantly designed toy.
Biird Cuddly Bird, $107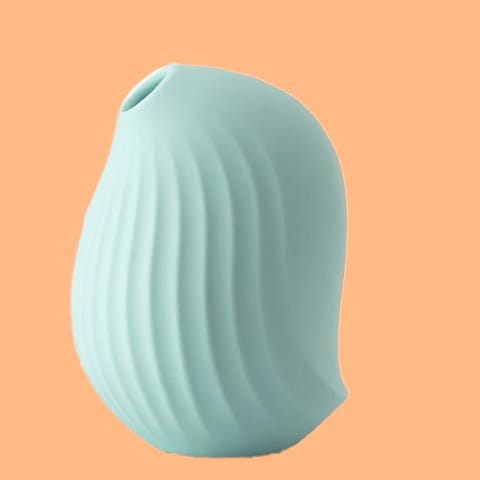 Biird
Lora DiCarlo Baci
For those looking for something a little bit more advanced, the Lora DiCarlo Baci is a superb suction toy option. Lora DiCarlo is a woman-owned company that began with the intention of creating beautiful, aesthetically pleasing toys that genuinely meet the needs of vulva owners. The Baci is designed to simulate a stroking and sucking sensation that is...let me tell ya, it's incredible.
This toy was also designed to stimulate pleasure on the clitoris and all the nerve endings around it. This design feature did increase the sensations and intensity of this toy, compared to toys designed only for the head of the clitoris. This toy is also waterproof and has 10 powerful settings, so there is a lot of exploring to do when it comes to finding your perfect speed.
Lora DiCarlo Baci, $135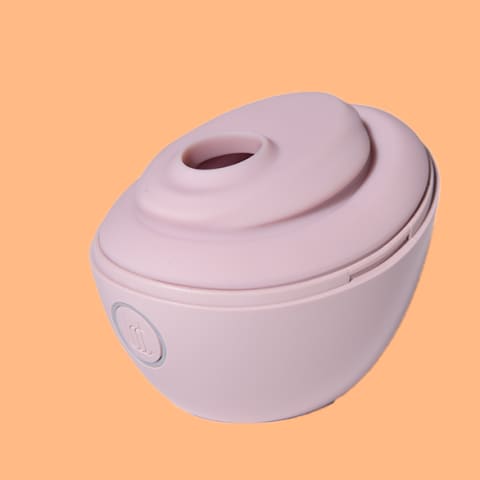 Lora DiCarlo
We-Vibe Melt
While the Melt can be used by anyone and everyone for solo play, it was designed with couples in mind. Its slim build allows for it to be used during partnered penetration or other partnered play. Though it's small and sleek, this toy truly packs a serious punch (if you need some convincing, read the reviews on We-Vibe's site).
We-Vibe's intention is to create products that enhance playfulness, intimacy, and sexual satisfaction. For many vulva/penis partnered couples, these toys are designed to stimulate the clitoris during penetrative vaginal intercourse. The company also prides itself on creating toys that aren't intimidating. So, the inventor Bruce Murison took it upon himself to design beautifully crafted toys for partnered use made out of excellent materials and that provide intense pleasure to everyone involved...and who doesn't love that?
We-Vibe Melt, $140
Adam & Eve
Dame Aer
Dame Products is an incredible company founded by two women who wanted to make sex products designed by the people who will be using them. So not only do they develop their own innovative toys, but they also listen to the many voices of their consumers about what they want. They also focus on how their toys can better fit each body's needs and closing the orgasm gap.
The Aer suctions to the clitoris and generates pulses of air that mimic oral sex when lube is involved, too. The toy is made with medical-grade silicone, is fully waterproof, has five patterns and five intensities, and can be used all over the body (in addition to the clitoris!). In fact, one of the reasons this toy is on my list is that it can be used on multiple body parts—regardless of the genitalia. Its opening is larger and more oval in shape than most clitoral suction or air toys, so the Dame Aer is an excellent toy to use on nipples, the perineum, labia, and all sorts of fun places.
It's also not a super-strong air pulse, making this an excellent toy for anyone more sensitive to the suction or air pressure sensations.
Dame Aer, $95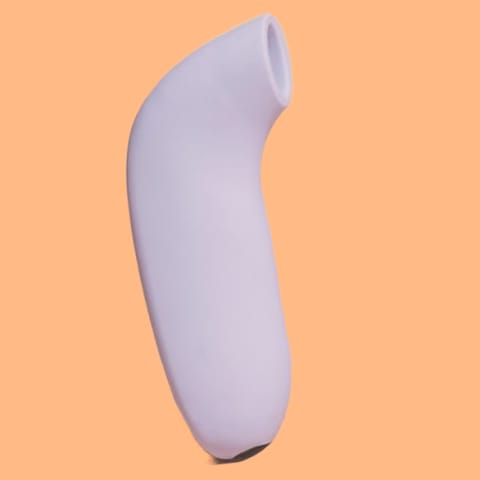 Dame
Womanizer Premium
Another great clitoral stimulator that is more on the luxurious side is the Womanizer Premium. This little number only turns on when making direct contact with the skin (can you say high-tech?), is made with velvety soft silicone, and has 12 intensity settings—yes, 12. It's described as "ranging from a soft purr to a sheet-clenching roar" by Lovehoney.
This toy was designed with every clitoris in mind. Unfortunately, some toys' lowest settings are too powerful for many vulva owners, while some aren't powerful enough. The 12 settings offer more of a wide range and more exploration opportunities for you while you are exploring what your body responds to best.
Womanizer Premium, $200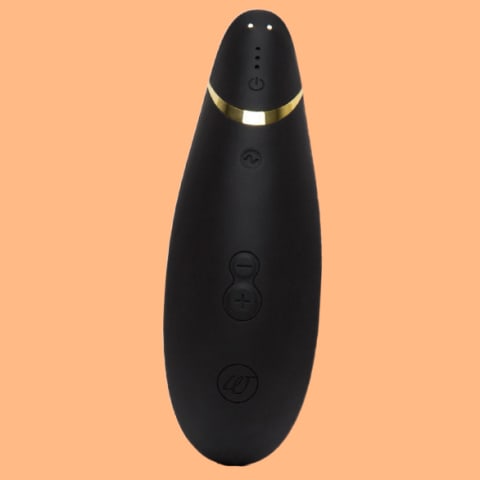 Lovehoney
Bellesa Buzzfeed AirVibe
Looking for even more stimulation than the toys you've learned about so far offer? Then this may be the toy for you! The Bellesa Buzzfeed AirVibe is a suction toy that also has a G-spot internal vibrator. So, the top of the vibe suctions to the clitoris. At the same time, the other end inserts into your vagina, stimulating all the nerves that tend to pleasure vulva owners. This toy has been raved about on social media and has proved to be a crowd fave. It is also completely waterproof with 10 vibration modes and five suction intensities (insert all the heart eyes).
Bellesa is a sex toy and porn company created by women to prioritize pleasure for vulva owners, whether it's physically with their toys or visually through their unique porn. They strive to make sex toys approachable to all vulva owners and offer women the same accessibility when it comes to porn. Meaning that it is entirely ethically made porn and shot from a gaze that also appeals to more genders than just men. Who doesn't love watching fully consenting porn that is designed for the pleasure of every viewer?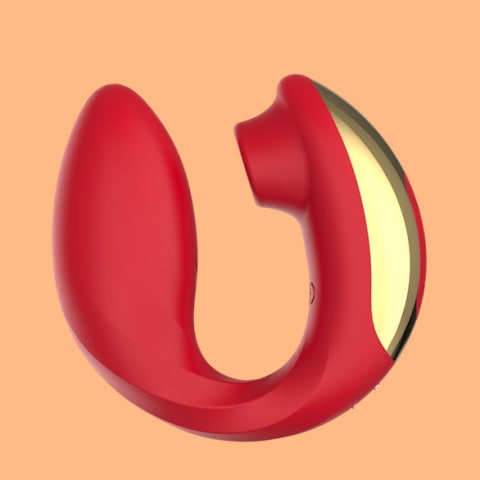 Bellesa
The bottom line.
Feeling ready to treat yourself and your clitoris to something extraordinary? We sure hope so!
Remember, if you're having difficulty positioning your suction toy in the just-right spot, apply some lube and don't be afraid to move it around until it feels nicely sealed in a way that feels satisfying to you! (Here's mbg's full guide on how to use a vibrator.)
Each and everybody (and every body) is so, so different and receives pleasure so differently. Remember that there is no right way to feel pleasure and that you get to choose for yourself what you like.
Advertisement
This ad is displayed using third party content and we do not control its accessibility features.

Rachel Wright, LMFT
Psychotherapist
Psychotherapist Rachel Wright, MA, LMFT, is recognized as one of the freshest voices on modern relationships, mental health, and sex. She is an experienced therapist, educator, coach, speaker, group facilitator, and on-camera mental health and relationship expert. With a master's degree in Clinical Psychology from The Chicago School of Professional Psychology, Rachel has worked with thousands of humans worldwide, helping them scream less and screw more.
Rachel has been featured widely in the media, including on Cheddar TV and PIX 11 (NYC); as a regular contributor to SHAPE, INSIDER, mindbodygreen, InStyle, The Dipp, and Well & Good; and in Cosmopolitan, Women's Health, NBC News Radio, Huffington Post, and hundreds of other outlets. She has brought her message to stages across the globe, was SHAPE Magazine's Sex Relationships Coach, and created the virtual workshop series What You Wish You Learned in School: Sex Ed, and she is currently one of mindbodygreen's article review experts. She also recently did a show at Green Room 42 in NYC called "One Night Stand: A Night for Sexier & Healthier Broadway."

Rachel lives in New York and loves live theatre so much. You can probably find her in PJs eating gluten-free food with one of her partners if she's not working! Learn more at www.rachelwrightnyc.com or connect in her cozy corner of Instagram, @thewright_rachel.