From Butt Plugs To Vibrators, The 20 Best Anal Toys Of 2023
By Kesiena Boom, M.S.
mbg Contributor
Kesiena Boom, M.S., is a sociologist and writer. She has a bachelor's degree in Sociology from the University of Manchester and a master's degree in Gender Studies from Lund University.
January 12, 2023
We carefully vet all products and services featured on mindbodygreen using our
commerce guidelines.
Our selections are never influenced by the commissions earned from our links.
Ah, the anus. We each have one, making it a potential source of pleasure for just about anyone. Sex toys can be a great way to explore anal pleasure, so we're here to give you the lowdown on the best anal sex toys recommended by experts, as well as some advice on fun and safe usage.
Why use anal sex toys?
Anal sex toys are for everyone. Whether you're a size queen or a beginner who is looking for something small and simple, there's a sex toy out there for you and your anus.
While anal sex has become more and more mainstream, some people may still feel a little nervous about exploring this area of the body.
Anal toys can be a low-pressure way to try out some exploration without a partner around. You might also want the sensation of something in your butt but be a little squeamish about the idea of touching yourself there yourself or letting a partner touch you there.
A toy is a great way to bridge that divide.
Anal sex toys to try.
1. Lovehoney Ignite 20 Function Vibrating Butt Plug
"This plug is a pure delight, with a tapered tip and luxuriously smooth shaft that is perfectly designed to stimulate the G-spot or prostate," says Megan Harrison, LMFT, founder of sex and relationship hub Couples Candy. She loves that it has 20 vibrating functions with a "whisper-quiet motor that delivers mind-blowing vibrations to all the right spots," not to mention being waterproof and rechargeable by USB.
2. b-Vibe Rimming Plug 2
Dubbed the world's first rimming plug, this anal sex toy is a favorite of Rachel Sommer, Ph.D., a clinical sexologist and founder of My Sex Toy Guide. "It contains rotating beads at the neck, successfully mimicking the feeling of getting your butt licked. This USB rechargeable plug boasts seven modes for the rotating beads and six rotation and vibration intensities, allowing you to regulate the sensations," she says. "Another outstanding feature is the splashproof factor, which allows you to enjoy the plug in the shower."
b-Vibe Rimming Plug 2, $165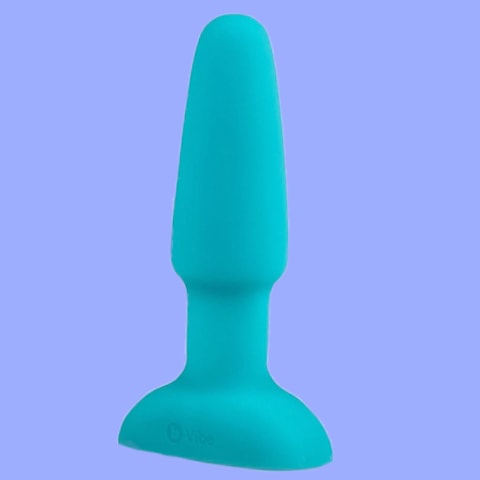 3. njoy Pure Wand
"This stainless-steel wand is an incredible anal sex toy. It features two bulbous ends, which each create unique sensations," says Sommer. "In addition, it's perfectly weighted to apply pressure on your hot spots and inspire mind-blowing orgasms." This toy is also ideal for temperature play. Place it in the fridge (make sure it's clean!) or run it under hot or cold water for a whole new world of sensation.
njoy Pure Wand, $150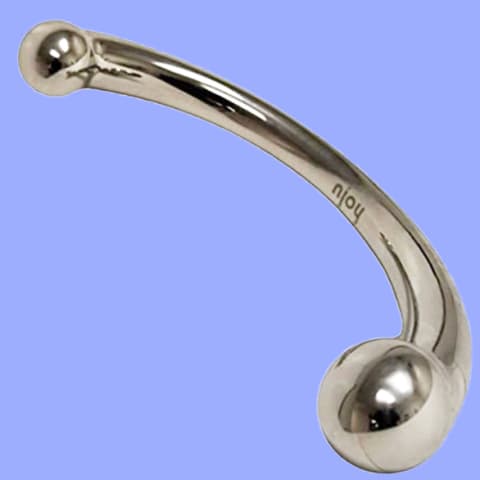 4. Booty Sparks 7X Light Up Rechargeable Anal Plug
Sexologist Goody Howard, MSW, MPH, recommends this playful addition to the bedroom. "My favorite anal toy of 2021 is hands down the Booty Sparks rechargeable, waterproof, body-safe, remote control, LED light-up butt plug!" she says. "It's fun to play with and adds a little razzle-dazzle. It comes in three sizes, so there is a perfect fit no matter how new (or true) you are to anal play. I suggest adding this toy to receiving (or performing) cunnilingus or fellatio and during insertive vaginal sex for an added sense of pressure...and pleasure!"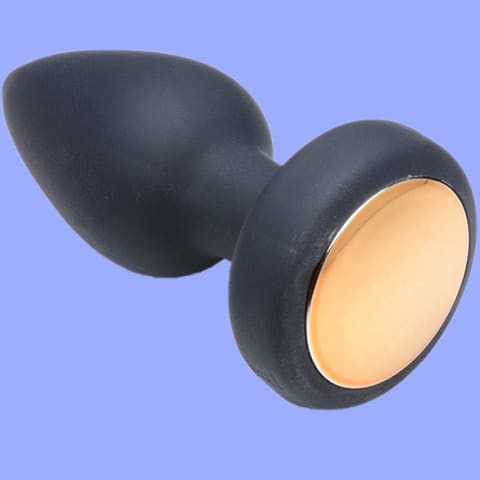 5. California Exotics Booty Call Unisex Waterproof Vibrating Anal Kit
"The Booty Call is a smooth, seamless product that is made of nonporous, hypoallergenic, phthalate-free waterproof medical-grade silicone," says sex toy blogger Tatyana Dyachenko. "This means the product is extremely body-safe. The best thing about the Booty Call is it's waterproof, meaning you can take your play out of the bedroom and into the bathroom, hot tub, or swimming pool if you're lucky enough to have one." (Except the vibrating bullet—that part's not waterproof!)
California Exotics Booty Call Unisex Waterproof Vibrating Anal Kit, $18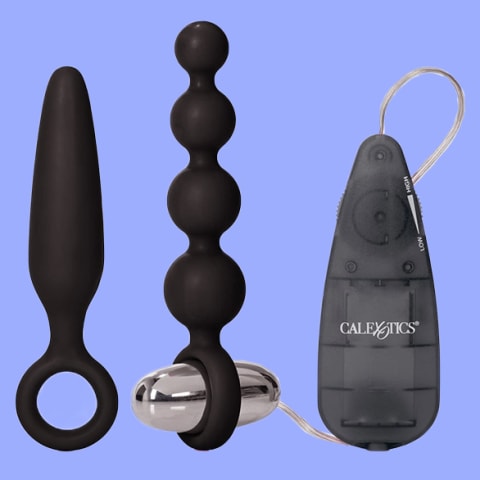 6. Blush Avant Pride P5 Fluid Silicone Butt Plug
This "artisanal sex toy" featuring a rounded, tapered head is recommended by Lori Lawrenz, Psy.D., a clinical psychologist with a specialization in sexual health. It comes in the colors of the genderfluid pride flag, a fun way to fly the flag for your identity, or the perfect present for a special genderfluid person in your life.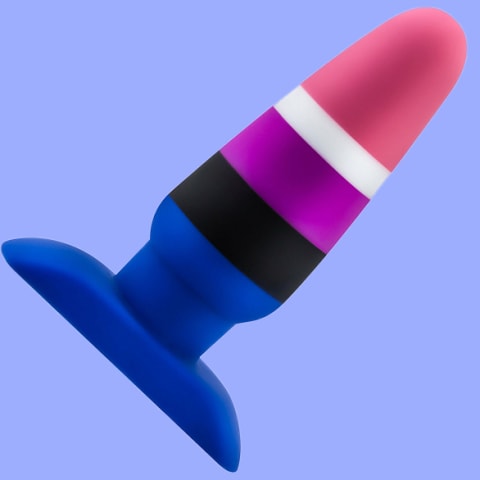 7. PicoBong Remoji Surfer Plug Vibe
Recommended by certified sex therapist Janet Brito, Ph.D., LCSW, this cute little plug is perfect for beginners or more experienced users. "You can control it remotely by downloading the free app. Plus, it has six speeds, is super quiet, waterproof, and rechargeable," she says.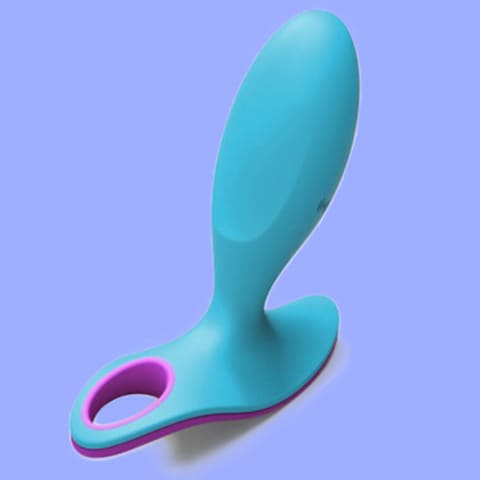 8. NS Novelties Colours Anal Trainer Set
This handy graduated anal plug set comes recommended by Cass Biron, LCSW, a sex educator and therapist who works at Brooklyn Minds. They recommend it as a "GREAT way to ease up into anal play." Consider this as a perfect beginner toy.
9. b-Vibe and Le Wand Anal Massage and Education Set
This handy kit recommended by Biron is another perfect choice for a beginner. It comes with gloves, lube, educational materials, a vibrator, a plug, a lube shooter, and an enema bulb. If you're feeling confused about where to start, this kit is your helpful, guiding hand.
10. Le Wand Swerve
This beautiful, curvy, stainless-steel toy combines a dildo with anal beads for a world of pleasure. It's easy to clean and suited to temperature play, according to Biron.
Le Wand Swerve, $189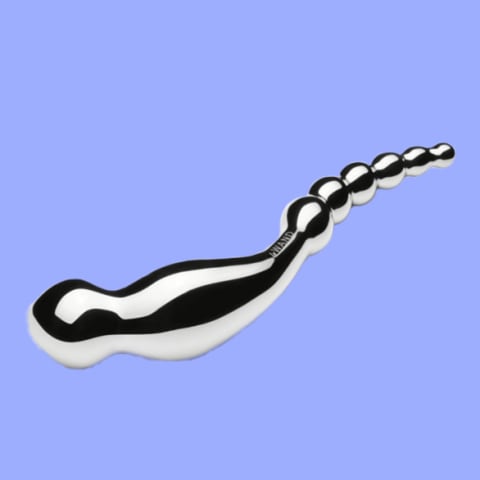 11. Rosebud Classic Anal Plug
Another recommendation from Queen are these luxurious stainless-steel plugs, which feature authentic Swarovski crystals! Treat yourself! Or add these to your list of prospective Valentine's Day/Christmas/birthday presents for your special someone.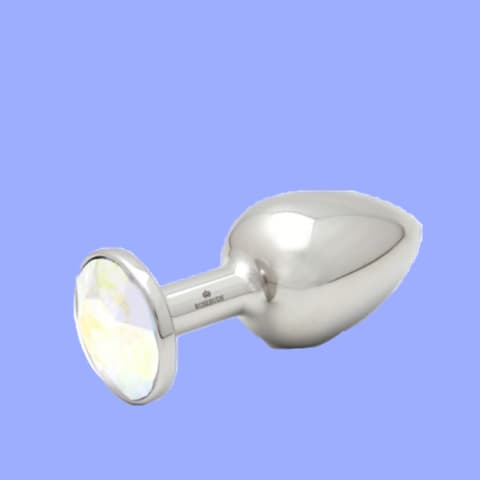 12. Pleasure Works Gala Confetti Mini Anal Plug
Need a budget option? Try this adorable, colorful plug recommended by Queen. The price is excellent, plus it's "so cute!" she adds.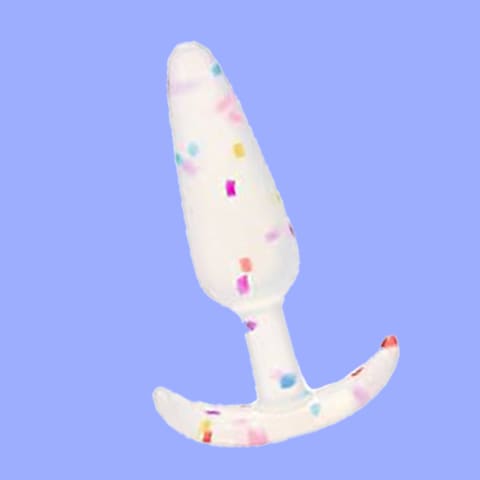 13. California Exotics Colt XL Big Boy
"This anal toy is perfect for more advanced anal stretchers," says Dainis Graveris, a certified sex educator and founder of sex toy review site Sexual Alpha. "It might only be 4.5 inches in length, but its 9.5-inch girth makes up for it. It's made from a solid, high-grade silicone that is body-safe and easy to clean. It has a tapered tip for slow, easy insertion. But because of its wide girth, I advise warming up to smaller anal toys before tackling this big boy. Removing the toy can be a bit tricky. So make sure to use a lot of lube and take time to remove the stretcher out of your anus."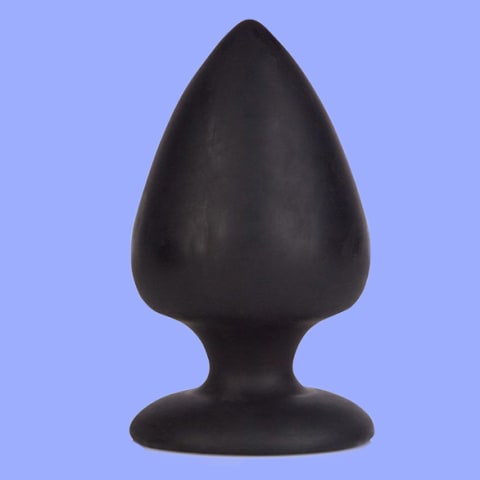 14. Lovense Hush
This interactive anal toy is great for couples or anyone who wants some discreet public play, according to Graveris. "The vibrations are quiet enough that people in public places won't notice what's happening down there," he says. "You can control the vibrations and customize them via an app installed on your smartphone or tablet." Furthermore, this plug features ridged spirals on its neck, which trap lube near your anus to help ease removal.
Lovense Hush, $104
15. Blush Luxe Be Me 3
These medium-firm silicone beads are the top pick of Allbodies sex educator and coach Myisha Battle. They're flexible and shift and move with the curves of your body, as well as featuring an extra-wide and safe base.
Blush Luxe Be Me 3, $12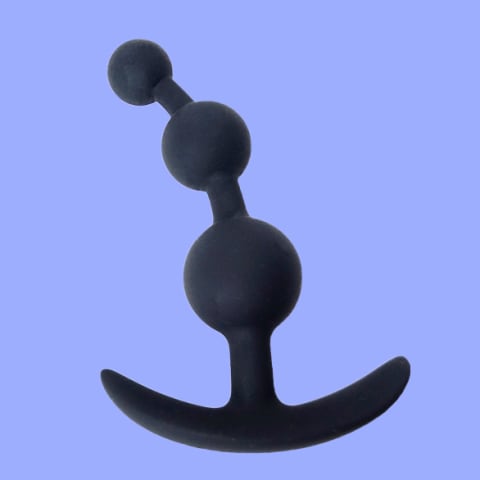 16. Lelo Hugo
For people with prostates, Sommer recommends this luxurious prostate massager, which comes with two powerful motors: one in the base and one in the tip, for simultaneous prostate stimulation and stimulation of the perineum (the feel-good patch between the scrotum and anus). It's also USB rechargeable, waterproof, and remote-controlled, she adds, and though it's pricey, it's a definite "value for money" purchase. Anthony Puopolo, M.D., of RexMD, adds that the Hugo's size "makes it ideal for those who are new to prostate play."
Lelo Hugo, $175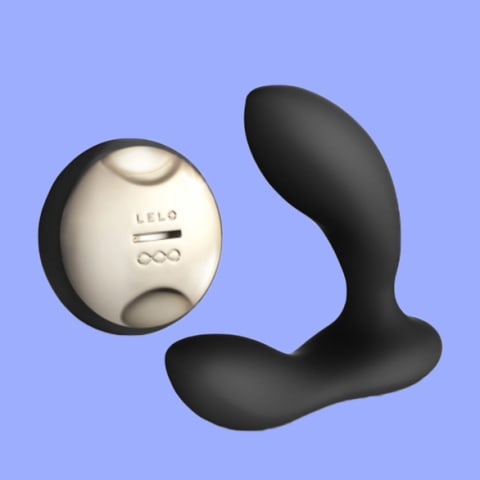 17. We-Vibe Vector
The prostate and perineum both get some love from this massager from We-Vibe. "This is the ultimate prostate vibe with dual-vibrating motors—one for the prostate internally and one that vibes against the perineum to target the sensitive inner bulb of the penis. If you want to intensify your orgasms, look no further. (And it connects to the We-Connect app if you want to play with a partner from afar!)," says sexologist Jess O'Reilly, Ph.D.
We-Vibe Vector, $163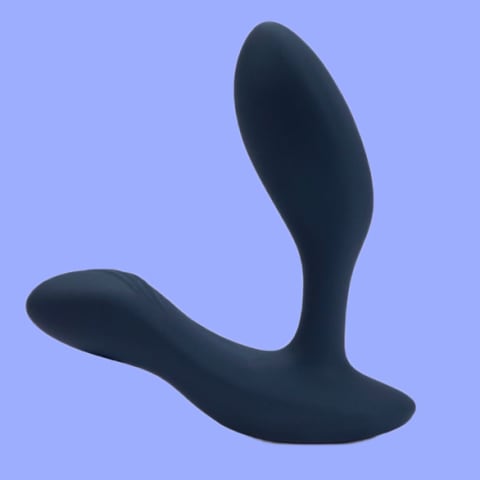 18. Lelo Loki Wave
Another one for folks with prostates, the Loki Wave is advertised as offering a "life-changing orgasmic experience." Brito adds, "with 10 modes, this anal sex toy is designed to stimulate your prostate with a come-hither motion, thus giving your prostate and your perineum double the love."
Lelo Loki Wave, $170
19. Aneros Progasm Jr. Prostate Massager
"This petite but pleasurable toy boasts a sleek design that makes it ideal for beginners and those already familiar with prostate play," says Harrison. "The smooth body and tapered tip allow for easy insertion, and its hands-free design provides direct contact against the prostate during sexual play for orgasmic stimulation. It's a great entry into the world of prostate stimulation for those looking to achieve new heights of pleasure at a remarkably affordable price."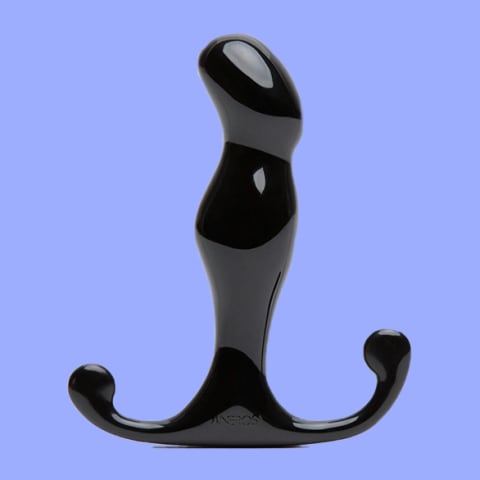 20. Fun Factory BÜCK DICH Spanking Paddle
"I love this toy from Fun Factory because it is multiuse," says sex educator Jimanekia Eborn. "You can utilize the paddle, which has two different sides, as a playful impact toy. And then the handle can also be used as a dildo. There is a nice weight on both sides, and honestly, it looks so cool."
Tips to keep in mind:
"Like other sex toys, there are numerous anal toys on the market—everything from butt plugs to anal beads and prostate massagers. So, choose the most appropriate depending on the sensations you're looking for," says Sommer.
For example, if you don't have a prostate, don't waste money on the best prostate massager on the market. And if you're a beginner, don't be tempted into buying something massive straight off the bat.
2.
Make sure your toys are safe.
Make sure to always pick toys with a flared base to ensure the toy doesn't get sucked up and stuck in your rectum. (Yes, this is a thing that can happen!)
It's also of utmost importance that the toys you buy are body-safe, meaning they're made of nonporous materials that won't leach out chemicals or take in bacteria. Those materials might include silicone, borosilicate glass, or stainless steel.
Most sex toys come with a guide, or you can Google reviews of specific ones, which will give you a good idea about how people have used them (and how successfully!). "Education is the best tool, especially if you're using an anal toy for the first time," says Sommer. "Anal play can be daunting, but with the right information on what to and not to expect, the experience can be more fun."
"More than any other time, you'll want to have enough lube within your arm's reach," says Sommer. "Unlike the vagina, your asshole doesn't self-lubricate, making lube essential. What's more, the anal tissue is more fragile than the vaginal tissue, and applying a generous amount of lube can help you prevent unnecessary tears."
For toys made of silicone, use a thick, water-based lube because a silicone lube can cause surface damage to your toy. For toys made of steel or glass, a silicone-based lube is ideal.
5.
Try it by yourself first.
Taking it slow and steady alone, without the pressure of pleasing or explaining to a partner, can be a helpful first step into anal play. "It offers you a safe space to explore before finally enjoying the novelty that comes with partnered anal play," Sommer says. "By being the giver and receiver, you can learn more about your body. This way, you can guide your partner appropriately when the time comes so that anal play can be exciting and safe."
"Regardless of how enticing it might be, never use the same sex toy on your anus and vagina without cleaning it thoroughly," Sommer warns. "Your vagina is especially sensitive, and switching lanes can introduce bacteria that can increase the risk of vaginal infection. If you have to, use the sex toy in your vagina first." Bacterial vaginosis is no joke!
How to clean anal toys.
While the last thing you want to do post-orgasm is clean your toys, it really is very important if you want to avoid bacteria building up on the product—and, consequently, getting potential infections from them.
Your cleaning routine will look a little different depending on what your toy is made of. For example, toys made only of silicone can be boiled to sterilize them (after a quick wash in soapy, warm water).
The same goes for toys made of glass or stainless steel. Toys that have motors and/or batteries must never be boiled; instead, you can clean them with a warm water and soap combination.
Also remember that if you're going to share anal sex toys with a partner or partners, they should be washed in between their journey from body to body, or a new condom should be placed on them. Sex toys have the ability to transfer STIs in the same way that body parts can. (For a deeper dive, read our full guide on how to clean your sex toys!)
When you're not using your toys, they should be stored somewhere where they won't gather dust—a plastic box with a lid under the bed works just fine. (Also: If your toy has a motor, make sure you always recharge it after use. No one wants to be caught mid solo or partnered session with a dying vibe!)
The bottom line.
There are so many different kinds of anal toys out there to explore, and with a lot of lube and a little patience, you can open yourself up to a world of intense sensation. So what are you waiting for?
Kesiena Boom, M.S.
Kesiena Boom, M.S., is a sociologist, writer, and poet. She has a bachelor's degree in Sociology from the University of Manchester and a master's degree in Gender Studies from Lund University. Her work has been featured at Slate, Buzzfeed, Vice, Autostraddle, and elsewhere. Her writing focuses on sex, pleasure, queer experience and community, feminist theory and practice, and race and anti-racism.