Close Banner
Advertisement
This ad is displayed using third party content and we do not control its accessibility features.
The 7 Best CBD Creams For Back Pain To Offer Quick, Targeted Relief
Contributing writer
By Jamey Powell
Contributing writer
Jamey Powell is a writer and editor living in Brooklyn, NY. Previously the senior market editor at Healthline.com, she has years of experience scouring endless product reviews and testing out the latest and greatest products in the sleep, fitness, and nutrition markets.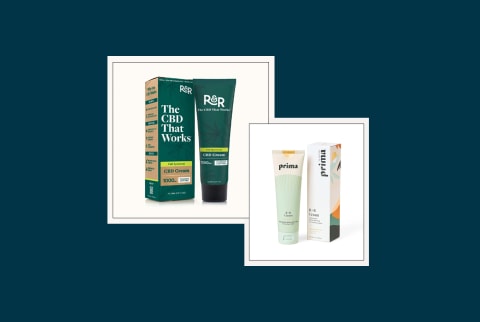 We carefully vet all products and services featured on mindbodygreen using our
commerce guidelines.
Our selections are never influenced by the commissions earned from our links.
Realize it or not, our back works hard for us every day—so if yours is acting up with aches and pains, it can take a serious toll on your overall well-being. On the bright side, there are plenty of solutions that aim to help ease pain and keep you in control of your day to day life. In addition to chiropractor-approved back stretches, exercises, and the best back massagers, a cream that incorporates hemp-derived CBD could be the key to some much needed relief.
When it comes to finding a high-quality CBD product, we've got your back—literally. We spoke with the experts and did extensive research to determine the best CBD creams for back pain. Below, find our picks and learn more about whether a CBD cream can help with back pain.
The best CBD creams for back pain:
Can CBD cream help with back pain?
There's still a lot to learn when it comes to the effects of CBD, but according to Seema Bonney, M.D., founder and director of the Anti-Aging & Longevity Center of Philadelphia, early research is promising. "Cannabidiol—commonly referred to as CBD—is emerging as a novel, non-addictive way to help with pain, both orally and topically," she says. It all begins with the endocannabinoid system, or ECS. Discovered in the 90s, the cellular-level communication network is also known as the "master regulatory system" due to its role in maintaining homeostasis. "The endocannabinoid system is involved in regulating many functions in the body including mood, appetite, pain perception, and metabolism," Bonney explains. It also plays a role in our sleep.
While our understanding of how this works is "still evolving," per Bonney, we do know a few basics. The ECS has two main components: cannabinoids and cannabinoid receptors (CB1 and CB2). Our body produces its own cannabinoids (i.e., endocannabinoids) from certain organs and tissues, but they can also be ingested from key plants. These are known as phytocannabinoids. The binding process to receptors varies by cannabinoid type, but CBD is not thought to actually attach to receptors. Instead certain phytocannabinoids, like CBD, are thought to interact indirectly to regulate the ECS.
How does topical CBD work?
For topical CBD products, this means working with the ECS to help return our bodies to a place of homeostasis, which can be a helpful way of managing pain and inflammation at—or just below—the skin's surface, per Bonney. "From animal studies, we know that CBD exerts its analgesic effects through modulation of the endocannabinoid, pain sensing, and inflammatory systems," Bonney explains. For example, a study found that hemp-derived CBD cream has been shown to reduce joint swelling and discomfort in a mice rodent model1 (though more research is still needed to validate its effect on humans).
Another perk of a CBD cream is that it allows you to target specific body parts, unlike other CBD forms, such as capsules or tinctures that act systemically. Topicals like CBD cream, lotion, or balm are optimal for targeting the spots that hurt such as back pain, according to holistic physician Sony Sherpa, M.D..
Just note that hemp topical application of CBD won't penetrate that deeply in the surface, so it won't have an impact on other whole-body areas like mood, sleep, etc.
Types of hemp CBD cream
When shopping for any CBD product, you'll come across a few common terms to describe the composition of the product and its compounds. Here's a quick look at the three most common types of hemp extracts, two of which you'll see on our list.
Full-spectrum hemp: Full-spectrum products contain CBD and other compounds (cannabinoids, terpenes, flavonoids, etc.), including 0.3% or less THC by dry weight, which is within the federal limit in the U.S. and won't make you feel high. Researchers believe full-spectrum hemp benefits from the "entourage effect," a theory that suggests the combination of compounds makes it a more powerful product than cannabidiol alone2.
Broad-spectrum hemp: While broad-spectrum hemp contains other compounds, such as terpenes and flavonoids, it is filtered to contain 0.0% THC.
CBD isolate: As the name suggests, aside from the singular cannabinoid CBD, CBD isolate doesn't contain any additional compounds.
It's important to remember that hemp CBD research and the marketplace are still relatively in the early days, so it's critical to do your research before purchasing to ensure you're getting the highest quality.
"Make sure your CBD product is made by a company that discloses the source of its hemp and can provide proof of third-party testing by an ISO-certified lab," Bonney advises. "In functional medicine, we're focused on keeping our bodies free of toxins, so also ensure that your CBD product [falls within testing limits] of heavy metals, pesticides, and mold. This information can also be found on the certificate of analysis (or COA) from the lab test."
How we picked:
Transparency
We heeded our experts' recommendations and focused on CBD brands that are transparent about where and how the hemp is sourced, with easy access to the results of its third-party lab testing results.
Ingredients
Our skin is our largest organ, so what you put on the outside of your body matters just as much as what you put inside it. Beyond screening each product for its hemp CBD quality, we made sure any additional ingredients in these creams are safe to use. We prioritized organic ingredients and formulas whenever possible.
Variety
Our list includes a variety of CBD potencies, with scented and unscented formulas, so you can find something to meet your preferences, regardless of your experience with CBD.
Reviews
We scoured reviews to see what people do and don't like about each formula, paying close attention to feedback from people with back pain.
Our picks of the best CBD creams for back pain:
Advertisement
This ad is displayed using third party content and we do not control its accessibility features.
Advertisement
This ad is displayed using third party content and we do not control its accessibility features.
Advertisement
This ad is displayed using third party content and we do not control its accessibility features.
How to choose:
Consider the below factors to determine which CBD cream is best for you.
When it comes to choosing the best cream for pain, CBD is just one part of the equation. The formulas often include moisturizing ingredients, such as shea or cocoa butter, or cooling agents (i.e. eucalyptus or menthol). Another option? Selecting ingredients like arnica and turmeric that support the body's inflammatory response, which is directly tied to things like joint comfort, for example.
Be sure to make note of every ingredient used, and consider any allergies or sensitivities you may have, including sensitivity to certain scents.
Sherpa says the potency of a topical CBD product will determine how effective it is for most people, and can also impact how long those effects will last. "Generally, the higher the potency, the more focused relief the product can provide as it contains more active cannabidiol molecules, while lower potencies may be better for those with sensitive skin," she explains.
Like many botanical extracts, people can respond differently to hemp CBD, and some may require higher doses than others to feel the effects. If you're brand new to the world of CBD, consider starting with a lower potency and working your way up.
High-quality hemp CBD creams can be expensive, especially higher-potency products. If you're new to CBD, you may consider starting with a lower potency product, which will likely be less expensive. However, if you know you prefer a higher potency cream, subscription discounts and assistance programs make it possible to find a high-quality product that won't break the bank.
Many products on our list last a long time, so just be sure to manage your subscription settings accordingly. You may also want to double check whether the brand has a return policy or money-back guarantee (R+R Medicinals and Cornbread Hemp both do).
FAQ:
What are the side effects of CBD cream for pain?

CBD from the hemp plant, including in the form of topical products, is generally safe for use. Still, there are possible, mild side effects of CBD. These may include changes in appetite, drowsiness, and GI issues (e.g., looser stools). It's wise to consult your healthcare provider before use, especially if your back pain is a symptom of a broader chronic condition. You should also avoid CBD if you're pregnant or breastfeeding.
How long does it take for CBD to work for back pain?

CBD's effects vary from person to person and will also depend on the potency of the product you're using. Most people feel the effects of CBD cream within 45 minutes, and most anecdotal evidence suggests that users experience the most consistent results when reapplying regularly.
How do you make back pain go away fast?

Beyond CBD, there are several back pain-relief methods worth trying. However, the speed in which you'll find relief from back pain will vary depending on the root causes of your health issues.

For everyday aches and pains, you might try incorporating stretches into your daily routine, applying heat or ice to the tender area, or getting a massage or acupuncture (or try an at-home method!). If you're unable to find relief from back pain at home, it may be time to speak to your doctor or a physical therapist.
The takeaway
If back pain is interfering with your day-to-day, a topical CBD cream could help provide the relief you're seeking. For a real treat, opt for a CBD massage oil and either enlist the help of someone else or give yourself an at-home massage.
*These statements have not been evaluated by the Food and Drug Administration. These products are not intended to diagnose, treat, cure, or prevent any disease.
If you are pregnant, breastfeeding, or taking medications, consult with your doctor before starting a supplement routine. It is always optimal to consult with a health care provider when considering what supplements are right for you.
Meet The Experts
Jamey Powell
is a writer and editor living in Brooklyn, NY. Previously the senior market editor at Healthline.com, she has years of experience scouring endless product reviews and testing out the latest and greatest products in the sleep, fitness, and nutrition markets.
Eloise Theisen is a board-certified Adult Geriatric Nurse Practitioner who specializes in cannabis therapy.