The 10 Biggest Health Food Trends of 2020, According To Whole Foods Market

Beauty & Health Editor
By Jamie Schneider
Beauty & Health Editor
Jamie Schneider is the Beauty Editor at mindbodygreen. She has a B.A. in Organizational Studies and English from the University of Michigan, and her work has appeared in Coveteur, The Chill Times, and Wyld Skincare.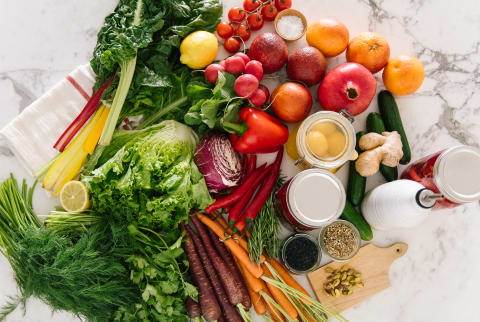 Image by Jamie Grill Atlas / Stocksy
October 21, 2019
We're entering a new decade this year, and it definitely feels like we've entered a whole new realm in terms of health food. This past year has brought us plant-based meat (and fish!) and probiotic-backed pantry goods.
If you thought the industry couldn't get more innovative, think again. In honor of the new decade, the annual trend report from Whole Foods Market features 10 food trends on the horizon, ranging from eco-friendly sourcing to an ode to West African flavors to seed spreads galore.
Here's the full list of health food trends from Whole Foods Market. Happy shopping!
1.
Regenerative Agriculture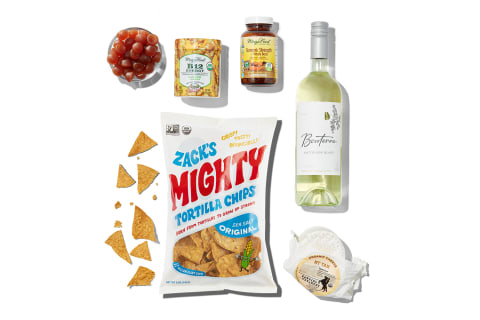 As climate change becomes even more of a hot-button issue this 2020 ("eco-anxiety" is now a very real term to reflect our generation's growing fear), people have become more conscious of the farming and grazing practices of their favorite food items. Regenerative agriculture is a farming practice that restores degraded soil, improves biodiversity, and increases carbon capture to create long-lasting environmental benefits, and it's become a beacon of hope for those of us desperate to see real change in eco-friendly agriculture initiatives. This year, we can expect more brands to hop on the regenerative agriculture bandwagon, as more and more consumers shop for products that promise regenerative practices.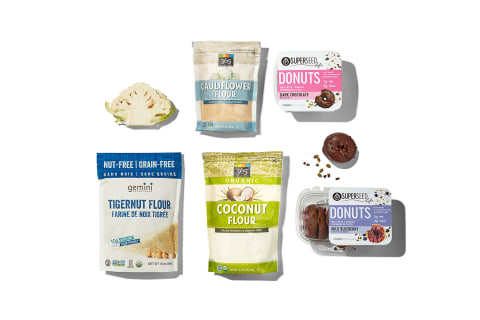 It seems like 2020 will become the year of the alternative flour, with eccentric flour swaps gracing the shelves of your health food stores (think banana flour and cauli-flour—yes, really). But these "superfood" flours aren't just relegated to the baking aisle: Consumer snacks and pastries have already started to incorporate these blends into their products. The next time you bake, you might want to reach for a flour alternative for an extra boost of fiber and protein.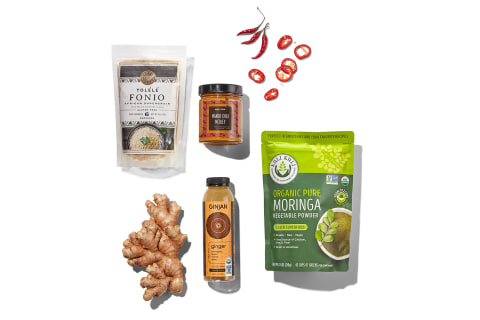 According to Whole Foods Market, West African flavors are popping up everywhere. The region boasts some of our favorite superfoods like moringa and tamarind, plus some that are a little more new to the scene (sorghum, fonio, teff, and millet, to name a few). We can expect more of these subtle influences of West African culture in 2020.
4.
Out-of-the-Box, Into-the-Fridge Snacking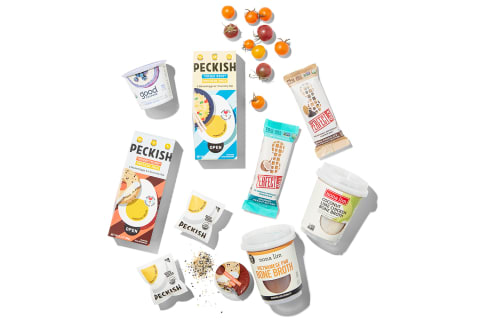 This year, snacks are moving quickly from the kitchen cupboard to the refrigerator shelves. "Fresh" snacking is this year's twist on the typical grab-and-go, with single-serve portions such as pickled vegetables, drinkable soups, and mini dips and dippers of all kinds. What's more, this new way of snacking means more wholesome ingredients and less unfamiliar nutrition labels, which is a trend we can definitely stand behind.
5.
Plant-Based, Beyond Soy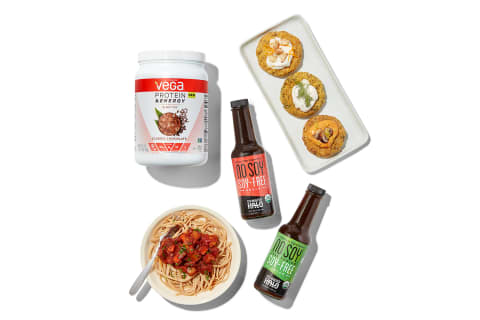 While soy has primarily dominated the plant-protein scene in the past, this year we'll be seeing a move toward plant-based options that avoid the most allergens as possible. Meaning, lots of brands are going soy-less. This next year will be especially innovative in how food brands mimic meat and dairy items without the help of soy. We can expect ingredients like grains and mung beans to provide protein and that similar texture.
6.
Everything Butter and Spreads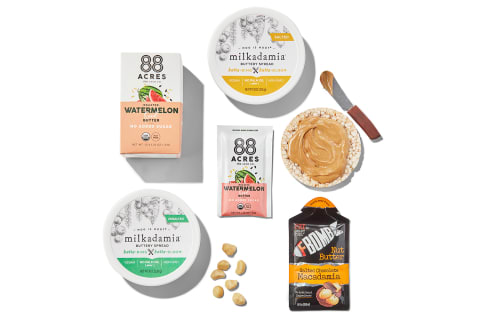 Got a nut allergy? Have no fear—this year, practically everything you love will perhaps transform into a spread. From watermelon seed butter to chickpea butter (apparently, this is different from hummus), you'll have plenty of butter options to spread on your favorite toasts, bagels, and veggies. On an eco-friendly note, many of these new spreads are hoping to eliminate the use of palm oil, which has been shown to release high levels of carbon dioxide.
7.
Rethinking the Kids' Menu
Long gone are the days when basic kids' menus feature chicken fingers and pizza. This year, we can expect food brands to expand kids' palates, with items like non-breaded salmon fish sticks, fermented foods, and pastas made from alternative flours. This trend has the potential to turn kids into adventurous eaters, perhaps without them even knowing it.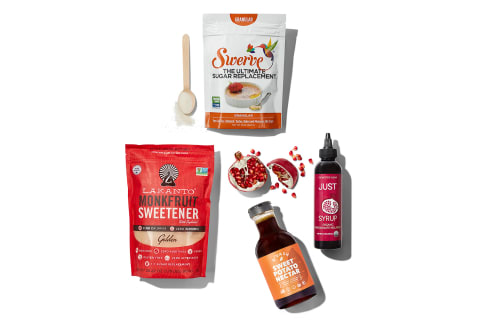 While sugar alternatives are by no means new phenomena, this year will bring tons more options than your typical Stevia, honey, and maple syrup. Brands have started to extract reductions from fruits like pomegranates, monk fruit, coconut, and dates in order to create those sweet flavors for your baking or beverage needs. You'll have plenty of healthy items to add to your sugar-alternative repertoire.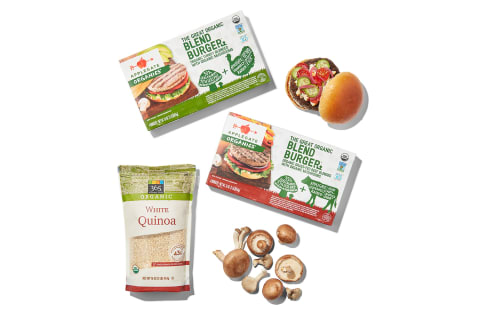 This year, even the most traditional of meat brands will become just a little more plant-based. While they're not going completely vegetarian, some food brands and chefs across the nation have started to add a growing percentage of plant-based ingredients to ready-made products like meatballs and burgers. For example, there's a Lika Plus burger coming to Whole Foods Market in 2020 that uses 75% ground beef coupled with a 25% wheat, mushroom, barley, and yeast blend. Consider it the ultimate Flexitarian meal.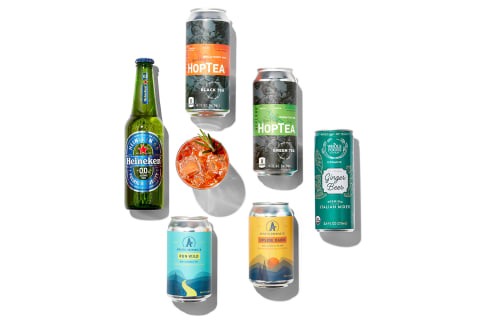 This year, it's time to rethink the classic cocktail. In 2020, we can expect beverage brands to use the same distillery methods previously used for alcoholic drinks for emerging, nonalcoholic alternatives. With items like an alt gin and tonic and a faux martini, it seems like 2020 will bring some good ol' sober fun.
Want to turn your passion for wellbeing into a fulfilling career? Become a Certified Health Coach! Learn more here.

Jamie Schneider
Beauty & Health Editor
Jamie Schneider is the Beauty Editor at mindbodygreen. She has a B.A. in Organizational Studies and English from the University of Michigan, and her work has appeared in Coveteur, The Chill Times, and more. In her role at mbg, she reports on everything from the top beauty industry trends, to the gut-skin connection and the microbiome, to the latest expert makeup hacks. She currently lives in Brooklyn, New York.