5 Healthy Cocktails & Mocktails To Say Goodbye To Summer This Weekend

Contributing Food Editor
By Liz Moody
Contributing Food Editor
Liz Moody is a food editor, recipe developer and green smoothie enthusiast. She received her creative writing and psychology degree from The University of California, Berkeley. Moody is the author of two cookbooks: Healthier Together and Glow Pops and the host of the Healthier Together podcast.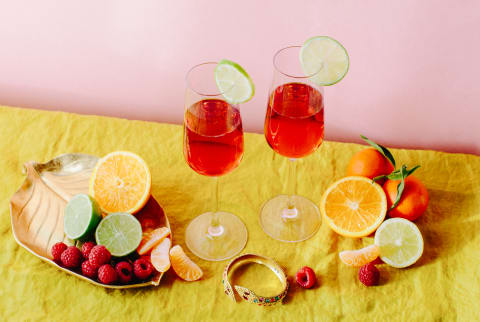 Image by PAULA G. FURIÓ / Stocksy
August 30, 2019
While fall doesn't officially begin until September 23, Labor Day can feel like the send-off to summer—which means, of course, that you should send it off in style. We created five easy cocktail and mocktail recipes to say a sweet "So long!" to the season with every sip:
1. Watermelon & Lime Tequila
This cocktail conjures warm sun and bright blue swimming pools. Grab a watermelon (before they're gone!) and blend the 1 cup of the flesh with the juice of one lime, a generous pinch of fine-grain sea salt, and 1 ounce of tequila (we love JAJA, which is made with 100% agave and has a gently sweet flavor) per person. You can strain it through a fine-mesh strainer for a smoother drink, or drink with the fiber intact for more of a slushy-type concoction.
2. In the Summer Garden
This drink utilizes Seedlip, the world's first distilled nonalcoholic beverage, which has zero sugar or calories. Their Garden 108 blend, one of three they sell, offers a complexity of flavor that captures the vegetal freshness of summer, which we play off here by muddling 1 ounce of it with ¼ cup of chopped cucumber and the juice of one lemon in a cocktail shaker. Add a scoop of ice and shake vigorously, then strain into a glass, repeating for every additional serving. Serve up.
3. Sweet Corn & Thyme
You might not think of corn when it comes to cocktails, but the starchy vegetable has a creamy-sweet flavor that will become your new addiction. To make this, muddle ½ cup of fresh corn kernels with a sprig of thyme and the juice of 1 lime until the liquid releases and it becomes liquidy and milky-looking. Strain into a cup, then top with 1 ounce of vodka (we love Tito's for its clean flavor and animal-supporting practices), 1 tablespoon of honey, ice, and sparkling water. Garnish with a sprig of thyme, and serve.
4. Strawberry Lemon Mojito
Is there anything that says summer like lemonade? This version is kicked up with strawberries (this is a great way to use any on their last legs) and mint, for a healthier take on a mojito. In a cocktail shaker, muddle 2 lemons, quartered, with 3 whole strawberries and a small handful of mint leaves until the juice releases. Add a few ice cubes, 1 tablespoon of honey, and lemon juice and 1 ounce of rum (we like Drake's Organic White Rum). Shake well, then strain into an ice-filled glass, topping with sparkling water. Garnish with a slice of strawberry and lemon.
5. Aperol-less Spritz
Curious Elixirs makes some of our favorite alcohol-free concoctions, and their No.4 release tastes just like the classic summer cocktail, the Aperol Spritz. Made from good-for-you ingredients like holy basil, blood orange juice, turmeric, and herbs and spices, each serving contains just 6 grams of sugar. Make a simple cocktail by combining it with orange peel and serving on the rocks for a perfect Aperol-less mocktail.