Let Them Nap: Sleep Treatments Are Popping Up On Spa Menus Everywhere

Beauty & Health Editor
By Jamie Schneider
Beauty & Health Editor
Jamie Schneider is the Beauty Editor at mindbodygreen. She has a B.A. in Organizational Studies and English from the University of Michigan, and her work has appeared in Coveteur, The Chill Times, and Wyld Skincare.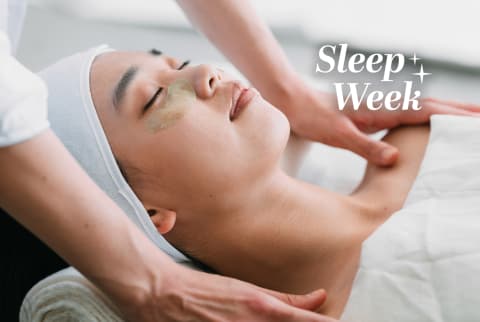 Image by Studio Firma / Stocksy
March 16, 2023
We carefully vet all products and services featured on mindbodygreen using our
commerce guidelines.
Our selections are never influenced by the commissions earned from our links.
Picture this: You've just touched down from a long, international flight, and you feel utterly groggy. You want to explore everything your new location has to offer, but your jet lag has other plans. To recuperate and prepare for excursions ahead, maybe you head toward the hotel spa: Doesn't a massage sound so relaxing? Or perhaps a rejuvenating facial feels more your speed? Or maybe…a sleep treatment?
As sleep has become somewhat of a luxury good in our fast-paced society (despite it being an absolutely necessary biological process for cellular repair1), the world's most luxurious spas have started to incorporate sleep-focused treatments on their menus. Now, instead of a hydrating facial or deep tissue massage, you can opt for a salt-soak that promotes relaxation, a breathwork practice that balances your sleep-wake cycle, or aromatherapy to help supercharge long-term circadian health.
A solid night's sleep, it seems, is the new signature spa treatment. To which I say: Where do I sign?
A history of sleep treatments. 
The thing is, sleep treatments are nothing new. Plenty of cultures throughout history have harnessed the power of various sleep-promoting herbs, soaks, and other practices. Consider Abhyanga from ancient Ayurveda, for example: This massage technique has been used for over 5,000 years to promote significant stress reduction2, relaxation, and whole-body healing.
"Abhyanga moves the body from a state of imbalance to equilibrium, from stress response to ease, from clogged ama (toxins) to freely circulating prana (vital energy)," Salila Sukumaran, an Ayurvedic educator who runs the wellness travel consultancy Ayurgamaya, says regarding the practice. For that reason, many Ayurveda practitioners say their clients have seen noticeable benefits, like improved circulation, sharper focus, and—you guessed it!—deeper sleep.
Today, The St. Regis Bal Harbour honors this sacred practice by offering an Abhyanga Sleep Treatment using cold-pressed, herb-infused Shankara oils. "Each stroke follows a precise count and rhythm that naturally brings deep relaxation and balance to the doshas," says the director of the spa, Jessica Sanchez, who also has noticed an uptick in sleep treatment bookings over the past three years. "The strokes are performed in such a way that naturally promotes circulation by expanding the blood vessels. This reduces resistance in the arteries, which causes your blood pressure to lower3." (FYI, blood pressure normally decreases during sleep.)
Other remedies, like aromatherapy and mineral soaks, have also been around for ages to enhance relaxation and promote restful slumber. Spas and bathing houses have long been thriving epicenters in various places around the world, and many have included modalities meant to enhance rest. Essentially, sleep has always been an integral part of well-being routines; now, it's just becoming even more mainstream.
Enter: The wave of new sleep spa treatments.
As more community wellness spaces emerge to meet a growing demand for IRL connection, they must offer multiple experiences to pique any interest—so someone interested in sauna bathing can find solace in the same spot as someone looking for a manicure.
And as folks become more intentional about their rest, it's no surprise that sleep treatments start popping up on those menus. As a result, "sleep tourism" becomes a highly sought-after experience in hospitality.
For instance, find yourself at the Waldorf Astoria Atlanta Buckhead, and you can book an Enchanted Sleep treatment. You'll walk into a comforting, warmed room—chamomile tea in hand—and experience a gentle, intentional lavender oil massage that activates your parasympathetic nervous system. (Research suggests that the aromatic effects of chamomile can help reduce stress4 and that lavender can calm the nervous system5.)
During the last few moments of your 75-minute session, "your therapist gently awakens you with instructed breathing that signals to the body it is time gradually to adjust your circadian rhythm," explains Taniesha Boursiquot, director of spa and wellness at the Buckhead-based hotel.
Or, for a completely therapist-free experience, you could opt for the sleep treatment at The Spa by Equinox Hotels in New York: You'll recline on a Quantum Harmonics wave bed—which features an audio program of gentle wave sounds and a vibration massage system that stimulates specific energy centers of the body—and snuggle up under a weighted blanket and eye mask for a 30- or 60-minute "power-nap."
According to Angela Portella, director of spa at The Spa by Equinox Hotels, "The audio and vibrational frequencies make it possible for even the busiest minds to achieve deep levels of relaxation in one session. A 30-minute session is meant to simulate [to] your brain as if you have had three hours of sleep."
The resort's Silicon Valley property offers a similarly themed therapeutic aromatherapy treatment, or you can order off the special "sleep menu" and have various sleep-enhancing items (bath soaks, aromatherapy neck wraps, and the like) delivered straight to your room.
I could go on and on about the plethora of sleepy-time treatments popping up over the past several months. But at this point, you're probably wondering: Do these remedies actually, well, work?
Rebecca Robbins, Ph.D., sleep researcher and expert for Oura, certainly sees promise: While relaxing spa services, like massages and facials, can help you manage stress (which ultimately trickles down to better sleep at night), "sleep-related treatments that specifically aim to aid with sleep might be best in the several hours before bed," she says, especially for those suffering from jet lag or sleep difficulties.
Even if you aren't dealing with a specific sleep concern, the specific treatment may still be a worthwhile investment. We likely don't have to remind you just how important quality sleep is for your overall health, and these can serve as proactive measures to help optimize circadian rhythm for the long haul.
"Since the pandemic, many of our guests' mindsets have changed, and many have recognized the need for disease prevention rather than waiting to be sick and finding a cure," Sanchez states. "Spas and wellness are as crucial as restaurants and food in this goal." True holistic health, after all, weaves mind, body, and soul.
How to get started. 
Until you find yourself beachside at Bal Harbour or among the scenic Palo Alto landscapes, you can always practice aromatherapy, breathwork, or self-massage in the comfort of your own home. Try melting your stress away with an Epsom salt bath, listening to a relaxing meditation, or dabbling in sleep-enhancing herbs, teas, and supplements.
Incorporating daily sleep-supporting habits is always a good idea, even if you do have an expert-led session on the books; it never hurts to take what you've learned with you when you go. It's similar to opting for a professional facial—you wouldn't then eschew everyday skin care maintenance, would you?
If there's anything to glean from this sleep tourism trend, it's that a good snooze, as simple as it may seem, is worth deliberate practice. And with a little intention, your bedroom can become the ultimate DIY spa.

Jamie Schneider
Beauty & Health Editor
Jamie Schneider is the Beauty Editor at mindbodygreen. She has a B.A. in Organizational Studies and English from the University of Michigan, and her work has appeared in Coveteur, The Chill Times, and more. In her role at mbg, she reports on everything from the top beauty industry trends, to the gut-skin connection and the microbiome, to the latest expert makeup hacks. She currently lives in Brooklyn, New York.