Skin Longevity: How To Get Healthy Skin For Longer Term
mbg Beauty Director
By Alexandra Engler
mbg Beauty Director
Alexandra Engler is the beauty director at mindbodygreen and host of the beauty podcast Clean Beauty School. Previously, she's held beauty roles at Harper's Bazaar, Marie Claire, SELF, and Cosmopolitan; her byline has appeared in Esquire, Sports Illustrated, and Allure.com.
August 23, 2023
We carefully vet all products and services featured on mindbodygreen using our
commerce guidelines.
Our selections are never influenced by the commissions earned from our links.
Welcome to the Beauty Breakdown, our series that dives into today's buzziest beauty topics. In each we focus on a different theme, and highlight all the need-to-know basics, common mistakes, and the best products to get your hands on.
Allow me to ask you a question: Do you want a glowing complexion tomorrow but run the risk of seeing damage later in life? Or do you want consistently healthy skin? I'm going to wager you chose the latter. We all know it's more important to pay attention to long-term skin health over short-term frills, but in the moment it's oh-so-hard to pass up immediate gratification. That's where skin longevity comes in.

The 101 on skin longevity. 
Skin longevity isn't a revolutionary concept—it's simply taking care of your skin with the focus on the long term rather than relying too heavily on immediate gratification and quick fixes. Of course, many people already practice this concept, whether they refer to it as "longevity" or not.
This is also not a skin care practice that requires a set regimen, to-do list, or framework of rigid rules. In fact, it's a train of thought that prioritizes individuality, simplicity, and a whole lot of self-knowledge—making finding any universal set of standards almost futile. What someone with sensitive skin will use to keep their skin healthy over time will look vastly different from those with regular, hormonally driven breakouts.
With that in mind, what can we glean about our own skin when we look at it through the lens of longevity? Well, you want to strengthen the skin barrier, fuel your skin from the inside out and outside in, reduce oxidative stress, encourage the pace of skin cell turnover, and tend to it at the cellular level.

The 7 things we're getting wrong right now.
Even the most diligent skin care devotees can have habits that may be working against them. Here, common skin care practices that may be reducing your skin longevity:
Using irritating ingredients and techniques. Stripping your skin, overloading with potent actives, using abrasive scrubs or brushes—these all weaken your skin barrier function. Suboptimal skin barrier function contributes to low-grade, consistent inflammaging processes.
Forgetting nutrition's role. Eating a balanced diet doesn't carry much in terms of immediate gratification for the skin, but small nutrition-forward choices can ensure your skin cells have adequate nutrients to thrive now and into the future.
Not paying attention to your skin's cues. Your skin has a way of telling you it's unhappy—be it blemishes, discoloration, or irritation. If you ignore these, and their root causes, it can stress skin out over time.
Skipping on sleep and not monitoring stress. Lack of sleep and increased stress are epidemics nowadays. These can take a major toll on your skin health.
Following social media trends—not professionals. Social media stars often aren't trained in skin care, nor are they speaking to you individually. Sure, there is value in sharing routines with one another, but never assume outcomes based on other people's complexions.
Trying too many products and not sticking with any. Your epidermis turns over about every 40 to 56 days1. That means it takes time to see results. If you're jumping from one product to the next without thought or consideration, you'll never be able to see what's helping or hurting your skin. "I'm always trying new things" is a trendy skin care phrase nowadays, but it's honestly bad advice.
Feeding into immediate gratification. In the age of social media, quick fixes abound. And it's not wrong to want fast solutions for problems! Sometimes you really do need an instant pick-me-up for dark circles or mask to brighten dullness. But when all we focus on is the next hour or day—we tend to make hasty choices that don't support skin health for the next week, month, years, and decades.

The 5 steps you need to know. 
Let's get into what you can actually do to better support your precious skin cells:
1.
Become a student of your skin.
It's important that you check in with your skin daily. Think of it like how you might make slight tweaks to your diet and workouts depending on how your body feels on a given day. If your legs are sore, chances are you'll focus on another part of your body or even give yourself a recovery day. If you're bloated, you may adjust your eating habits accordingly. Take the same intuitive and thoughtful approach to your skin care routine.
Some experts even recommend logging a skin care journal as you get to know your skin's needs—so you can chronicle how it reacts to products and even things that happened in your day (such as stress or lack of sleep).
"Keep track, even lightly, of what's working for you and what's not. Over time, [journaling] gives you a lot of clues as to what really your skin gravitates toward," says Alicia Yoon, celebrity esthetician and founder of Peach & Lily, also noting it can help you identify flare-ups (and keep those flare-ups in perspective.) "When I get flare-ups, I remember it lasting longer than it actually did. I look back to my journal, and it was only three days, when it felt like two weeks."
Knowing your skin is half the battle—so once you get in better touch with yourself, you'll make better long-term decisions.
2.
Find a routine and be diligent.
You can visit the top spas in the world and have consultations with every celebrity dermatologist in the Rolodex, but if you're doing the work daily it's all for naught. In health and wellness, people often talk about the 80-20 rule: That 80% of weight management is diet and 20% is exercise, explains holistic esthetician Zaida Gordan in this episode of Clean Beauty School. "Think of skin care professionals as your personal trainers—we can help with that 20%, but unless you're taking care of that 80% of daily maintenance skin care, there's only so much change that's going to happen," she says.
Of course, zeroing in on a routine that works for your skin and lifestyle is, ahem, challenging. First, know the basics of a skin care routine and layering. We have a full guide to the topic, but for an abridged version, here are the major steps.
Cleanser
Toner (optional)
Serum (optional but encouraged if you want to make long-term changes to the skin)
Eye cream (optional)
Lotions, creams, or oils
Lip balm (optional)
Sunscreen
A caveat: Some people think that "sticking to their skin care routine" means never deviating a single step, morning or night. And that's certainly not what we're encouraging. It's OK to pare down your routine because you (or your complexion) are just not feeling extra steps that evening. Professionals simply care that you're taking care of yourself consistently—not perfectly.
3.
Utilize targeted actives & formulas that support your unique needs.
When crafting a routine, you should know what the overall intended outcome is and edit ingredients accordingly. But sometimes even getting to that step isn't easy. Well, behavioral psychologist Perpetua Neo, DClinPsy, spends a lot of time helping her patients identify their exact goals—sometimes skin care included.
First, she says to write down the top changes you'd like to see in your skin, be it clear up a blemish or improve under-eye circles. "And rank each on a scale of 1 to 10," she says, noting that this framework can provide clarity for people so they're not tempted to tackle everything all at once. "You may say your dullness is an 8 out of 10, so you can strive to get it down to 6, 4, 2. Then you can look to find another goal."
Additionally, this process helps you avoid another goal-oriented mistake: striving for something unrealistic. "This keeps you from having a big, unattainable goal like 'perfect skin.' Having achievable, moving goals is actually going to help your skin," she says.
Once you've identified your top goal, then you can look for specific actives, products, and ingredients. This is not an exhaustive list, but it can at least get you started:
Hydration: fatty acids, botanical lipids, and humectants (like hyaluronic acid and glycerin)
Calm sensitivities: Oat extracts, ceramides, and biome-supporting ingredients
Blemish and oil control: AHAs, BHAs, niacinamide, and lightweight hydrators (like aloe vera and jojoba oil)
Fine lines: retinol, peptides, and coenzyme Q10
No matter how hard you work on your skin, it means nothing if you're not shielding it from environmental aggressors. Things like pollution, oxidative stress, internal triggers, UV rays, and irritants can unravel all the goodwill you've put into your skin. And this all comes down to free radicals. "Free radicals are unstable molecules that can negatively affect your cells," says board-certified dermatologist Zenovia Gabriel, M.D., FAAD. Free radicals are called "unstable" because they are missing an electron. This is a problem because atoms don't like to have uneven electrons, and when they are unbalanced, they wreak havoc. One way they wreak havoc is they take electrons from healthy cells. Those healthy cells are then turned into, you guessed it, free radicals. The cycle continues.
The best way to support your skin against these is twofold: sunscreen and antioxidants. Mineral sunscreens, like titanium dioxide and zinc oxide, can help buffer UV rays in addition to smart sun care practices like hats, sunglasses, and avoiding midday direct exposure. As for antioxidants, you can find these in many varieties (some of which we've already mentioned!). Each variety has its own strengths, so you can find some that work well with your skin—and this is a good place to start.
5.
Remember: Everything is skin care.
In terms of longevity, lifestyle habits cannot be ignored or covered up. The basis of this is nutrition, movement, mental health, and sleep. By eating the right foods (like those that support hydration or even collagen production) you're fueling your skin with the right tools to do its job—such as act as a barrier, ward off free radicals, and produce things like collagen, elastin, and hyaluronic acid. Movement can help improve circulation (vital for glowing skin) and muscle health. Sleep is of the utmost importance—as it's your skin cells' recovery time. During the REM cycle, your skin heals the skin's structural proteins, rejuvenates itself, and balances hormones. Without it, we often see a cortisol spike in the system, which can lead to collagen breakdown. Finally, stress does a number on the body and can lead to inflammaging and flare-ups.

3 extra ideas — in case you want to go all-out.
Looking to go above and beyond? You overachiever, you. Here are some extra tips to supercharge longevity:
Massage daily. It may seem like an indulgence to work your skin daily, but your skin will thank you. Facial massages have been shown to reduce wrinkles and increase circulation over time and with regular use.
Invest in high-tech, at-home tools. Not all at-home devices are created equal—and we certainly do not recommend some of them (looking at you, microneedling). But high-quality LED lights and microcurrent technology have their benefits long term. Always purchase from a reputable brand and retailer, and while you don't need to break the bank on your skin, we do recommend purchasing the highest quality one you can afford.
Find a pro, and stick with them. If you can afford it, have the time, and live in an area where estheticians and derms are available, we cannot recommend visiting a professional enough. Not only will they be able to guide you on your journey, but they can also keep things in perspective. "So if you are really in conflict with your skin, then you're going to look in the mirror and you're going to see something worse than what's there. You need someone absolutely objective to help you with that," says Neo.

The 7 products to try.
While skin longevity takes a holistic approach, a few product recommendations can't hurt, no? Here's what beauty experts can't get enough of.
Best face wash: Violets Are Blue Gentle Cleanser
Unless otherwise directed, we think sticking with a gentle, simple cleanser is your safest bet. Since cleansing is about removing impurities and creating a clean canvas for the following steps, you want to find one that won't put your skin in an irritated state. This contains soothing white tea, antioxidant-rich carrot seed (which is loaded with vitamins E and C), and omega-packed evening primrose.
Gentle Cleanser, Violets Are Blue ($48)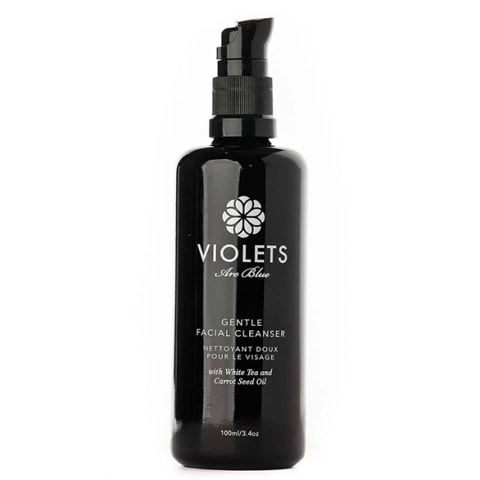 Violets Are Blue
Best serum: January Labs Triple Active Reclaiming Serum
A serum with three powerful ingredients that work synergistically to rejuvenate skin from all angles. A gentle and well-tolerated retinol increases the rate of skin cell turnover and improves collagen production. Vitamin C is an antioxidant superstar. And niacinamide helps calm the skin—since the two former ingredients aren't always the easiest to tolerate.
Triple Active Reclaiming Serum, January Labs ($86)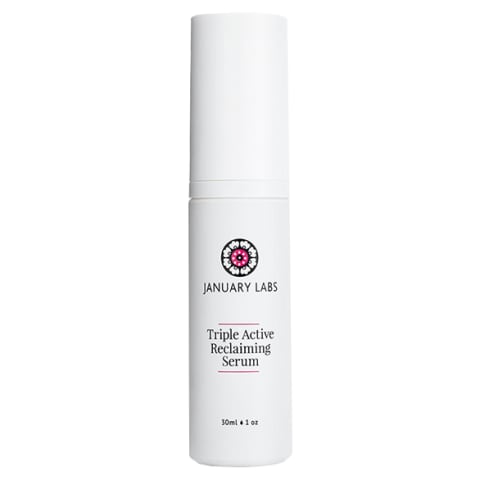 January Labs
Best face cream: Macrene Actives High Performance Face Cream
This luxe cream is loaded with healthy aging actives. To name a few? Copper peptides address fine lines. Hyaluronic acid adds some plumpness. Targeted amino acids help reduce dark spots. Caffeine extracts help reduce redness or blotchiness. Several antioxidants (resveratrol, vitamins C and E) neutralize free radicals. And several algae extracts repair skin health.
High Performance Face Cream, Macrene Actives ($245)
Macrene Actives
Best supplement: mindbodygreen cellular beauty +
The ultimate supplement for healthy aging, skin supplements, and improved texture. This vegan cosmeceutical contains potent doses of premium botanicals and phytochemicals clinically shown to support skin hydration, elasticity, smoothness, barrier function, and wrinkle reduction. In the cutting-edge formula, you'll find phytoceramides to support a healthy skin barrier structure; astaxanthin to preserve a healthy collagen layer and neutralize free radicals; ubiquinol CoQ10 to promote skin cell "cleanup" (aka, getting rid of debris) and rejuvenation; and polyphenol-containing pomegranate whole fruit extract for photoprotection. Basically, it checks all the boxes for skin health and well-being.*
cellular beauty+, mindbodygreen ($76)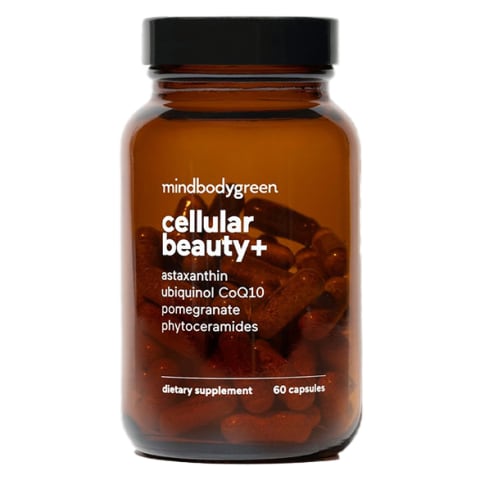 mindbodygreen
Best mask: Tata Harper SUPERKIND Radiance Mask
Masks can act as a treatment step in your routine—helping you achieve your goals faster. This very gentle formula addresses several concerns without disrupting your barrier. The lactic acids gently slough off excess dead skin cells, even your texture, and improve tone. The prebiotics feed your skin microbiome. Finally, soothing herbs keep irritation at bay.
SUPERKIND Radiance Mask, Tata Harper ($65)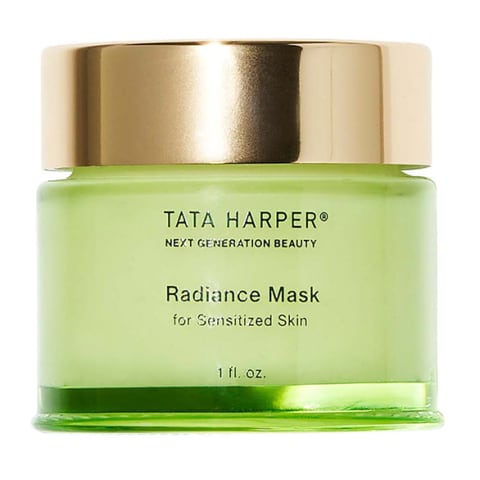 Tata Harper
Best body care: mindbodygreen postbiotic body lotion
A body lotion so thoroughly formulated and thoughtfully minded that it addresses every aspect of your skin barrier function—and as a result, has some pretty impressive longevity benefits, too. The hydrating base blends together aloe, shea butter, moringa seed oil, oat oil, and coconut oil to offer a robust variety of conditioning and moisturizing properties. The innovative and highly selective pre- and postbiotic combo nurtures your skin microbiome, which improves epidermal framework and supports anti-inflammatory actions. Plus, potent antioxidants (in the form of coenzyme Q10 and a fruit complex) fight free radicals. Your skin will look brighter, healthier—and feel better.
postbiotic body lotion, mindbodygreen ($30)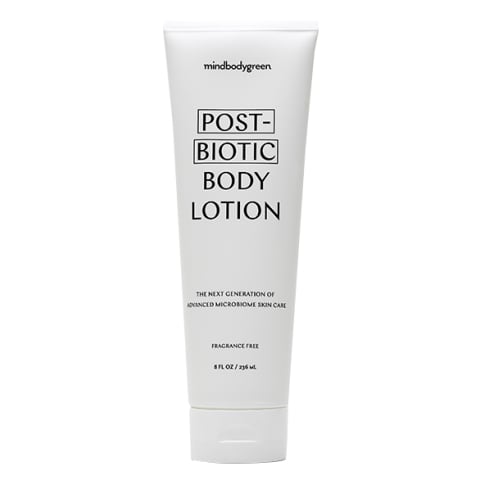 mindbodygreen
Best tool: ZIIP GX Electrical Facial Device
Microcurrents can help skin act younger, improve muscle tone in the face, encourage circulation, and drive nutrients to the areas you need it most. You see subtle differences after use, but the real changes come with time—complexions look lifted and brighter. But you'll want to make sure you're getting an FDA-cleared, high-grade device, like this number. It also comes with a clean conductive gel that contains growth factors, peptides, and more.
GX Electrical Facial Device, ZIIP ($495)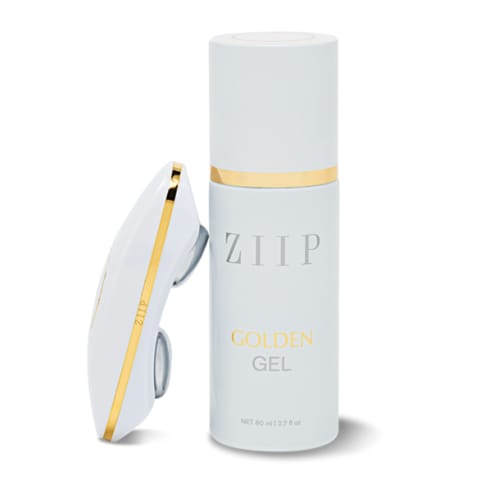 ZIIP
The beauty breakdown.
Time to rethink how we take care of our skin. In the age of social media, instant gratification and quick fixes reign supreme—but if you're looking at skin health from a long-term angle, it's time to adjust our lenses. Skin longevity will help you make smarter decisions that improve skin barrier function, address your unique needs, and make your complexion glowier for longer.
Alexandra Engler
mbg Beauty Director
Alexandra Engler is the beauty director at mindbodygreen and host of the beauty podcast Clean Beauty School. Previously, she's held beauty roles at Harper's Bazaar, Marie Claire, SELF, and Cosmopolitan; her byline has appeared in Esquire, Sports Illustrated, and Allure.com. In her current role, she covers all the latest trends in the clean and natural beauty space, as well as lifestyle topics, such as travel. She received her journalism degree from Marquette University, graduating first in the department. She lives in Brooklyn, New York.