Close Banner
Advertisement
This ad is displayed using third party content and we do not control its accessibility features.
Just In: Why This Innovative Beauty Supplement Is Up For A Major Award

mbg Vice President of Scientific Affairs
By Ashley Jordan Ferira, Ph.D., RDN
mbg Vice President of Scientific Affairs
Ashley Jordan Ferira, Ph.D., RDN is Vice President of Scientific Affairs at mindbodygreen. She received her bachelor's degree in Biological Basis of Behavior from the University of Pennsylvania and Ph.D. in Foods and Nutrition from the University of Georgia.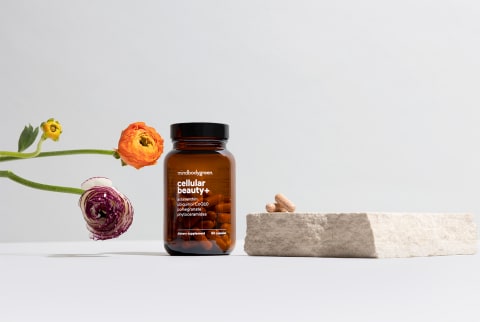 We carefully vet all products and services featured on mindbodygreen using our
commerce guidelines.
Our selections are never influenced by the commissions earned from our links.
From the Super Bowl to the Winter Olympics, there's plenty of competition going on these days. Speaking of competition, we—myself and the rest of the mindbodygreen team—are beyond thrilled to share some winning news with our readers, for a product in the mbg supplements+ portfolio.
Drum roll, please: mbg's cellular beauty+ has been named a Finalist in the 2022 NEXTY Awards for the category "Best New Supplement."
What's a NEXTY Award?
The NEXTY Awards are like the Olympics for innovative products in the functional food, beverage, supplement, personal care, and even pet products space.
To put this accolade in further perspective:
1,100 products were nominated from around the world (more nominations than any previous year).
75 finalist products were vetted and chosen by an esteemed panel of judges (a variety of factors are considered, but the product must exemplify NEXTY's three I's: innovation, inspiration, and integrity.)
These 75 finalists span 18 categories across food, beverage, supplements, personal care, and more (this is less categories than last year, so steeper competition).
mbg's cellular beauty+ is one of five finalists selected for one of those categories: Best New Supplement.
We're celebrating this distinction and looking forward to the winner being announced in March at the Expo West conference. But given how stiff the competition was to even get to this point, even being on the podium as a finalist is worthy a cheer or two.
Why experts recommend and customers love cellular beauty+
We've all heard the mantra that "beauty is from within." We took that concept literally and scientifically when formulating cellular beauty+, which cares for your skin and unique beauty from the inside out.* As a result, this plant-centric beauty supplement is equal parts innovative, premium, and science-backed. These capsules represent the "new school" of targeted beauty nutrition, and our product stands apart from the competition in many ways, as mbg Co-Founder, Jason Wachob, and I previously discussed on the mindbodygreen podcast.
Take, for example, mbg customer Lexie who shares her experience: "cellular beauty+ has truly transformed the texture of my skin. I have struggled with skin clarity and smoothness for years. So, an overload of attempts at different skin care regimens have taken their toll on my skin barrier. I have tried everything for glowy skin—from tons of products to cleaning up my diet. I was skeptical that a supplement would be the thing to finally work. This unique formula has added that extra boost of skin hydration and elasticity I've been searching everywhere for."*
Skin care professionals and experts, agree too. mbg's Beauty Director, Alexandra Engler takes the supplement for its combination of ingredients that "tend to skin at the cellular level, providing protection, rejuvenation, and support day-in-and-day-out."*
That's probably why facial rejuvenation expert Debbie Kung, DAOM, LAc personally recommends the supplement to clients, noting, "the four high-quality ingredients and their dosing are informed by clinical studies. This unique combination simultaneously supports the skin barrier, moisture, texture, and glow—from the inside out! This smart beauty supplement will be a lifelong tool to maximize my cellular beauty potential."*
The 360-beauty support ingredients in the formula
Providing 360-degree beauty support, the formula delivers four plant-origin cosmeceutical bioactives at potent, evidence-based doses rooted in clinical science.* We didn't just sprinkle in ingredients—this supplement is made to put in the work.
AstaReal® astaxanthin: 6 mg
pomma+® pomegranate whole fruit extract: 200 mg
Ceramosides® phytoceramides: 30 mg
Kaneka Ubiquinol® coenzyme Q10 (CoQ10): 100 mg
Numbers and dosages aside, what does this mean in practice? These botanicals and bioactives shown in clinical studies to promote skin hydration, elasticity, smoothness, barrier function, and wrinkle reduction.* This innovative combination also increases CoQ10 levels (which decline with age) and delivers key antioxidants to combat oxidative stress and enhance photoprotection.* But it's not just what's in it—it's what was left out: This beauty supplement is vegan, non-GMO, gluten-free, dairy-free, and soy-free.
Image by mindbodygreen creative
What our ingredient partners from around the world are saying
To share more on each unique botanical or bioactive in our product, I thought, who better than our ingredient partners themselves? At mindbodygreen, we care deeply about where our ingredients come from, partnering with suppliers whose practices emphasize quality, science, and responsibility. The fact that we're also relentless about pursuing innovative ingredients rooted in clinical science is clearly evidenced in cellular beauty+.
First up, our one-of-a-kind algal carotenoid: astaxanthin. Astaxanthin expert Karen Hecht, Ph.D., Scientific Affairs Manager at AstaReal Inc., shares: "AstaReal® astaxanthin is a premium ingredient that represents over three decades of global scientific research and innovation," she says. "Astaxanthin takes a nature-inspired approach to beauty-from-within by bringing free radical quenching benefits to all skin layers and helping to protect delicate skin cells that support hydration, smoothness, and elasticity."*
Hecht shares our NEXTY excitement, explaining that "being a NEXTY Award Finalist communicates industry recognition that something special has been born in the form of a meaningful formulation and a thoughtful delivery that can have a positive impact in consumers' lives, and bring about industry progress."
Next up is the polyphenol-laden pomegranate: As Stauber's Scientific Advisor Ari Mayer Mackler, Ph.D., MBA shares: "pomma+® is a great ingredient built upon a deep scientific and clinical literature. Rigorous investigation into pomegranate's chemistry and how that chemistry supports certain basic cellular pathways such as those related to oxidative stress demonstrates pomma+'s ability to help protect our skin from UV photodamage. We are proud that mindbodygreen has chosen pomma+ to power cellular beauty+."*
Then there's our skin-barrier bioactive lipids, phytoceramides. Guenole Le Calvez, President and CEO of Seppic Inc., explains that he is "honored to see Ceramosides® as part of cellular beauty+, a formula promoting strong science, clinically studied and effective ingredients. It reflects our goal as a company, to develop the best natural ingredients with a real impact on the appearance of the skin."*
And last but most definitely not least, you'll find ubiquinol, the most bioavailable and bioactive form of this whole-body powerhouse antioxidant.* Steven Kahara, President of Kaneka North America, shares that, "We are honored that mindbodygreen chose Kaneka Ubiquinol® to be included in the cellular beauty+ product; it demonstrates their commitment to the highest quality, most efficacious ingredients available. It's a unique, dynamic product formulation that we're proud to be a part of."
The product is eco-friendly too.
And we're not just loving our skin. We're caring for the environment too with our eco-responsible, sustainable packaging.
You'll find cellular beauty+ (like the rest of the capsules and softgels in mindbodygreen's portfolio) encased in a recyclable amber glass bottle. Additionally, our shipping boxes are made from 100% recycled paper and are fully curbside recyclable.
The takeaway.
Since 2009 mindbodygreen has been on a mission to make research-based solutions of functional medicine and personalized nutrition widely available through educational content. And in 2021, mbg added cellular beauty+ to our portfolio, and it beautifully wraps targeted personal care into a botanical nutrition supplement.
At mindbodygreen, we believe in creating products that elevate innovation and integrity while also helping people become the best versions of themselves. mbg's cellular beauty+ is renewal from the inside out.* We're definitely celebrating this NEXTY Award honor, but are even more overjoyed that our customers are reaping the benefits of cellular beauty+ each and every day.
If you are pregnant, breastfeeding, or taking medications, consult with your doctor before starting a supplement routine. It is always optimal to consult with a health care provider when considering what supplements are right for you.

Ashley Jordan Ferira, Ph.D., RDN
mbg Vice President of Scientific Affairs
Ashley Jordan Ferira, Ph.D., RDN is Vice President of Scientific Affairs at mindbodygreen. Ashley received her B.A. in Biological Basis of Behavior from the University of Pennsylvania (along with a double minor in Nutrition and Music) and Ph.D. in Foods and Nutrition from the University of Georgia. Her research contributions span vitamin D, cardiometabolic health, bone density, and weight management. Ferira is a nutrition scientist and dietitian with experience in nutrition product innovation and development, scientific affairs, education, communications, and SEO writing for global firms, including Nature Made, Metagenics, Three Ships, and mindbodygreen.
In addition to her mindbodygreen contributions, Ferira is published in Health, Metagenics Institute, American Family Physician, The Journal of Clinical Endocrinology & Metabolism, and Osteoporosis International. She has a passion for the translation of evidence-based science into innovative and high-quality products and information that help people lead healthier lives. She is a believer in compassionate, informed, and personalized approaches to nutrition, health care, and wellness. Ashley lives in beautiful Charleston, South Carolina, where she was born and raised. Whether savoring an orchestral performance or delectable meal at a local restaurant, you will find her enjoying Charleston's cultural and culinary arts with family and friends.