I Tried A $25 Light Therapy Acne Mask & I Was Impressed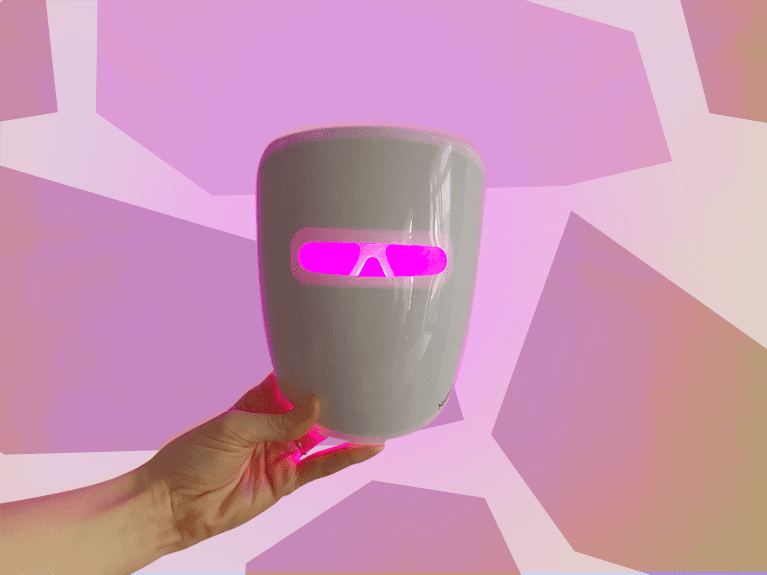 I'm a believer in many things—good skin care, extraterrestrial life, and the power of a daily writing practice are just a few. But LED light masks? Yes, they're relaxing and can be a hilarious (if not frightening) way to prank your partner or roommate, but I was skeptical of their effectiveness. It just didn't check out that spending time under a few red and blue tiny light bulbs could help acne, especially outside of a clinical setting.
While I'm not someone who struggles with chronic adult acne, I do get hormonal pimples on occasion. Right before trying this mask, I'd grown a painful, sebaceous cyst embedded so deep into my chin skin that it's not visible to the naked eye. With some palpation you'd feel it—it was about a quarter of the size of a U.S. dime—but I'd never let you. It hurt way too much!
It was the perfect time to test this thing—if the LED mask could help shrink this subdermal monster zit that only grew larger over a four-week period despite my attempts to calm it, it might help people who struggle with mild to moderate acne as it claims to do.
I was skeptical of this particular mask, but the research about LED light and acne is promising.
My skepticism of LED masks isn't unfounded. It seems that they work well in controlled, precise conditions, for specific amounts of time—not at home with a mask you can buy at the drugstore. Some studies have been done on the effectiveness of red and blue LED lights on the skin, and under clearly defined and set circumstances, they have made a difference. For example, according to this study, red lights at shorter frequencies are best for diminishing flare-ups because blue lights don't penetrate into the skin deeply enough. However, scientists found that the combination of red and blue lights produced the best results. Another concluded that longer two-hour treatments spread out over one or two treatments a month for three months made significant improvements in acne when using precise wavelengths. LED has even helped people with specific kinds of rosacea. At the very least, I figured trying the LED at-home mask couldn't hurt.
Everything you need to know about the mask.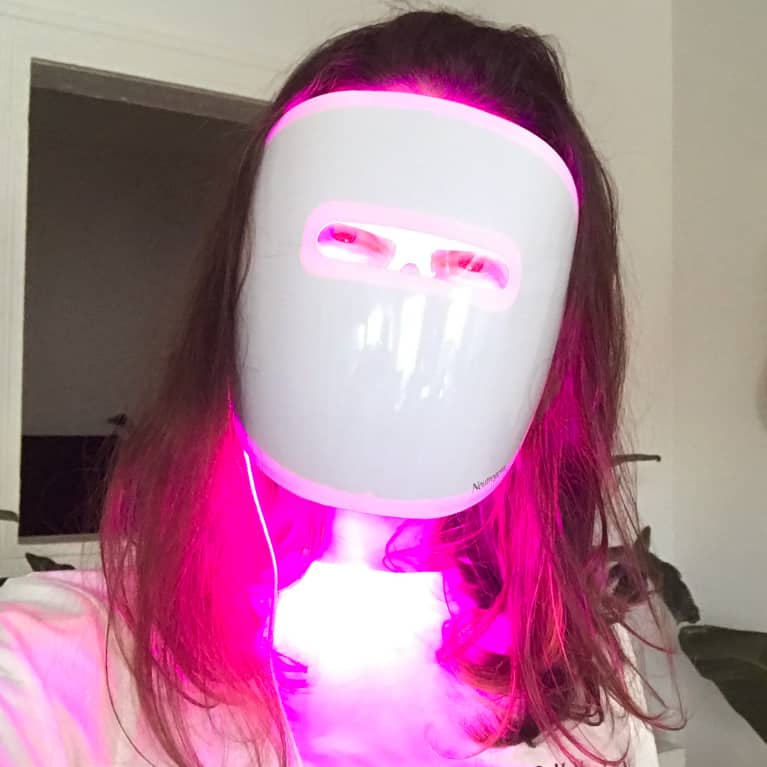 The Neutrogena Light Therapy Acne Mask is priced differently depending on where you purchase it. It runs from $25 and $35, and you can find it at both Target and Amazon. The mask itself is made of white plastic and has an elongated oval-shaped window for seeing while you wear it. Picture a combination of Jason from the horror Halloween films, stormtroopers, and Daft Punk, and you'll get the visual. No mouth hole sadly means no eating or drinking with this mask on! (Note to Neutrogena: A mouth opening would be considerate, because: snacking.) Inside it's studded with 21 small LED bulbs; 12 are blue and nine are red. According to the package "[b]lue light targets acne-causing bacteria while red light reduces acne inflammation." Orange-tinted goggles are brilliantly attached to the inside of the mask so you never lose them. Also attached is a wire that connects the mask to a battery pack, an on button, and a treatment counter. The counter lets you know how many treatments you have left of the 30 with which it comes. This brings me to the biggest upside and downside. First, the upside: There are no ingredients in this mask but light. The downside is that these masks aren't exactly sustainable. Once the 30 treatments are up, you can purchase a new activator and keep the mask. Neutrogena has also smartly engaged in a recycling program for used activators.
The instructions say to use the mask for 30 treatments over at least 30 days (doing the treatment no more than once a day). Each treatment lasts about 10 minutes. To begin a treatment, you wash your face, dry it, do the mask treatment, and wait till it's done to carry out the rest of your routine.
To be honest, the first week wearing the mask is pretty fun: You'll take ridiculous selfies and sufficiently scare your roommate or your pet, both thrilling exercises if you like to laugh. But this wears off and you'll quickly realize that it behooves you to mask strategically. You can't see much, for example, because of the light and the eye slot, but being in front of a bright screen was fine. I did a fair amount of masked laptop writing, working, and Netflix watching. It also quite literally narrows your focus, so if you're trying to get something done on the computer without feeling distracted by everyone and everything around you, wearing the mask is a nice way to get 10 focused minutes of work in.
After completing half of the recommended 30-day masking course, my disbelief is suspended: My sebaceous cyst has shrunk to less than half its original size, and the LED mask was the only thing to help. Facial massage, facial cupping, and strategic masking weren't hurting, but that honker didn't start to shrink until I added the light to my routine. I'm not sure if it was because the light itself was fun, but I noticed a boost in mood directly after using it too. I don't see too much of a difference in my overall complexion because I don't suffer from acne, but it feels less bumpy around my chin, where I tend to get small, almost-invisible-but-still-annoying hormonal acne. Let there be (LED) light!