Best Red Light Therapy Tools Of 2022: Fight Fine Lines, Acne & More
Contributing writer
By Emily Rekstis
Contributing writer
Emily Rekstis is a freelance writer who has worked at Harper's Bazaar, Self, And UsWeekly. Her bylines appear in Healthline, Byrdie, Women's Health, MyDomaine, BuzzFeed, The Cut, Allure and many more.
Last updated on November 10, 2022
Our editors have independently chosen the products listed on this page. If you purchase something mentioned in this article, we may
earn a small commission
.
Whether your social media feed is chock-full of beauty influencers or not, you may have come across people on social media using skin care devices that look practically space-age. Though there are many at-home skin care devices on the market, LED light therapy tools seem to be the most captivating.
Before, these LED light therapy tools were typically kept in dermatologists' or estheticians' offices during treatments or facials. Now, just like everything else it seems, they're hitting the mainstream market for at-home use.
But just because you can get your hands on professional-grade light therapy tools doesn't mean every item for sale is actually up to par. In fact, experts warn that there are many less-than-quality options that have flooded the web, so it's important to make sure you're purchasing one that comes recommended. Now, a fair warning that these come with a pretty price tag—but given these are technically professional devices, a higher cost just comes with the territory.
The best red light therapy devices of 2022:
The best red light therapy devices of 2022:
Show More
What is red light therapy for the skin?
Though there are still some questions1 about the ins and outs of how LED therapy works, these low-level lights have been shown to heal scars, improve the appearance of breakouts, and stimulate collagen production. Possibly LED's most impressive quality, though, is its ability to work in tandem with other products.
That's why LED therapy is typically a part of a facial, working alongside the other treatments and products used during the treatment. This is because the wavelengths of the LED light technology help ingredients penetrate deeper into the dermis for a more effective regimen and results.
There are a variety of LED lights from blue to yellow to green. The one we're highlighting today is red light therapy, which exposes bodily tissues to red and near-infrared light between the wavelengths of 660 nm and 890 nm with either low-level lasers or red LED lights to stimulate collagen to improve fine lines and wrinkles and help heal scars and wounds.
This results in a smoother, clearer, younger complexion. In fact, one study found that patients receiving red light therapy twice a week for 30 total sessions experienced improved skin tone2, skin smoothness, and collagen density.
All LED therapy is best done by professionals thanks to their professional-grade tools and extensive training. Not to mention, there are lots of questionable at-home red light therapy tools looking to take advantage of the buzz around red LED light therapy. With that being said, there are also some really great at-home options available for those looking for a more consistent and more affordable routine.
If you are looking to partake in LED light therapy at home, we recommend buying from only reputable skin care brands and companies. But to help you sort through all the noise, we rounded up eight of our favorite red light tools.
Cautions & side effects
LED therapy is generally considered safe for most people (in fact, some research papers have stated3 that there is "an almost complete absence of side effects" associated with red light therapy treatment). Additionally, the American Academy of Dermatology deems LED treatment safe.
Of course, there are things to keep in mind when using the tools.
First and foremost, you should find a quality product (more on that below). Because as experts have explained to us, less-than-stellar options have flooded the market, resulting in a lot of poorly made options in the hands of users. "Unless the LED light is the correct wavelength, it's not going to do anything; you might as well be using Christmas lights," says esthetician Natalie Aguilar.
Anecdotal accounts reveal that some people find red light therapy to be irritating or bothersome to the eyes, but this can be remedied by wearing goggles.
Finally, always follow the instructions from the brand. Esthetician Aneta Zuraw, co-founder of Atelier Beauté, generally advises placing the device panel within 1 inch of the face, but certain manufacturers may have different protocols. "All programs, distance, and time vary per skin condition and device used," she says.
How we picked:
There are many knock-off products on the web, so we only selected tools that come from brands that are known for creating high-quality skin care tools.
We vetted each tool's claims to make sure they were backed by research; some of the tools have clinicals.
These tools have been tested by editors, experts, and people trusted by the mindbodygreen beauty team.
Quality LED tools are inherently expensive—so we tried to include options that had added value (such as multiple benefits, technologies, etc.) to account for the price tag.
mbg's picks for the best red light therapy devices of 2022:
Best multitasker: SolaWave Advanced Skincare Wand with Red Light Therapy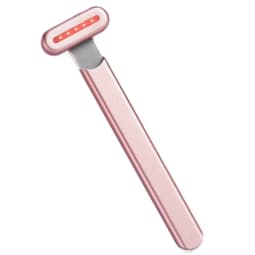 Pros:
Massage tool
Travel-friendly
Cons:
Covers small surface area
Considerations:
Targets lines & tone
If you're looking for device that won't take up too much space in your small bathroom or is easier to pack in a carry-on, this handheld device is the tool for you. Not only is it portable, rechargeable, and pretty darn cute, but it also works effectively to minimize the appearance of fine lines, wrinkles, dark circles, and dark spots. Along with red light therapy, it uses microcurrent technology and facial massaging techniques to stimulate the muscles and deeper layers of the skin for an overall refreshed complexion. Want more info? Check out our full review of the Solawave here.
What our tester says:
"I firmly believe the Solawave is worth the hype. I personally was shocked by the results the first morning after using my new device, and it's only gotten more impressive with time. Each use brightens up my dark under-eye circles and eases tension in my face, revealing a less puffy, more sculpted appearance. Over time, I noticed an improvement in fine lines and a more even skin tone overall."— Carleigh Ferrante, commerce editor
Advertisement
This ad is displayed using third party content and we do not control its accessibility features.
Advertisement
This ad is displayed using third party content and we do not control its accessibility features.
Advertisement
This ad is displayed using third party content and we do not control its accessibility features.
mbg's review process.
At mbg, high standards are earned—and there are no shortcuts. Our beauty editors stay up to date on the latest ingredient research and innovation. It's a dynamic, continuously evolving space, and it's important we look into the science so we can make informed choices about which formulas earn our stamp of approval (figuratively speaking).
Our high standards also come from testing products—many, many products. Our editors and writers rigorously test and research the products featured in our roundups to offer you the best, most informed recommendations. When we write reviews, you can trust we spend quality time with the formulas: We don't simply rave about products we've slathered on the back of our hand. We endorse products we've tried and loved.
Learn more about our testing process and clean beauty standards here.
The takeaway.
LED red light therapy can be a beneficial addition to your regular skin care routine. Not only will it help your products penetrate deeper into the dermis, but it can also stimulate collagen production and heal acne and scarring for an enviable complexion that's youthful and smooth. For more tips on collagen production, check out our guide to improving your natural collagen levels naturally.
Meet The Experts
Emily Rekstis
is a freelance writer who has worked at Harper's Bazaar, Self, And UsWeekly. Her bylines appear in Healthline, Byrdie, Women's Health, MyDomaine, BuzzFeed, The Cut, Allure and many more.