I'm An MD & Here's How I Went From Unwell To Thriving In 3 Steps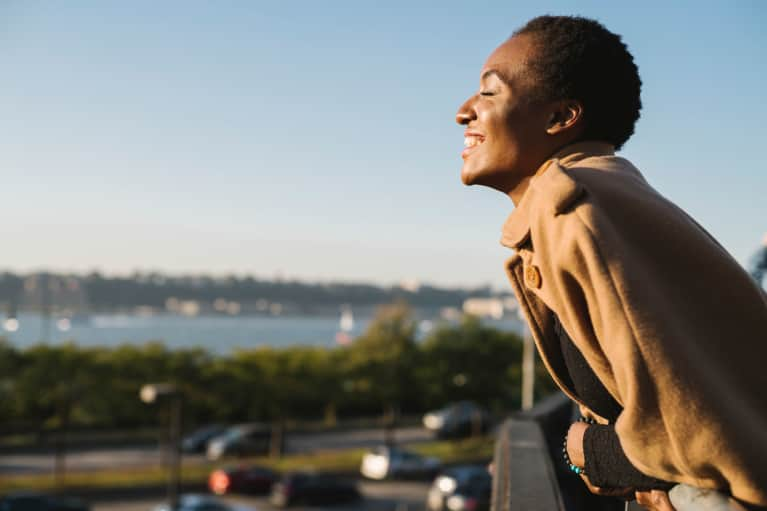 Ten years ago, I remember feeling like my heart was going to beat out of my chest. It was just after my eighth year of medical training, and I'd just found out I didn't pass my second medical boards. I was absolutely mortified. To some people, that might not seem like a huge deal, but I couldn't have felt more low.
Before that, I thought of myself as a leader in medicine, and my identity had become intertwined with my prowess in science. But at that point in my life, I was also a mom of two and a business owner, so I had immense pressure to perform.
However, every time I would sit down to study, I would not be able to focus—my mind was going at 1,000 mph. I was skipping on sleep so that I could expand on my practice, spend time with my children, and then I would pick up my books at 10 o'clock at night.
Basically, I was wildly overwhelmed and sleep-deprived. Anxiety was a big part of my life, along with fatigue, poor gut health, and all-day fatigue. My identity, health, mindset, and mood were all in desperate need of repair.
In any case, when I learned that I would have to retake the exam, I used this as a motivation to change my whole life approach. I made a goal: By the time I took the exam again the next year, I would be a healthier version of myself. As a physician, I started to dig into the research and use my nutrition degree as a jumping-off point.
Here, three changes that I implemented from that point forward:
1.
I set better boundaries.
I realized I was giving everyone my time except for myself. I felt depleted because I was not able to save time to recharge on a daily basis.
I had no boundaries on my time, on my energy, on my work, and on my mothering. This was leaving me with poor health, little time for myself, and anxiety.
As a solution, I decided to set up a schedule and be very stringent about who I lent my time and space to.
2.
I established health practices.
Based on my research, I decided to adjust my diet, and make three valuable changes:
I started to drink 2 cups of tea daily. Within weeks of incorporating this habit my digestion improved, my skin was clearer, and I had better energy. I created a chai latte recipe that is coconut milk-based and sugar-free and began incorporating it into my daily regimen. The spices in this chai (cinnamon, cardamom, ginger, plus black and white pepper) are ideal for balancing my blood sugar and calming inflammation. (It's also caffeine-free, so I can add tea to it as I see fit.) I would have half a scoop in the morning while fasting (it keeps you in the fasting state), and then in my afternoon iced coffee as a dirty chai.
I made sure to eat 30 g of fiber a day. This practice was recommended by all the health associations I read, to support microbiome health. Slowly but surely I added a side of vegetables or beans to everything. Also, because of the gut-brain axis, my healthy gut microbiome helped support my mind and improve my mood.
I added 20 nuts a day. I chose this amount because it's the quantity most experts recommend to improve inflammatory markers. I chose to make sure of raw almonds and walnuts. This helped me avoid reaching for processed food and allowed me to feel more energized and satisfied.
3.
I worked on syncing my body and mind to the earth's rhythms.
It's so shocking to me that we have a biology that matches sunlight and darkness—yet we ignore it. Before my health revamp, I was getting little to no sunlight, staying up very late, and eating late meals. When I understood the biology of circadian rhythm, I changed all of that. Our own biological (circadian) rhythms modulate 80% of our biological processes, and we optimize them when we get sunlight in the morning and darkness in the evening. This, coupled with early dinners and overnight "circadian fasting" truly helped support my overall health.
After making these three somewhat simple changes, I watched my life and health improve. I wish I'd discovered these tools even earlier, but I'm so grateful they're integral to my lifestyle and routine now.
It's my passion to share my knowledge and research with my community, to help them lead better lives now and in the future. In fact, mbg Co-Founder & Co-CEO Colleen Wachob has embraced some of my tried-and-true practices: "Dr. Amy Shah's chai tastes great and a 1/2 scoop is the perfect way for me to start my day while circadian fasting," she shares. "It's perfect for the days when I'm skipping my morning coffee."
I hope my health and well-being journey inspires you to make positive changes, too. (P.S. I passed my boards the second time around with flying colors.)
If you are interested in learning more about my go-to chai latte, or you want to try out my free 60-day transformation program, you can go here.