K-Beauty Trends: Glass Skin, Honey Skin & Dewy Dumpling Skin Explained
Contributing Wellness & Beauty Editor
By Lindsay Kellner
Contributing Wellness & Beauty Editor
Lindsay is a freelance writer and certified yoga instructor based in Brooklyn, NY. She holds a journalism and psychology degree from New York University. Kellner is the co-author of "The Spirit Almanac: A Modern Guide to Ancient Self Care," with mbg Sustainability Editor Emma Loewe.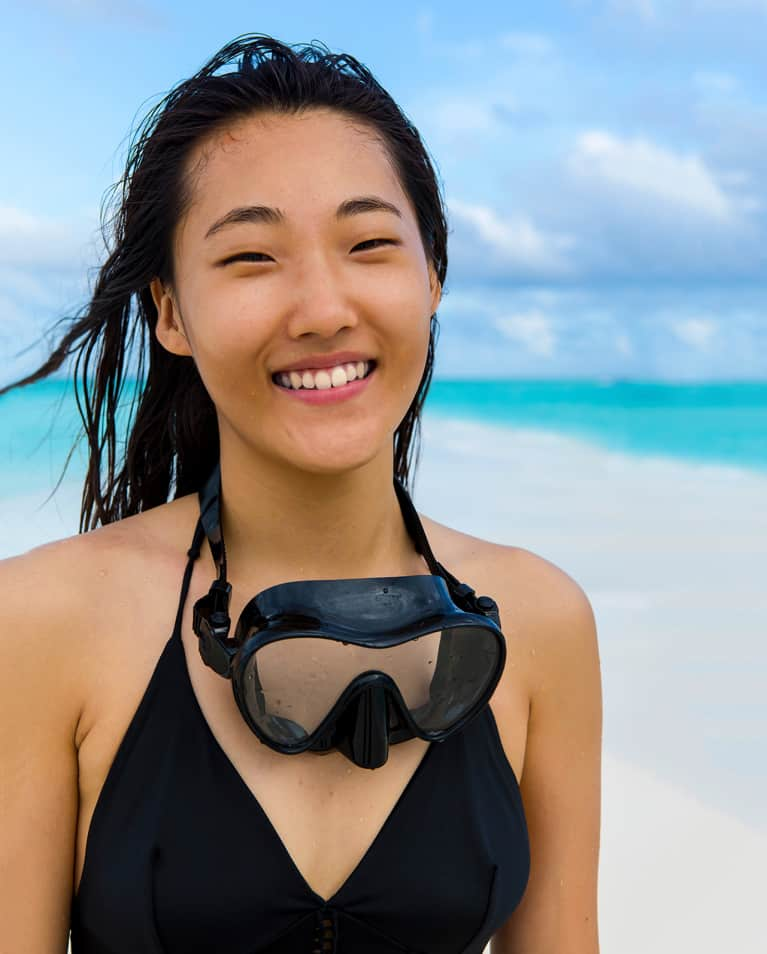 When you hear the term K-beauty, you might think of a laborious 10-step skin care regimen or unconventional ingredients like snail slime and, unfortunately, parabens—which doesn't always jive with a natural beauty regimen. The good news is, the philosophy of K-beauty—that hydrated skin is the healthiest—is foundational to all of the microtrends that fall within K-beauty, so achieving this aesthetic using natural, green, and/or organic products is totally possible. Here, we've rounded up three K-beauty microtrends—glass skin, honey skin, and "dewy dumpling" skin—and how to get the looks without sacrificing your commitment to natural beauty.
Glass skin is used to describe crystal-clear, perfectly smooth, almost reflective skin that's a sought-after Korean beauty ideal and, subsequently, in the larger K-beauty community. Glass skin isn't shimmery and diffuse but instead gives skin a "slick" look, like glass or a mirror, that reflects light. This photo of Ellie Choi, a K-beauty expert and social media influencer, is credited with making glass skin go viral late last year. Her skin looks almost poreless, which is one of the goals people aiming for "glass skin" try to achieve. But the truth about shrinking pores is harsh. Experts agree that you can't actually shrink your pores—your pore size is determined genetically—but you can reduce the appearance of them with the right products and routine, if you wish (though, for the record, there's nothing wrong with visible pores).
"It really is all about very healthy skin that has the proper support it needs to be glowing from within," said Alicia Yoon, K-beauty expert and founder of Peach + Lily, a top Korean beauty retailer. "Like glass, the skin is almost see-through and that quality comes with skin that's free of UV damage or hyperpigmentation, including the cloudiness that skin can develop when there is underlying UV damage." Yoon is referencing sun damage—liver spots, age spots, hyperpigmentation, and discoloration—all of which can happen without taking the proper precautions.
Contrary to popular belief, honey skin isn't a type of product, nor is it an allusion to wondrously healing Manuka honey. "Honey skin is more about skin that looks super-nourished, dewy, smooth, and plumped up! There's a sweetness to honey skin like bouncy baby skin," Yoon explained. If you're looking at photos of honey skin and glass skin side by side, it's tough to tell the difference. "Honey skin, like glass skin, is also a long-held skin ideal and a 'look' that's been coveted in Korea for some time now because it's also all about improving skin health in a fundamental way. Honey skin is best accomplished when skin is well-nourished and plumped up with hydration," she said. Honey skin is more smooth and supple, and has a subtle way of reflecting light that's more diffuse than glass skin.
A three-dimensional look created with a foundation of plump, hydrated skin (notice a theme?) and precise highlighter application has been called "dewy dumping" skin. Nam Vo, a makeup artist known to her 128,000 Instagram followers as the expert on dewy skin, is arguably the reason #dewydumpling skin became a trend at all. The women on her feed sporting the "dewy dumpling" look have smooth complexions, closed-lip smiles, and nary a wrinkle in sight, like this (which isn't necessarily a progressive approach to beauty). Vo told the Cut about the origins of the dewy dumpling look. "As far as how my look came to be called dewy dumpling, dumpling has always been my term of endearment, the same way people use sweetheart or cupcake," she said. "I call everyone that. It makes sense; a dumpling is moist and glowy."
Fortunately, the dewy dumpling look can be achieved regardless of age or wrinkle status, as long as your skin is well-hydrated. To create true dewy dumpling skin, it's all about the highlighter. Find makeup in tonal shades—similar to your skin tone—and leave the dramatic cat eyeliner, flushed cheeks, and bold lipstick for another time. This will spotlight the highlighter, giving it a perfect canvas on which to shine. Apply it to your cheeks in an upward swiping motion from the apple of your cheek to the outer corner of your eyebrow. This is the most important part. Then, use highlighter on your eyelids, the top and center of your forehead, and dust it gently along the jawline and bridge of the nose to finish.
It may seem like glass skin, dewy dumpling skin, and honey skin are similar—and they are, especially to someone who's new to K-beauty. While glass skin is all about the skin's lit-from-within luminous look, the key to honey skin is suppleness. "Dewy dumpling" skin is the one look that relies on makeup for a three-dimensional feel thanks to shine from strategically placed and generously applied highlighter.
K-beauty inclusivity: honey, glass, and dewy dumpling skin for all.
Many of the adjectives used to describe Korean beauty ideals like "translucent" and "bright" can feel exclusive to anyone who doesn't have a fair complexion. But according to Yoon, all K-beauty rituals and products are meant to be inclusive. "The fundamentals remain the same in accomplishing glass skin and honey skin for different skin tones," she said. In fact, many super-pale skin tones often have a harder time achieving glass or honey skin because of redness and broken capillaries, Yoon said. Vo also makes a point to showcase a spectrum of skin tones on her Instagram page, illustrating that the dewy dumpling look is not just for fair skin types.
This is all to say that there are some fascinating trends out there that are for some, but of course not for everyone! You can have perfectly healthy skin without aspiring to a Korean beauty ideal.
Want to try the 10-step K-beauty routine? Read up on everything you need to know, including an expert's product recommendations.