The 11 Best Cleansing Oils For Rosacea, Congested Skin, Dry Skin + More

Beauty & Health Editor
By Jamie Schneider
Beauty & Health Editor
Jamie Schneider is the Beauty Editor at mindbodygreen. She has a B.A. in Organizational Studies and English from the University of Michigan, and her work has appeared in Coveteur, The Chill Times, and Wyld Skincare.
Oil cleansing is certainly a hot topic in the beauty space, riddled with questions like: Uh, won't my pores become clogged with oil?
It's understandable; many traditional cleansers on the market contain surfactants and foaming agents with the promise of removing excess oil from pores. So why would you willingly massage oil into your skin?
Well, it turns out oil cleansing can actually balance the skin's oil production: Oil dissolves oil, so they can actually remove excess sebum, as well as daily dirt and grime.
Best part? Oils provide a deep cleanse without compromising the skin barrier (like those stripping traditional cleansers referenced above).
Your skin produces natural oils, so you're essentially giving your skin what it already loves, even protecting the natural lipid layer while you're at it.
And if you're somewhat nervous about using an oil from your kitchen (fair!), there are plenty of product options, instead.
These nourish the skin no matter if your skin type is dry, oily, acne-prone or super sensitive. Here they are below:
One Love Organics Vitamin B Enzyme Cleansing Oil
A solid first step in any evening skin routine: This cleansing oil can melt the makeup and sebum off your skin in one go (remember: makeup is usually oil-based, so it doesn't easily slide off with water). Plus, the papaya enzymes keep your complexion looking bright.
Vitamin B Enzyme Cleansing Oil + Makeup Remover, One Love Organics ($42)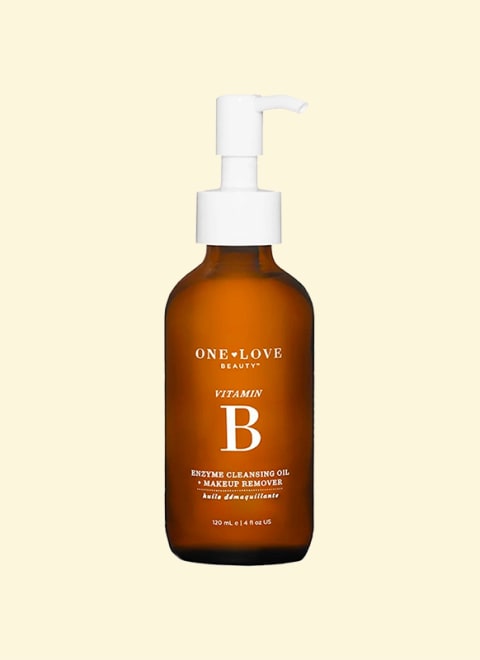 mindbodygreen
de Marmiel Pure Calm Cleansing Dew
Cactus is having a well-deserved moment in beauty, due to its ability to lock in moisture (the same way the plant is able to withstand sweltering desert heat). Prickly pear cactus is the star of this formula, along with raspberry oil and ferulic acid to leave your skin looking smooth and hydrated.
Pure Calm Cleansing Dew, de Mamiel ($96)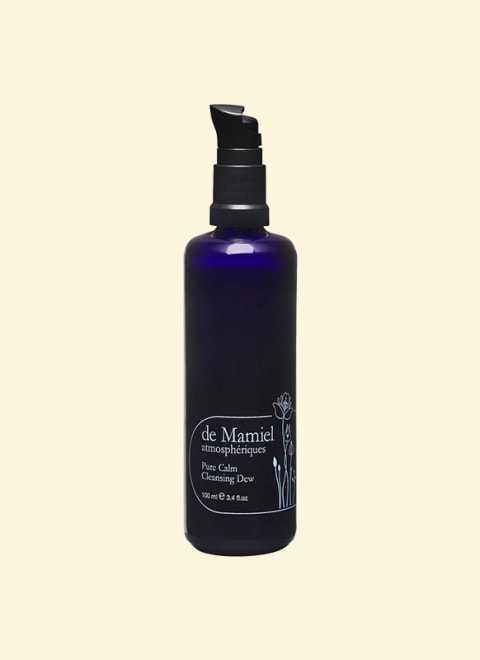 mindbodygreen
White & Elm Deep Pore Oil Cleanser
Those with oily or acne-prone skin, listen up: This deep cleansing oil is practically made for you. Sunflower, castor, hemp, and avocado oils are able to penetrate deep into pores and unclog grime and bacteria. Chamomile also makes an appearance to soothe inflammation; no need to shy away, no matter your skin type.
Deep Pore Oil Cleanser, white & elm ($18.95)
mindbodygreen
DHC Deep Cleansing Oil
This is the star product of this cult-favorite beauty brand, and for good reason: It contains Flor de Aceite (aka, the essence of organic olive oil before the olives are pressed) to hydrate and soften the skin, along with vitamin E for even more antioxidant protection. Prepare to see your most stubborn of makeup swirling down the drain, even *gasp* waterproof mascara.
Deep Cleansing Oil, DHC ($15)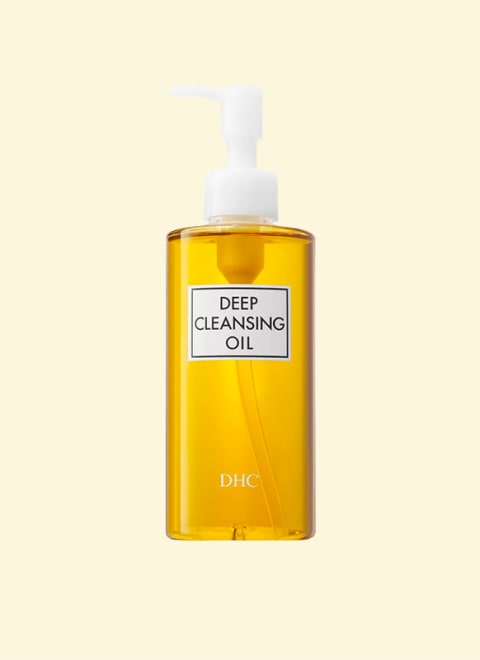 mindbodygreen
Burt's Bees Facial Cleansing Oil
Coconut oil doesn't work for everyone (for those with acne-prone skin, it can clog pores), but if it works for you, it certainly works like a charm. This number is paired with argan oil for an extra dose of fatty acids and anti-inflammatory properties--it's quite the nourishing duo.
Facial Cleansing Oil, Burt's Bees ($15.99)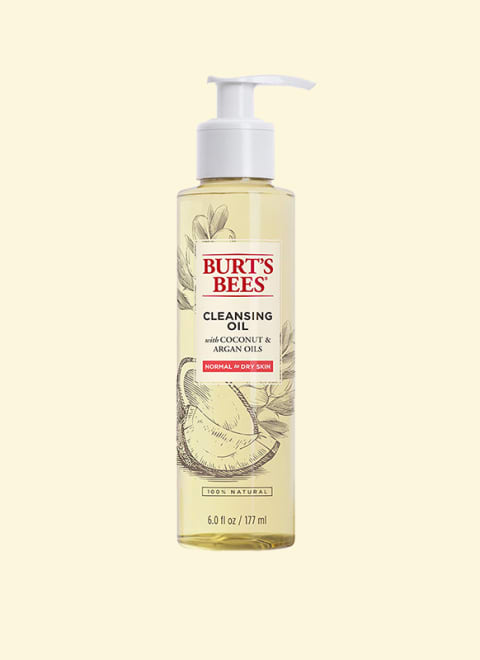 mindbodygreen
Tatcha Pure One Step Camellia Cleansing Oil
Another Japanese beauty number to add to the list, this star product contains camellia oil, a non comedogenic oil that's richer in oleic acid1 (a good-for-you fatty acid) than even olive oil. The result? Silky-soft skin without a stitch of oily residue.
Pure One Step Camellia Cleansing Oil, Tatcha ($48)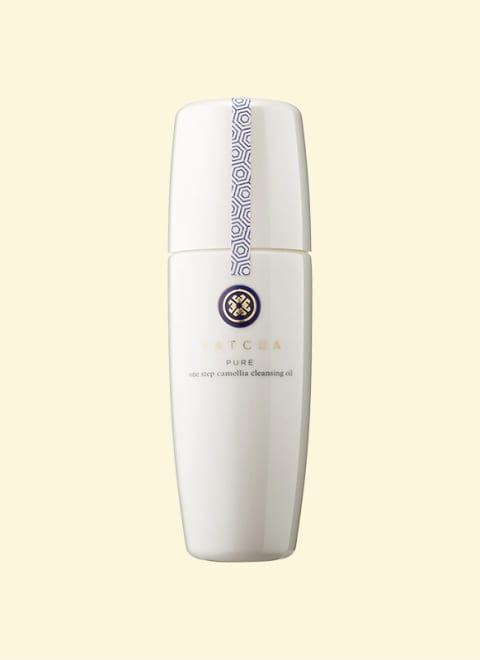 mindbodygreen
Biossance Squalane Antioxidant Cleansing Oil
Squalane has its fair share of benefits (for both skin and hair), but it reigns supreme on the oil cleansing front: Squalane actually makes up 13 percent of our sebum, making it a natural, skin-loving oil. No surprise Biossance made squalane the star in their hydrating cleanser, as their entire range features the impressive ingredient.
Squalane + Antioxidant Cleansing Oil, Biossance ($30)
mindbodygreen
Trilogy Rosehip Transformation Cleansing Oil
Rosehip oil is beloved in the beauty industry for its ability to brighten skin and reduce the appearance of scarring; some even compare it to retinol, as it contains a natural precursor to vitamin A (although, it's not an exact comparison as rosehip hasn't been shown to promote cell turnover in the same way as retinol does). In Trilogy's formula, it gently dissolves debris and grime from your skin without stripping it of moisture.
Rosehip Transformation Cleansing Oil, Trilogy ($25.50)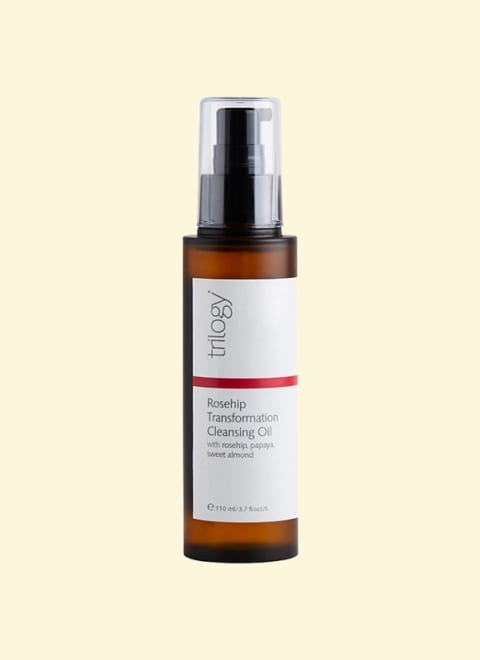 mindbodygreen
Savor Beauty Coconut Jasmine Pre-Cleanse Oil
A truly sensorial experience, Savor Beauty's pre-cleanse oil is reminiscent of a luxurious spa day. Coconut oil, lavender, and jasmine help the skin feel refreshed, and it all smells like a toasted coconut treat. Divine.
Coconut Jasmine Pre-Cleanse Oil, Savor Beauty ($32)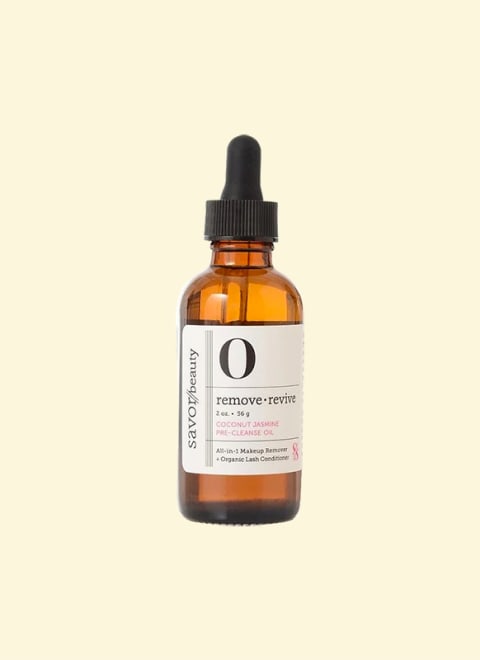 mindbodygreen
In Fiore Lustra Illuminating Cleansing Essence
This 100% natural oil contains a cocktail of rich ingredients: Namely, avocado, grape seed, jojoba, castor, and arnica flower oils to plump and hydrate the skin. Massage it into the skin, and you'll practically feel the fatty acids and antioxidants at work.
Lustra Illuminating Cleansing Essence, In Fiore ($125)
mindbodygreen
Pai Skincare Light Work Rosehip Cleansing Oil
Another rosehip number (it's a fan-favorite), Pai's formula was created especially with sensitive skin in mind. It's super calming, yet slides off makeup and grime with ease. Plus, it's a gorgeous, sunset-orange color. Feel free to use it alone on dry skin, or even add a few drops of water to transform it into a light, milky texture.
Light Work Rosehip Cleansing Oil, Pai Skincare ($29)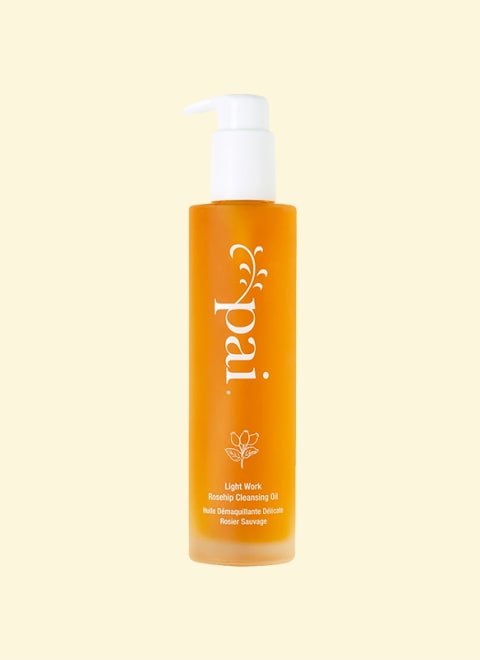 mindbodygreen
How to find the right oil cleanser for your skin type
Let's say you've read through the list, and you're still having trouble deciding what one's for you: After all, it's not a one-cleansing-oil-fits-all situation. There are basic guidelines that can help you find a cleansing oil product that supports your specific skin type:
Want to turn your passion for wellbeing into a fulfilling career? Become a Certified Health Coach! Learn more here.

Jamie Schneider
Beauty & Health Editor
Jamie Schneider is the Beauty Editor at mindbodygreen. She has a B.A. in Organizational Studies and English from the University of Michigan, and her work has appeared in Coveteur, The Chill Times, and more. In her role at mbg, she reports on everything from the top beauty industry trends, to the gut-skin connection and the microbiome, to the latest expert makeup hacks. She currently lives in Brooklyn, New York.