Close Banner
Advertisement
This ad is displayed using third party content and we do not control its accessibility features.
I Tested 11 Sleep Products In One Week: The Ones That Worked Best

mbg Sustainability + Health Director
By Emma Loewe
mbg Sustainability + Health Director
Emma Loewe is the Senior Sustainability Editor at mindbodygreen and the author of "Return to Nature: The New Science of How Natural Landscapes Restore Us."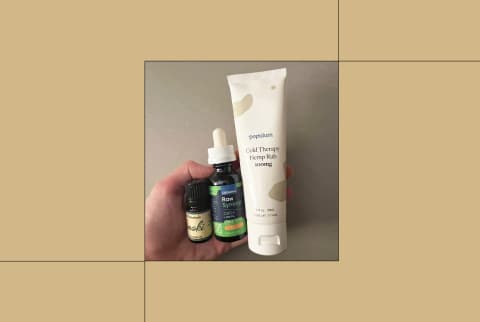 Image by Emma Loewe / contributor
We carefully vet all products and services featured on mindbodygreen using our
commerce guidelines.
Our selections are never influenced by the commissions earned from our links.
We're living in a heyday of gizmos, gadgets, and goods that promise to do just that. As a health editor, I have the pleasure of hearing about most of them, and my inbox is a trove of smart mattresses, sleep patches, and neurofeedback headbands. Recently, I set aside one week to put as many of them to the test as possible.
Going into the week, I was already a pretty good sleeper thanks to those foundational habits but wondered if anything could bring my sleep quality (as measured by my energy and alertness the next day) to the next level. Of course, one week isn't always enough time to know if a product is working, but I figured it could give me a sense of the tools that are worth investigating further. Here's a review of my sleep aid crash course and the products I'll definitely be trying again:
A sunrise alarm clock
Waking up to a gentle sunrise and the soft chirps of birds sounds much more appealing than my current alarm: a loud blare from my iPhone. After hearing rave reviews of the Hatch sunrise alarm clock, I decided to give the device a go. I should mention here that I am absolutely addicted to the snooze button and press it about three times a morning on average. I don't think this is doing my sleep any favors, and I hoped that the sunrise simulation of this clock would help me ditch it.
Alas, after using the Hatch for a few mornings, I didn't notice much of a difference in my ability to wake up—birdsongs were no match for my snooze habit. I'm going back to my less gentle alarm for now but recommending this one to anyone looking to get their phone off their nightstand or start their morning in a more relaxed way.
The verdict: Not for me, but I see the appeal
Blue-light-blocking glasses
I always try to limit the amount of time I spend on screens after 9 p.m. or so. I don't usually have trouble getting off my phone—but my laptop is a different story. A few times a week, work or personal duties are bound to beckon me online at night. And when they do, I don a pair of very silly-looking red glasses to help ensure the computer time doesn't impact my sleep. These TrueDark shades have ruby-red lenses that effectively block blue light, and I've found that they make computer time much less stimulating. They also make my laptop screen look a bit hellish, which helps keep me from getting too sucked into it. I won't be using them every night, but they're great to have in a pinch.
The verdict: Will use again
A circadian wearable
On the other end of the spectrum, getting plenty of bright light in the morning helps regulate the sleep-wake cycle.
Marketed as the "world's first circadian health wearable," this sleek device from AYO delivers 20 minutes of light therapy into your eyes to help get your day off on a bright note. A soon-to-be-released version will also utilize Bluetooth to allow you to adjust the brightness and duration of the light, as well as emit red light as needed.
After using AYO for a few days, I could see it being a good solution for those who wake up before sunrise and want to get light exposure without a larger box or lamp. If you couldn't guess from my snooze habit, I'm not an early riser and prefer to go outside to get natural sunlight in the morning. However, I did find the accompanying AYO app—which pings you at consistent times of day with reminders to wind down or wake up—to be very helpful. As Steven Lockley, Ph.D., a neuroscientist at Brigham & Women's Hospital and associate professor of medicine at Harvard Medical School, previously told me, "[We] really need to encourage people to reduce the variability in their circadian clocks. And the way to do that is to keep a very regular light-dark schedule." Trying this device has helped me keep my all-important circadian clock ticking along smoothly.
The verdict: Will use again
Sleep tea
I'm not usually a tea person, but after reporting on the calming benefits of certain herbs, I decided to prepare a cup of Traditional Medicinals Nighty Night as part of my nightly routine early on in the sleep week. I found it very relaxing—but not for the reasons I initially thought I would. While the tea itself was tasty, it was the soothing ritual of sipping it that I benefited from most. So much of my day is spent rushing around that having a legitimate reason to slow down (not burning myself on a hot cup!) was a welcome change. Now, I'm experimenting with different loose-leaf herbal teas—sage is my favorite so far—as a way to whip up something fun every night.
sleep support+
I've been taking sleep support+ nightly for years, and I wasn't willing to give it up for this week. The sleep supplement's combination of magnesium bisglycinate, jujube, and PharmaGABA® helps me feel pleasantly sleepy but not totally zonked like other supplements I've tried (looking at you, melatonin). I take it about 30 minutes before I want to be asleep and find that it helps me not only fall asleep faster initially but fall back to sleep if I do happen to wake up in the middle of the night. I definitely notice a difference on nights when I don't take it.*
A sleep mask
This is another tool that I've used for years and can't be without (even for a week!). Living in NYC, the light in my bedroom can be bright at night. And as Daniel Rifkin, M.D., the medical director of Sleep Medicine Centers of Western New York, once told me, "If you have light exposure at night too close to bedtime, it's almost like your brain is seeing a sunrise at a time when it should be seeing a sunset." This weighted sleeping mask blocks that stimulating light while putting soothing pressure on my eyes—once I slip it on, it sends a strong message to my body that sleep time is here.
Full-spectrum CBD
As awareness has increased around why hormonal supplements like melatonin may not be safe to take nightly, interest in herbal sleep aids has skyrocketed. Full-spectrum hemp-derived CBD is a popular one, with some solid research to back its ability to promote relaxation and a positive mood. I decided to use the Ommm Distilled oil from CBDistillery—a brand I'd tried before and liked—for the week, taking it with my sleep support+. Though it's difficult to untangle which product was doing what, I did notice my physical body felt slightly more relaxed on the nights when I added CBD to the mix. I think my next step will be taking the oil earlier in the evening to see if it helps me wind down any sooner.*
The verdict: Will use again
mindbodygreen dream mist
This amber bottle has long had a place on my nightstand. I go through phases of using it, but I committed to spritzing it on my pillow every night during this sleep week. Its lavender and sandalwood scent is an herbaceous, floral treat to end the day. Getting back into the routine of spraying it on my pillow has been a nice way to send the signal to myself that sleep time is here (and make my bed smell amazing).
The verdict: Will use again
A meditation app
I have an off-and-on relationship with meditation apps, but I usually tune into them in the morning. I'd never tried one specifically for sleep before, but I'd heard great things about Calm, so I signed up for their free trial at the start of the week. After listening to a few guided meditations and body scans, I found that meditating before bed actually made me too aware of my thoughts and body sensations—in a way that actually made it harder for me to fall asleep. It's nothing against the app, and I know many seasoned meditators who swear by it—it just wasn't right for me at this time.
The verdict: Not for me, but I see the appeal
A relaxing essential oil
Essential oils are another tool I'd used before—but never specifically to help my sleep. (I usually diffuse them during the day as an alternative to scented candles.) As a quick-and-dirty way to see if they could help me, I took a few deep inhales of a different scent every night right before bed. While I expected the old standbys like lavender to be the most effective, I actually found the lesser-known scent of hinoki (Japanese Cypress) to be more calming. But perhaps it's not so surprising: this scent is often used in shinrin-yoku (forest bathing) research to mimic the blood-pressure- and heart-rate-lowering1 effects of dense woods. Everyone will feel drawn to different smells, but this transportive one will be my go-to on nights when I could use a little extra chill.
A massage gun
And finally, the last addition to my nightly routine that I can't see myself giving up anytime soon is a massage gun. While not your typical sleep aid, I've found that spending five minutes or so on my legs, neck, and shoulders with the Blackleaf Massage Gun helps my body release its final bits of tension and sink deeper into my mattress. If I'm really feeling sore, I'll follow it up with a cooling CBD cream (I'm partial to Populum's). As a runner, I'm prone to intense charley horses and leg cramps at night, which do not do my sleep any favors. I'm looking forward to hopefully nipping those in the bud with this new habit.
The takeaway
While no product can replace my sleep-promoting habits like exercising regularly, limiting caffeine and alcohol later in the day, and keeping a calming sleep environment, I now have a few tools that can help me rest a little easier in the future. After a week of testing 11 products, a massage gun, cypress essential oil, and sleep tea are the standouts that I'll definitely be saying good night with more often.
If you are pregnant, breastfeeding, or taking medications, consult with your doctor before starting a supplement routine. It is always optimal to consult with a health care provider when considering what supplements are right for you.