So "Longevity Tea" Is A Thing & It's Easier To Make Than You'd Expect

mbg Beauty & Wellness Editor
By Jamie Schneider
mbg Beauty & Wellness Editor
Jamie Schneider is the Beauty & Wellness Editor at mindbodygreen. She has a B.A. in Organizational Studies and English from the University of Michigan, and her work has appeared in Coveteur, The Chill Times, and Wyld Skincare.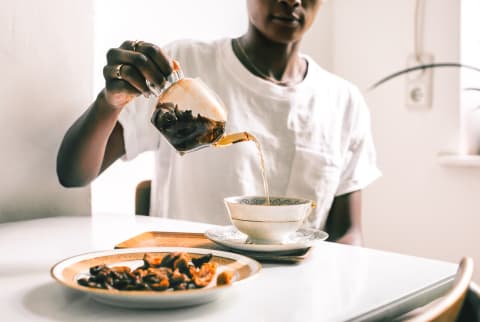 Image by VisualSpectrum / Stocksy
August 9, 2020
In terms of the healthiest types of tea, green tea seems to receive a ton of hype. Rightfully so: The antioxidants in green tea, specifically the catechin EGCG1, have some incredible anti-inflammatory benefits.
But according to longevity expert and National Geographic fellow Dan Buettner, green tea isn't the only brew that should be on your radar. In fact, when he discovered the five places around the globe (famously dubbed the Blue Zones) where people live the longest and are the healthiest, he noticed a specific herbal blend abundant among these well-aged populations—and it's not your average matcha.
Advertisement
This ad is displayed using third party content and we do not control its accessibility features.
What is this superstar tea, you ask? Here's a hint: You may already have the ingredients in your kitchen.
How to brew a "longevity tea."
As Buettner shares on the mindbodygreen podcast, oregano, sage, or rosemary (or a combo of all three!) make for quite the beneficial sip. "All three of those herbs are anti-inflammatory," he notes. "They're also diuretic, so they can lower your blood pressure."
Take a peek at the research: Studies have shown that the flavonoids and phenolic acid in an oregano brew can help manage inflammatory conditions and oxidative stress2; similarly, rosemary tea is touted for its antimicrobial properties3, and sage has been shown to lower blood sugar levels4.
If you're well-versed in the benefits of herbal tea, this recipe for longevity might not feel incredibly groundbreaking. But, as Buettner says, it's not just the herbs themselves that lend so many benefits—it's the fact that people drink them all day, every day that makes them so powerful.
During his anthropological adventure to discover the aforementioned Blue Zones, Buettner noticed that communities (specifically small villages in Korea) who lived well into the autumn of life were sipping these brews all day long. "Because they couldn't afford coffee, they were drinking these teas," he adds. "It's not because they drink these teas once in a while but because they drink them every day for years or decades that probably is adding to their longevity."
The takeaway.
This herbal tea certainly isn't Buettner's only recipe for longevity (see his full list of tips here), but it may be one of the easiest to add to your daily routine. Consider it a case for swapping your morning matcha for a rosemary-oregano-sage blend. Or keep the caffeine and simply up your teatime with an extra herbal cup—according to Buettner, it certainly doesn't hurt.
Want to turn your passion for wellbeing into a fulfilling career? Become a Certified Health Coach! Learn more here.
Advertisement
This ad is displayed using third party content and we do not control its accessibility features.