7 Stellar Meditation Apps To Deepen Your Practice (Or Start It!)
mbg Spirituality & Relationships Writer
By Sarah Regan
mbg Spirituality & Relationships Writer
Sarah Regan is a Spirituality & Relationships Writer, and a registered yoga instructor. She received her bachelor's in broadcasting and mass communication from SUNY Oswego, and lives in Buffalo, New York.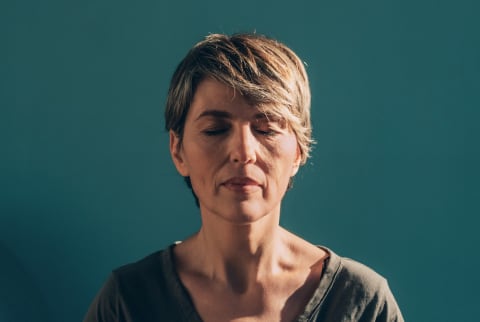 Image by STUDIO FIRMA / Stocksy
July 27, 2022
Our editors have independently chosen the products listed on this page. If you purchase something mentioned in this article, we may
earn a small commission
.
Those who meditate regularly swear by it—and those who don't, well, may have some trouble getting started. In either case, choosing the right app for you and your specific needs is a great way to take your meditation practice to the next level.
So, we rounded up our top seven picks for the best meditation apps of 2022, plus why now is as good a time as ever to start your meditation journey.
The benefits of meditation.
Meditation comes with so many benefits, and the good news is, there are a ton of different types of meditation to suit a variety of needs and experience levels.
Whichever style you opt for, meditation has been found in research1 to lower stress, pain, anxiety, and depression, as well as improve mindfulness, memory, and overall efficiency. On a physiological level, it even shows benefits for heart and brain health, increasing gray matter in the brain, and lowering blood pressure, among other things.
And these benefits are sure to make their way into even the smallest areas of your life, helping you to make more mindful decisions and operate from a place of ease and presence every day.
How we picked:
When choosing these apps, we only included those we've tried ourselves (and loved), ones recommended by a meditation instructor, and a few more with outstanding user reviews. It's still a good idea to try out a few to find the right fit, but you can trust that all of these picks have been well vetted.
Meditation should be accessible for everyone—especially considering it only requires you and your mind. The apps we've chosen offer the best quality for the best value, with a range of different price points for every budget (yes, including free ones!).
And of course, everyone's meditation practice is going to look a little different, so we chose apps that offer various types of meditation, diverse instructors, and additional tools to explore.
Lastly, all of these apps allow you to start for free before committing to a subscription. Not that we think you won't like them—but it's always better to see for yourself!
mbg's top picks for the best meditation apps of 2022:
FAQs
Are meditation apps worth it?

Whether you're new to meditating or you want to deepen your existing practice, meditation apps have a wide array of content, meditation styles, workshops, and more, to take your practice to new heights. Ultimately, anyone can benefit from these tools.
How do meditation apps work?

While each app has its own unique bells and whistles, they all provide meditation content to people all over the world. They allow users to access videos, audio, etc., to meditate in their own homes or whenever they need a breather. Most meditation apps nowadays also have a notifications function, giving a gentle reminder to meditate when you can.
Headspace versus Calm

Headspace and Calm hold the top two spots for the most downloaded meditation apps, and while we're not looking to pit them against each other, we will say one may be better than the other depending on your needs.

For one thing, Headspace is a bit more beginner-friendly, and the monthly subscription costs a bit less. Calm, on the other hand, has a bit more to offer in terms of content but might be better suited for someone with a little more experience. One isn't inherently better than the other, it really just depends on your needs. Luckily, they both offer free trials, so the best way to answer the Headspace versus Calm question is to try them both out yourself!
The takeaway
Meditation has so much to offer in terms of spiritual, physical, and mental well-being. While getting started may seem intimidating, these seven vetted meditation apps are here to help. Even if you've been meditating daily for years, with these on your phone, there will always be something new to discover.
Your Best Sleep Ever.
Receive your FREE Ultimate Guide to Getting a Good Night's Sleep.
Meet The Experts
Sarah Regan
is a Spirituality & Relationships Writer, and a registered yoga instructor. She received her bachelor's in broadcasting and mass communication from SUNY Oswego, and lives in Buffalo, New York.