Close Banner
Advertisement
This ad is displayed using third party content and we do not control its accessibility features.
The 6 Best Sunrise Alarm Clocks + How Sunlight Affects Your Sleep
Writer
By Nicole Carullo
Writer
Nicole Carullo is a freelance writer and brand manager for various wellness brands. She studied english at DePaul University, and she's written about topics like the calming power of adaptogens, self-care rituals, and sleep routines.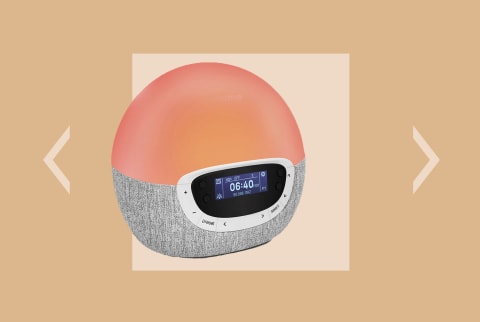 We carefully vet all products and services featured on mindbodygreen using our
commerce guidelines.
Our selections are never influenced by the commissions earned from our links.
We're big believers in the power of a good night's rest to keep us feeling our best. In fact, sleep is an essential contributor to our overall health and well-being and affects our body's immune response, our mental health and cognition, and many other aspects of our lives.
Sunrise alarm clocks, otherwise known as wake-up lamps or dawn simulation clocks, help you wake up gradually, with warm, natural light instead of sound. These clocks use advanced LED technology and customizable brightness settings, so you can take your sleep into your own hands and start your day on a lighter note than the loud (often stress-inducing) sound of your phone's alarm.
Below, we've carefully selected the best sunrise alarm clocks to help give you more mellow, mindful mornings.
What is a sunrise alarm clock?
A sunrise alarm clock mimics the light of a real sunrise to wake you up in the morning rather than using harsh sounds like a standard alarm clock or cell phone alarm. According to Seema Bonney, M.D., the founder and medical director of the Anti-Aging & Longevity Center of Philadelphia, "It simulates gradual sunsets at night and gradual sunrises in the morning to help you fall asleep and wake up more naturally by steadily increasing the light of sunrise, often over 30 to 40 minutes."
If you've ever been jolted out of a Zen-like dream state by the blaring sounds of your phone's alarm, you're likely familiar with the stressed, disoriented feeling that can often follow—and if you ask us, waking up to a soft, serene sunrise is much more enjoyable.
Do sunrise alarm clocks work?
"Light helps to wake us up more gently and gradually," Bonney confirms. "These sunrise alarm clocks can also reduce the effects of sleep inertia—a drowsy, disorienting feeling that many of us (especially teenagers) experience after a sudden awakening."
As we said, waking up can be stressful. Bonney explains this further: "When we're sleeping, our blood pressure is lower, but when we open our eyes, cortisol kicks in, and the brain adapts by constricting blood vessels, increasing blood pressure and heart rate. Sunrise alarm clocks can reduce that stressful wake-up experience."
Sunlight can affect our mood, too. As Bindiya Gandhi, M.D., previously told mindbodygreen, "Light therapy is not new, and doctors have long been recommending this therapy for many different ailments." Many of these sunrise alarm clocks have features similar to those of sun lamps, which aim to combat seasonal affective disorder (SAD) and ease depression, lethargy, insomnia, and morning blues.
How do sunrise alarm clocks work?
Sunrise alarm clocks take an even more specific approach to light therapy by using sunrise-mimicking light progressions to wake you up gradually from your sleep and help reset your circadian rhythm3. Bonney explains that our circadian rhythm is regulated by the suprachiasmatic nucleus (SCN), which she refers to as the "master clock" for our brain and body. "Without this, the patterns of sleep and wakefulness as well as metabolism, hormone release, body temperatures would be dysregulated," she says.
"When light travels from the eyes via the optic nerves to the SCN, it suppresses melatonin and creates a waking effect on the brain and body, initiating the awake phase of the 24-hour circadian rhythm and waking you up," Bonney elaborates.
Each wake-up device has different features and settings, but the best sunrise alarm clocks operate with a series of lights that progress from red to orange to white, to most-closely match a natural sunrise.
Bonney says this light simulation can also help make you feel more alert. "When your body senses the light, it halts the production of melatonin—which helps you wake up—and increases the release of neurotransmitters like serotonin and norepinephrine to help you wake up."
Some sunrise alarm clocks also provide mellow sounds, which typically play after the lights have progressed, as well as nighttime features like sleep stories or calming light to help ease you to sleep.
How we picked:
Features
We looked at the features different sunrise alarm clocks offer (white noise, dimmable displays, etc.) and selected products that are equipped with everything you need for a more mindful wakeup.
Reviews
The alarm clocks we've included have been vetted by real people. To be sure we were considering a wide array of opinions, we read through hundreds of reviews and took all feedback into account.
Price
Investing in your sleep is investing in your health. That said, we've gathered options across a range of budgets.
Design
Room aesthetics are important too—and these alarm clocks are going to live on your nightstand—so we looked for stylish devices that will fit seamlessly into your existing bedroom decor.
Our picks for the best sunrise alarm clocks of 2022:
Best tech: Hatch Restore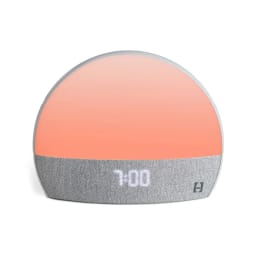 Pros:
Extensive sound and meditation offerings
Well-designed app
Cons:
Monthly subscription required for full features
Must use phone to operate
Power source:
Electric cord
This device's gradual sunlight display coupled with the brand's Sleep Membership makes a full sleep system. Perfect for people who are looking to invest in their overall sleep hygiene, the app comes equipped with all the dreamy content you could want. Imagine if your favorite meditation app and alarm clock had a baby–that's what you get with this app's sound library. At bedtime, sleep stories, guided rest exercises, and light rain sounds block out city sirens and other nightly distractions.
You'll receive a free one-month membership trial with your purchase, but you will need to pay $10 per month once the trial ends if you want to have access to the exclusive sounds (music, dreamscapes, rest exercises, and sleep stories).
That said, this alarm clock is a great device even without those sounds included. It uses the natural light progression from red to orange to white, before playing your (optional) chosen sound. You can also use it at night as a reading light, and (even without the paid membership) you'll have access to a ton of features to help create a more calming bedtime and wake-up routine. Just note, you will need to use your phone to control this device, whether you pay for the membership or not.
What customers say:
Not only have more than 4,000 Amazon shoppers given this alarm clock a perfect rating, but it's also a favorite of mindbodygreen editors like Jamie Schneider. "I cannot say enough good things about the Hatch," she says. "The sunrise alarm for gentle wake-ups, the soft reading light, the library of soothing sounds to eliminate NYC noise... It's a godsend for city living. I love it so much that I even convinced my partner to have one on each nightstand—when the chimes sound off for his 6 a.m. wake-up, I don't hear a thing."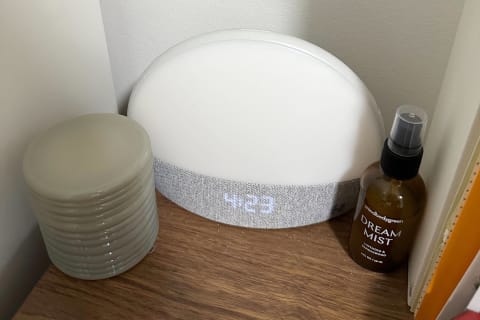 Image by Jamie Schneider/ mbg creative
Advertisement
This ad is displayed using third party content and we do not control its accessibility features.
Advertisement
This ad is displayed using third party content and we do not control its accessibility features.
FAQ
What is the best sunrise alarm clock?

The best sunrise alarm clock for you will depend on a number of factors, including what you plan to use it for (i.e., only to wake up or for sounds and bedtime routines as well), the aesthetic you're looking for, your budget, and more.
Are sunrise alarm clocks good for heavy sleepers?

Sunrise alarm clocks can work great for heavy sleepers, gently rousing them from a deep sleep. That said, we recommend choosing a model equipped with a range of brightness settings and wake-up sounds to ensure they're not sleeping through their alarm. The Philips SmartSleep Wake-up Light HF3520, Hatch Restore, and Lumie Bodyclock Shine 300 are all great options.
Is it better to wake up to light or sound?

While sound alarms will get the job done, waking up to light has its benefits. Previously mentioned research has shown the impact sunlight and artificial sunlight can have on our sleep cycles, mood, and more. The gradual wake up of a sunrise alarm clock can help you start the day on a calmer note.
The takeaway.
Whether you're looking to develop a more mindful approach to your bedtime routine, or you simply want to start your day on a relaxed note, a sunrise alarm clock is a worthwhile investment. These top-rated wake-up lamps are proven to curb grogginess and support your circadian rhythm and can help lead to a more restful sleep. While you're stepping up your sleep hygiene, you might consider taking a look at your pillow, too—it's probably time for an upgrade.
Meet The Experts
Nicole Carullo
is a freelance writer and brand manager for various wellness brands. She studied english at DePaul University, and she's written about topics like the calming power of adaptogens, self-care rituals, and sleep routines.