How To Turn 6 Fruits & Veggies Into Warm, Healthy Comfort Foods
mbg Nutrition & Health Writer
By Eliza Sullivan
mbg Nutrition & Health Writer
Eliza Sullivan is a food writer and SEO editor at mindbodygreen. She writes about food, recipes, and nutrition—among other things. She studied journalism at Boston University.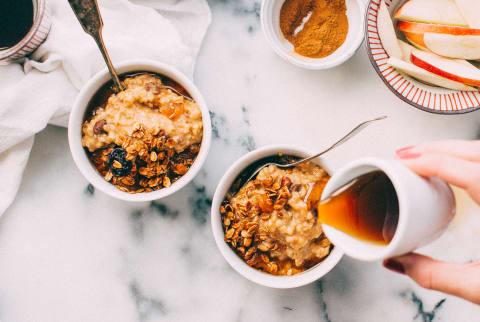 Image by Jennifer Pallian / Unsplash
October 20, 2021
As the seasons change, a lot of our go-to healthy fruit and veggie dishes become less appealing—because all we want to eat is warming, soothing foods. While in some cases, cooking our fruits and veggies can change their nutrition value, in other cases it's the key to making them easier to digest. Whether it's for breakfast, or lunch, or dinner (and yes, even snacks and desserts), here are our favorite ways to turn produce into the coziest meals possible.
Instead of a salad, use your favorite greens in...
We're big fans of leafy greens—and really, who isn't? They're a great source of vitamins and minerals and an integral part of a healthy diet. But salad isn't necessarily a cozy dish, so here are some alternatives for the colder seasons.
1.
...a delicious frittata.
Almost as easy to make as a salad, a frittata is the perfect place for greens to shine. And while obviously it's traditionally an egg-based dish, vegan recipes (like this one) put this staple meal within reach.
2.
...a bowl of savory oatmeal.
Oatmeal doesn't have to be sweet, as this delicious mushroom and spinach bowl proves. Perfect for breakfast, yes, but also the ideal breakfast-for-dinner option, if you're asking us.
Instead of just slicing, add apples to...
Fall is apple season, but a crisp apple isn't the most warming option. Instead, we suggest spicing it up and using them to top heartier foods.
1.
...a bowl of fall-spiced porridge.
Mimic the flavors of apple desserts with cinnamon, vanilla, and other flavors—like in this recipe, which uses hemp hearts instead of oats.
2.
...a stack of 10-minute pancakes.
There's nothing better for a cozy morning than pancakes, and these vegan stacks come together so quickly and pair perfectly with apples.
Instead of a smoothie, add bananas to...
Look, you probably don't need us to tell you this, but bananas are one of the ultimate baking sweethearts in the fruit family. Here are some of our favorite recipes using the go-to produce.
Yep, we're talking about banana bread—but instead of the old standby, consider mixing it up with a blueberry addition like this gluten-free option.
All you need are three ingredients to make these pancakes, so you're certainly getting the most out of your bananas. Bonus points because you can top them with other fruits, too.
3.
...some healthy cookies.
For more of a snack, try free-styling some healthy cookies using this formula, which means you can use whatever you have on hand to make a protein-packed dessert.
Instead of a springy pasta, use peas as the base for...
Peas are fabulous and freeze so well, we always have them around, but if you're unsure of how to use them in warmer dishes, these are perfect places to start.
1.
...this Mediterranean green shakshuka.
In this vegan take, beans and peas pair with tons of herbs for a warming dish that's perfect for brightening up a cold day—and packing in vitamins, too.
In particular if it's a bit of an immune boost you're looking for, this pea miso soup is the perfect fall dinner option (and yes, it's specifically looking for frozen peas).
Instead of a yogurt bowl, use berries to make...
Yes, berries might technically be out of season at this point, but you may still have some in your freezer. These recipes highlight them just as much as if they were fresh.
It's actually super easy to make homemade jam, and it doesn't have to include added sugars, either. Choose any berries and get stirring—then use it on your favorite bread or even in a homemade baked good.
2.
...this buckwheat breakfast bowl.
If oats aren't your jam, try this buckwheat bowl with bonus antioxidants—and then top it with berries. If you're working with frozen ones, you could stir them into the mix rather than topping it so they can be integrated into the blend.
Instead of simply sliced, use tomatoes as the base for...
1.
...a delicious tomato soup.
2.
...an easier eggplant Parmesan.
Even if you love eggplant Parmesan, it's an awfully fussy dish. Instead, chop up tomatoes and eggplant and just let them bake in this one-pan recipe.
3. ...a warming vegan shakshuka.
While tomatoes feature prominently, this recipe also uses plenty of other veggies in a version of the dish, which has origins in the Middle East and North Africa.
The bottom line.
The end of warm weather doesn't have to mean the end of fruit- and veggie-packed eating. Instead, you just have to get a little more creative about how you're incorporating them into warming meals. If these recipes and ideas aren't enough, we suggest you turn to this list of nutrient-packed soups to fuel your lunch breaks.
Want to turn your passion for wellbeing into a fulfilling career? Become a Certified Health Coach! Learn more here.
Eliza Sullivan
mbg Nutrition & Health Writer
Eliza Sullivan is an SEO Editor at mindbodygreen, where she writes about food, recipes, and nutrition—among other things. She received a B.S. in journalism and B.A. in english literature with honors from Boston University, and she has previously written for Boston Magazine, TheTaste.ie, and SUITCASE magazine.