This One-Pan Dish Simplifies Eggplant Parmesan (And Makes Great Leftovers)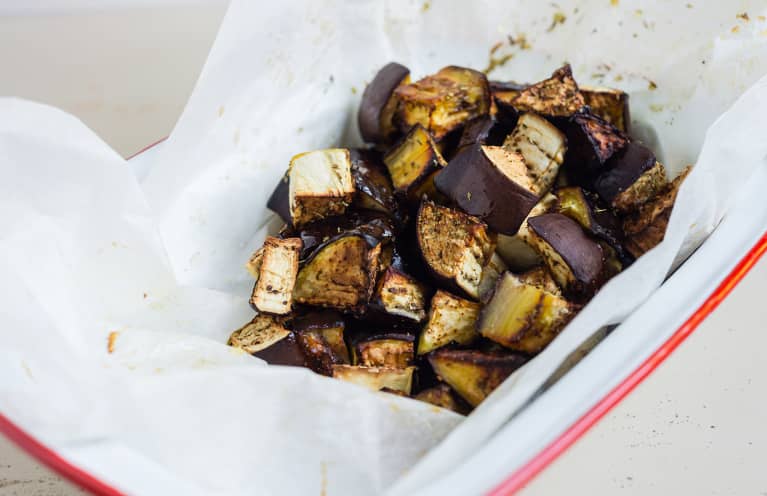 Our editors have independently chosen the products listed on this page. If you purchase something mentioned in this article, we may
earn a small commission
.
Let's talk eggplant (or aubergine, depending on where you live) parmesan: It's a delicious and hearty vegetarian meal but honestly can be a bit labor-intensive. So when I saw that Lizzie Kamenetzky features a low-lift take on the dish in her upcoming cookbook Batch But Better (coming November 2), I knew it would quickly become a staple in my winter dinner rotation.
"One of my favorite dishes has to be aubergine parmigiana," she writes, "but I was feeling a bit lazy, and the thought of frying up aubergines and making sauce was a bit more than I felt like doing." (My feelings exactly!) With this version, there are only two steps, and "the oven does all the work," Kamenetzky assures. And as an added bonus, it's naturally gluten-free, too.
Instead of slicing, coating, and frying, this recipe just calls for roasting cubes of the eggplant with tomatoes and whole garlic cloves. The long, slow roast helps with getting the eggplant to that perfect texture. And don't worry, you still get the glorious melty cheese part of the dish—the recipe calls for tossing on pieces of mozzarella in the last few minutes of roasting.
This recipe is portioned to serve four but still with plenty of leftovers. In her book, Kamenetzky provides two further recipes for using the extras: a simple pasta and mini calzones, both of which sound...pretty tasty to me.
Roast Aubergine + Tomatoes
Serves 4 (plus leftovers)
3 aubergines, cut into chunks
10 oz. vine tomatoes, halved
1 bulb garlic, cloves separated
Olive oil
Sea salt and freshly ground black pepper
2 balls buffalo mozzarella, torn
Basil leaves, to scatter
Crusty bread, to serve
Preheat the oven to 180°C/fan 160°C/350°F/gas 4. Put the aubergines and tomatoes into a roasting pan and scatter in the garlic cloves. Drizzle with lots of olive oil, and season well.
Roast for 40–45 minutes, turning the aubergine occasionally, until the aubergine is really tender and the tomatoes are soft and golden.
Dot the mozzarella all over and return to the oven for 5–10 minutes. Scatter with basil and serve with crusty bread.
Excerpted with permission from BATCH BUT BETTER—3 Meals From 1: More Taste + Less Waste by Lizzie Kamenetzky, Kyle Books.
Want to turn your passion for wellbeing into a fulfilling career? Become a Certified Health Coach! Learn more here.