This Pea Miso Soup Has Some Seriously Immune-Boosting Ingredients
mbg Contributor
By Caroline Muggia
mbg Contributor
Caroline Muggia is a writer, environmental advocate, and registered yoga teacher (E-RYT) with a B.A. in Environmental Studies & Psychology from Middlebury College.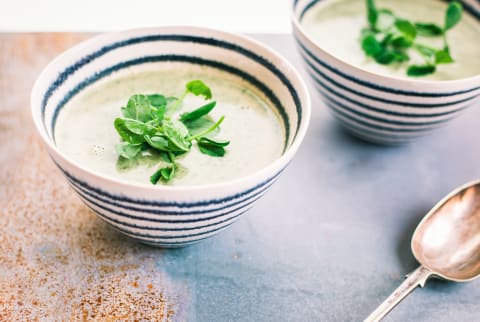 Image by Helen Rushbrook / Stocksy
June 7, 2019
Our editors have independently chosen the products listed on this page. If you purchase something mentioned in this article, we may
earn a small commission
.
One of the delights of the summer season is getting a new batch of fresh, seasonal veggies (say goodbye to root veggies for now). Whether it's a full-to-the-brim CSA box or a romp around your local farmers market, 'tis the season for experimenting with new produce.
This pea miso soup from Midnight Chicken by Ella Risbridger brings together the tastes of summer. It features sweeter tones from the spring onions and peas blended with the slight spice of ginger and savory flavor of miso.
Advertisement
This ad is displayed using third party content and we do not control its accessibility features.
You'll also get some seriously immune-boosting effects from ingredients like ginger, onion, and miso, to help keep those summer colds at bay. This simple green soup may be enough to get you out the door and headed to that farmers market so you can scope out peas straight off the vine...
Pea Green Miso Soup
Bunch of coriander
5 spring onions
5 to 25 grams ginger, depending on how gingery you want your soup to be
3 garlic cloves
Splash of olive oil
1 lime
1 teaspoon white peppercorns
1 teaspoon Szechuan peppercorns
650 mL boiling water
2 tablespoons miso paste
500 grams frozen peas
Advertisement
This ad is displayed using third party content and we do not control its accessibility features.
Get out your blender or food processor.
Rinse your coriander under the tap, picking out any brown leaves, then chop it roughly with a pair of scissors straight into the blender, keeping a small handful for garnishing the soup later. You can chop your spring onions with kitchen scissors too, and it saves on the washing up. Into the blender with them as well, again keeping a little for later. Peel the ginger with the blunt side of the scissors, rubbing it vigorously—the skin will just come right away. Roughly chop the ginger and put that in the blender, along with the garlic cloves, peeled but not chopped.
Blitz, drizzling a splash of olive oil through the hole in the top to help things along, and then slowly squeezing in the juice of the lime. Limes can be tricky—mine yielded only about a tablespoon of juice (pathetic)—so go easy and stop the blender every so often to have a taste.
Grind the white and Szechuan peppercorns with a pestle and mortar, set a pinch aside for later, and tip the rest into the blender. Don't be tempted to add any salt, as the miso will make the soup salty enough. Blitz on high for 2 to 3 minutes, scraping down the sides as needed; the finer you get this paste now, the smoother your final soup will be.
Scrape out the paste into a saucepan, and set it on low heat, stirring gently. Put the kettle on, and when it comes to a boil, measure the 650 mL of water straight into the saucepan. Add the miso and stir like mad, then simmer for 10 to 12 minutes, stirring regularly to stop it sticking.
Turn the heat back up so the soup comes to a rolling boil, then add the peas and simmer for a couple of minutes, but no more: Peas overcook so easily.
Take the soup off the heat and either tip it back into the blender and blitz again, or use a hand blender in the pan until the soup is reasonably smooth. I like mine with a bit of texture: It feels to me somehow more hearty, more satisfying.
Ladle into bowls and scatter with the reserved coriander, spring onions, and pepper.
Based on excerpts from
Midnight Chicken
by Ella Risbridger with the permission of Bloomsbury Publishing. Copyright © 2019.
Advertisement
This ad is displayed using third party content and we do not control its accessibility features.
Reset Your Gut
Sign up for our FREE doctor-approved gut health guide featuring shopping lists, recipes, and tips