Close Banner
Advertisement
This ad is displayed using third party content and we do not control its accessibility features.
11 Desserts For Date Nights At Home, All Literally Made With Dates
mbg Nutrition & Health Writer
By Eliza Sullivan
mbg Nutrition & Health Writer
Eliza Sullivan is a food writer and SEO editor at mindbodygreen. She writes about food, recipes, and nutrition—among other things. She studied journalism at Boston University.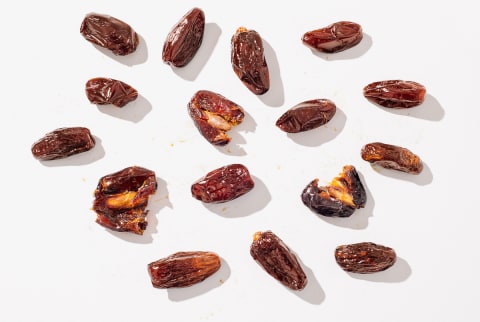 Image by Juan Moyano / Stocksy
Dates are the dessert hero we all need. The versatile little dried fruits are an easy way to update your favorite sweet staples to make them a little better for you without sacrificing on flavor.
While we also love them on their own, they help kick our dessert into a whole new realm of possibilities. Some varieties have bonus health benefits, though we usually aren't cooking with those: the most common dates you'll find in the kitchen are medjool dates—though since we're staying at home more, our date nights have been in the kitchen too.
With Valentine's Day just around the corner, we're making plans with loved ones, as much as we can. And whether that's roommates, a significant other, or just yourself we certainly suggest enjoying something special (like one of these recipes).
1. Fudgy Date Brownies
Chocolate and romance go together as well as any other classic pairing, and these decadent brownies add Medjool dates and lean on almond flour to make them gluten-free. They're also vegan, so no matter who's coming to dinner, you should be set with a dessert that's dietary-restriction-friendly (as long as it's not a nut allergy).
2. Sugar-Free Date Caramel
If you're looking to up the ante on a dessert without upping the sugars, turn to this date caramel for a decadent topping. We're thinking it'd go great with gluten-free cake or maybe sandwiched between some nutty chocolate cookies. You can also make it as the chocolate candies the recipe was designed for—which could make a pretty sweet homemade gift.
3. Deep-Dish Chocolate-Chip Cookie With Cinnamon Nice Cream
We hear you: This one doesn't sound very health-conscious. But the nice cream takes its sweetener from dates (and it's mostly banana), while the cookie gets its base from chickpeas and rolled oats in the place of processed flour. The two together make a dessert that feels as decadent as it does put-together, without too much effort or added sugars.
4. Raw Superfood Sandwich Cookies
These healthy "Oreos" are made of date- and oat-based cookies and filled with a coconut milk whipped cream—and you don't even need to turn on the oven to make them, which means more oven space for wowing your date with a vegan update on a classic lasagna, or it will give you the stove space to skip the takeout menu and make this vegan pad see ew.
5. CBD Cookie Dough Truffles
Dates aren't the only magic ingredient in these truffles. Just a bit of CBD oil makes them great for helping manage anxiety, which in the face of a date (the romantic kind, not the fruit) isn't a bad idea. Your choice of nuts mixed with oats, nut butter, and, of course, dates makes the base for these tasty treats.
6.  Chocolate Collagen Fudge Ice Pop
With just five ingredients you can make these perfect dupes for the chocolate fudge pops of your childhood—and it's just as easy as making a smoothie. Bananas provide the signature fudgy-ness, and the addition of collagen means they've got bonus protein.
7. No-Bake Coconut Tahini Cashew Bar
Coconut and tahini pair perfectly in these simple bars, which make a great dessert but can also be enjoyed as a mid-morning (or mid-afternoon) pick-me-up after your Valentine's date has passed. Dates, as usual, offer a whole, natural source of sweetness to balance out the treat.
8. Vegan Banoffee Cups
Banoffee is a delectable dessert, but it's often packed with processed sugar. This vegan version uses dates, avocado, and cashew butter to replicate the creamy, caramel-y flavor of this dish and of course still includes the classic banana, and pecans provide the crunch.
9. Vegan Peanut Butter Fudge
For the simplest dessert prep possible, turn to this two ingredient fudge. Simply blend dates with natural peanut butter and...you're done! Well, almost—then it just needs a few hours in the freezer.
10. Brownies With Raspberry Sprinkles
There's many a healthy brownie recipe that pulls in dates for sweetness (as shown by the fact that a few appear on this list), but if you're really looking to lean into the red and pink tones synonymous with the holiday then the raspberry sprinkles on this batch will be perfect.
11. Lemon Blackberry Cashew Cheesecake
These impressive mini-cheesecakes may call for lemon-blackberry flavors in the original recipe, but the author assures us that it can be adapted to your favorite flavors—including chocolate, which makes it a perfect date night option.
While we can't help you find a date-date for this Friday, we can promise that at least these date experiences will go well—the recipes are tried-and-true. If you're trying to cut down on sugars but are overwhelmed by sugar alternatives, this may help you find the best option for every recipe.
Eliza Sullivan
mbg Nutrition & Health Writer
Eliza Sullivan is an SEO Editor at mindbodygreen, where she writes about food, recipes, and nutrition—among other things. She received a B.S. in journalism and B.A. in english literature with honors from Boston University, and she has previously written for Boston Magazine, TheTaste.ie, and SUITCASE magazine.