These CBD Cookie Dough Truffles Are The Anxiety-Busting Snack Of Your Dreams
Contributing Food Editor
By Liz Moody
Contributing Food Editor
Liz Moody is a food editor, recipe developer and green smoothie enthusiast. She received her creative writing and psychology degree from The University of California, Berkeley. Moody is the author of two cookbooks: Healthier Together and Glow Pops and the host of the Healthier Together podcast.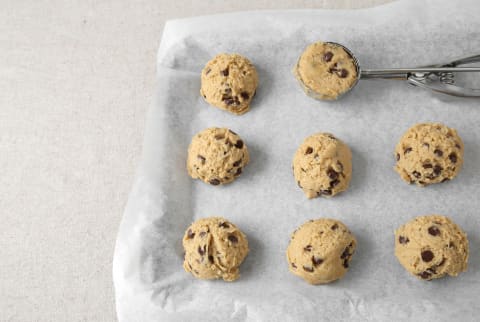 Image by Thitaree Sarmkasat
October 5, 2018
mbg's own health editor, Gretchen Lidicker, has written the go-to guide to CBD, the anti-cancer, anti-inflammation, anxiety-busting supplement that everyone's talking about. CBD Oil: Everyday Secrets comes out this Tuesday (and it's one of my top book picks for the month), and it's jam-packed with everything you ever wanted to know about this cannabis-derived compound. Lidicker illuminates CBD's murky legal status, shares success stories of real CBD users, and dives deep into the science of the science—all with the chill vibe of your (super smart) best friend.
Oh yeah—and there's recipes. Lots and lots of recipes. Lidicker has created fifty ways to incorporate CBD into your daily routine, from bath bombs to cocktails—and she was kind enough to give us a sneak peek of one of those recipes, a Cookie Dough Truffle that will quickly be your new addiction.
Advertisement
This ad is displayed using third party content and we do not control its accessibility features.
"I like to eat CBD in snack form for a daily dose of anti-inflammatory and anti-oxidant benefits," Lidicker shared, noting that regular consumption of balls like these can help stave off long-term generalized anxiety. If you're having an acute panic attack, however, she recommends going straight to the source: "If I'm having acute pain or stress or anxiety, I put a few drops of CBD oil under my tongue so it can be absorbed directly into my blood stream," she said.
I've whipped up a few batches of these balls and eating one a day has done wonders for the low-grade anxiety I often experience—and for my profound afternoon sweets craving as well.
CBD Cookie Dough Bites Recipe

Makes about 10 bites
Ingredients
½ cup organic, gluten-free oats
½ cup raw walnuts or pecans, unsalted
¼ cup coarsely ground flaxseeds
4 medium-sized dates
2 tablespoons cashew butter
1 tablespoon coconut butter
1 teaspoon vanilla extract
½ teaspoon ground cinnamon
¼ teaspoon salt
10 doses (about 150 mg) CBD oil (I like Mana Artisan Botanics Hawaiian Turmeric Hemp Oil for this recipe because the CBD is in macadamia nut oil)
4 tablespoons cacao nibs
Method
1. Add oats, walnuts or pecans, and flaxseeds to a food processor. Pulse about 10 times for 1 or 2 seconds each.
2. Add the rest of the ingredients except the cacao nibs to the processor and pulse 5 to 10 times until the new ingredients are mixed. Take a spatula to the sides of the processor to make sure all ingredients are getting hit by the blade, then pulse again, about 5 times this time for 4 or 5 seconds each. You want the consistency to be a chunky paste, not totally smooth.
3. Remove the mixture from the food processor and put in a medium-sized mixing bowl.
4. Fold in the cacao nibs (like you do with chocolate chip cookies) with a spatula until evenly distributed.
5. Divide dough into 10 even sections and roll each into a ball about the size of a Ping-Pong ball.
6. Store in the freezer, and when you're ready to eat, just allow about 10 minutes for them to thaw before enjoying.
Advertisement
This ad is displayed using third party content and we do not control its accessibility features.