These Banoffee Cups Will Be Your New Favorite Vegan Dessert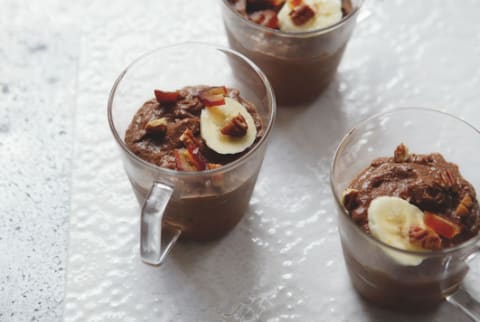 Photo by Superfoods Superfast
August 6, 2016
End your meal on a high note with this dessert — it's so, so easy but so, so good! And it's so, so healthy, too! If you need cheering up or you need to cheer someone else up, make this. There's no way a smile won't appear after just one spoonful!
Vegan Banoffee Cups
Ingredients
2 large ripe bananas
16 medjool dates, pitted
120 grams (1 cup) pecans, chopped
1 avocado, peeled and stoned
500 mL (2 cups) coconut milk
4 tablespoons raw cacao powder
4 tablespoons cashew butter
4 ice cubes
Method
Cut 4 slices of banana and 1 date into small slices and set aside with a few of the pecans. Blend all the rest of the ingredients in a food processor or blender until nicely smooth.
Spoon into cups or bowls and place in the freezer for 10 minutes to set. Top with the pecans and reserved banana slices and dates, and serve.

Julie Montagu
Julie Montagu is one of London's top yoga and nutrition teachers. As Cosmopolitan put it, "Among London's taut-buttocked set, the name Julie Montagu is talked about with the sort of reverence reserved for the Dalai Lama. (Her Sunday class in SW3 gets so packed that she often teaches standing on a radiator. True Story.)"
Julie is the star of Bravo TV's "Ladies of London" and the brains behind her new membership wellness site www.truly-julie.com. Married with four children, Julie's workshops on self love, letting go and happiness have been sell out successes. Head to www.juliemontagu.com for more information.