The Absolute Best Gluten-Free Desserts

Registered Dietitian
By Jessica Cording, M.S., R.D., CDN
Registered Dietitian
Jessica Cording, MS, RD, CDN, INHC is a registered dietitian, health coach, and author with a passion for helping people simplify their wellness routine and build sustainable healthy habits.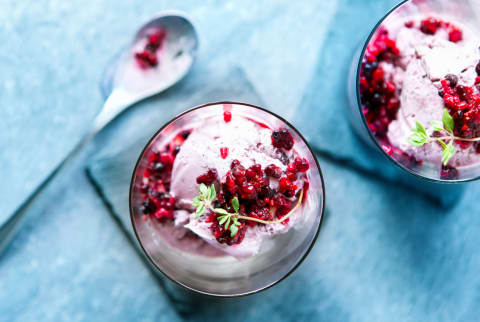 April 27, 2018
Eating a gluten-free diet doesn't have to mean going without delicious desserts for the rest of your life. While it can be intimidating to make a big shift in your eating, there is a wide range of options out there even when you're avoiding gluten.
As a registered dietitian, of course, I wouldn't be doing my job if I didn't highlight the fact that a gluten-free dessert is still dessert—and best enjoyed in moderation. Besides, when you savor something as a treat, it's more of an experience as opposed to a habit, and that's what can help you stay satisfied and on track for the long haul.
If you're new to gluten-free eating, it can be overwhelming at first and easy to get caught up in a scarcity mindset around all those things you can't eat anymore. Instead, try reframing this restriction as an opportunity to get creative in your cooking and to explore new options when you're shopping for pre-made desserts.
For example, if you're used to making pie crust with all-purpose flour, you might find you love using ground-up nuts or making your own oat flour out of those same gluten-free rolled oats you love for breakfast.
When purchasing pre-made gluten-free dessert, check nutrition labels and ingredients lists to make sure that product suits your particular needs and preferences.
The science of gluten-free dessert.
Because gluten acts as a binding agent, gluten-free recipes often take some experimentation with different ratios of various gluten-free flours to find that perfect balance of wet to dry ingredients so your dessert actually cooks through but doesn't crumble apart or completely dry out. Here are some gluten-free ingredients you might find used in place of gluten-containing flours like all-purpose and cake flour:
buckwheat
chia
chickpeas
coconut
corn
flax
gluten-free oats
nut flours
potato
rice
quinoa
sorghum
tapioca
Since each of these has its own unique properties, you'll find some variation in how well they combine with other gluten-free flours. Additionally, some will be better suited to certain types of recipes than others. A fruit tart and a cake, for example, may need very different ingredients because you're looking for a different taste and texture in the end product.
I've definitely found gluten-free desserts intimidating (think: flashbacks to Organic Chem lab, where any sounds of breaking glass or explosions were usually coming from my station), but if you're someone who loves to nerd out on the science of gluten-free baking, it can be a fun challenge and immensely satisfying when it goes well.
If you're more on the scaredy-cat/"I can't even" end of the spectrum, there are many gluten-free baking mixes available for those times when you want to be able to bake someone a birthday cake and know it will come out tasting and looking like one would imagine a birthday cake is supposed to without having to say, "Sorry, I tried."
That said, it's the thought that counts, and sometimes the fails along the way turn into a good story and end up resulting in a beautiful finished product.
If you're discouraged by your efforts, don't think you're alone—there's a learning curve, for sure. Mary Ellen Phipps, RDN, is the registered dietitian nutritionist behind Milk & Honey Nutrition and creates a lot of healthy and delicious gluten-free recipes that her whole family loves. Her husband has celiac disease, and from having been a type 1 diabetic herself, Phipps knows how important it is to be able to enjoy a meal or celebration with one's family.
She says, "If you're new to gluten-free baking, I'd recommend starting with a pre-made blend of flours rather than trying to create your own. This way, you can try out some new recipes with a blend that's already been tested."
The reason for this, she explains, is that "Gluten-free flours behave differently than wheat flour, and it's helpful to use a mix of flours to achieve an end product most similar to wheat-based baked goods. These blends will also already have a binding agent added, like xanthan gum, which is needed to prevent baked goods from crumbling apart when baking without gluten."
Here are some recipe ideas to get those creative juices flowing. I'm also going to name-drop a few brands here and there but just want to be up front that I don't have any ties to any of these companies—they're just some favorites of my clients and colleagues.
Gluten-Free Bars and Balls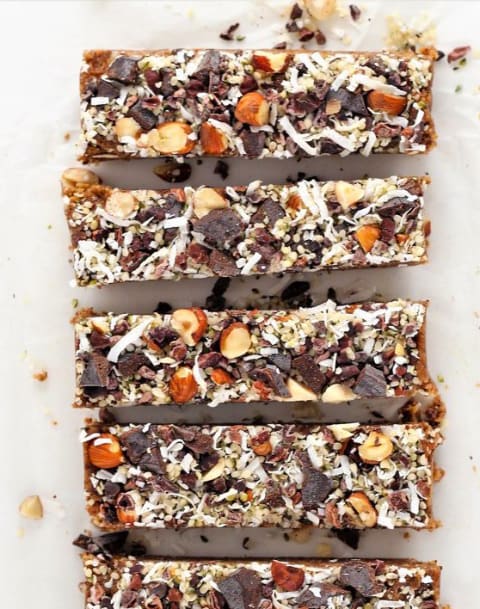 Photo: Milk & Honey Nutrition
Magic Bars were a favorite dessert in my house growing up. You have a cookie layer on the bottom and then toppings like coconut flakes, chocolate chips, and nuts on top. These no-bake Grain-Free Chocolate Hazelnut Magic Bars are made with hazelnut flour and almond butter to add lots of nutrients and flavor. They're also super-easy to customize with your favorite toppings. Super-trendy fat balls are also a great choice and are naturally gluten-free. This mint chocolate chip version is a great option.
Gluten-Free Brownies
Striking a balance between a dried-out block of something that tastes vaguely like chocolate and a soupy, gloppy mess that refuses to bake can take some trial and error, but it is possible to achieve that craveable moist, fudgy texture. Pureed pumpkin and mashed sweet potato are both delicious hacks that also add a bonus dose of nutrients like fiber and vitamin A. This Sweet Potato Brownie recipe from Gina Harney, the healthy living blogger behind The Fitnessista, NASM personal trainer, and group fitness instructor, will become an instant classic in your kitchen.
Gluten-Free Cakes
This gluten-free almond cake has simple ingredients and is shockingly easy to make. If you're intimidated by an entire cake, start with cupcakes. Pre-made gluten-free cake mixes also make life easier. I often recommend Bob's Red Mill, Hodgson Mill, Arrowhead Mill, and Glutino to my clients.
You can also go buy a cake that's already made. Many dietitians visit their local Trader Joe's for gluten-free cake options, and Katz Gluten-Free Bake Shoppe is great for products like cupcakes, muffins, doughnuts, mini-pies, and more.
Gluten-Free Cookies
With cookies, you want to make sure to strike a good balance between wet and dry ingredients and be mindful of adjustments you may need to make for heat, length of cooking, and whether certain items will spread more (or not at all) when baking.
Gluten-Free Frozen Desserts
Because many frozen desserts like ice cream and frozen yogurt contain gluten (especially if they have mix-ins like candy, cookie pieces, and the like) or may be susceptible to cross-contamination, reading labels will save you a lot of aggravation.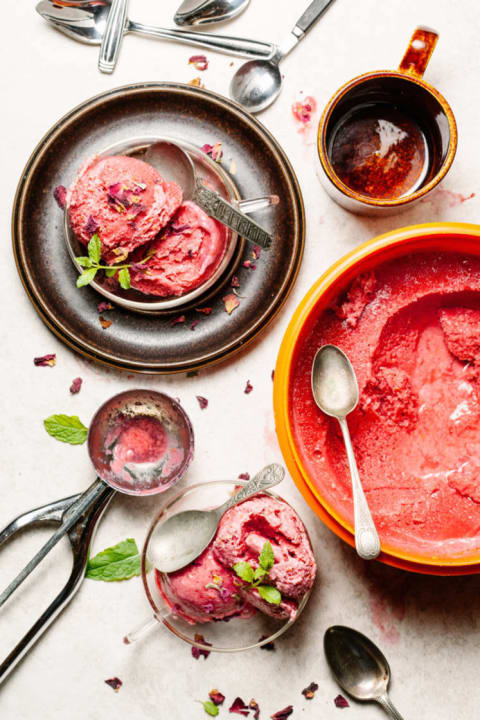 On the chocolate end of the spectrum, these Dark Chocolate Banana Bites are the no-fuss treat I make when I want a little taste of something sweet. All you need is bananas and gluten-free chocolate.
The freezer aisle is also a great place to find gluten-free frozen cakes, cheesecakes, and other treats. My fellow R.D.s love Daiya's Frozen Cheezecakes, and again, Trader Joe's is a popular destination for gluten-free goodies.
Gluten-Free Lava Cake
Looking for a grain-free, dairy-free dessert without refined sugar that still tastes decadent? Try this recipe for Almond Butter Lava Cakes. They're perfect for a dinner party or when you want a little something sweet that won't put you into a sugar coma.
Gluten-Free Pies and Tarts
Making sure your crust is made with gluten-free ingredients is the first step, but you also want to be careful with fillings, as well. Many pie recipes call for flour as a thickener. This is a great gluten- and sugar-free pumpkin pie recipe. In the mood for something fruitier? This strawberry rhubarb pie is a great pick.
My absolute favorite healthy picks to purchase are Hail Merry's tarts, which are made with coconut oil and nuts.
Gluten-Free Pudding, Mousse, and other Creamy Goodness
Looking for something creamy and delicious? This sweet potato chocolate mousse is utterly decadent—and it's also free of refined sugar. Serve it topped with fresh berries.
Naturally Gluten-Free Desserts
Don't forget that there are a whole bunch of delicious options that just happen to be gluten-free. Fresh fruit, for example, doesn't contain any gluten, and you can get really creative with it.
More good news: Many brands of chocolate are gluten-free, but make sure you check labels, as other ingredients like candy-bar fillings may not be, or those products may be a risk for cross-contamination.
The main take-away? You have lots of options!
Giving up gluten doesn't have to mean missing out on special treats and celebrations with your nearest and dearest. There's a wide world of beautiful, gluten-free desserts out there, so don't be afraid to branch out and make different recipes or buy products you've never tried before. Chances are, you'll find plenty of new things to love.
Here are some healthy treats you'll find on grocery store shelves in 2018—some without gluten!