Close Banner
Advertisement
This ad is displayed using third party content and we do not control its accessibility features.
The Dairy-Free Avocado Ice Cream You Need To Try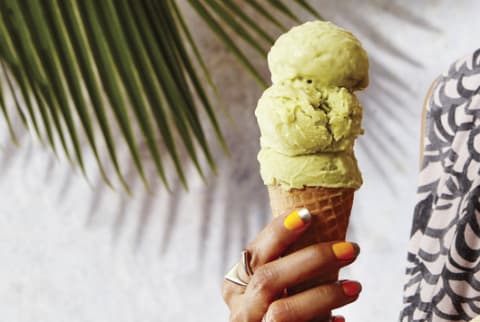 The Mexican state of Michoacán grows amazing avocados—many are exported to the United States—so it's no surprise that it's where I found inspiration for this recipe. This particular combination of avocado and passionfruit was one I tried in the form of a paleta (a Mexican ice pop) in Morelia, the capital of Michoacán. The acidity of passionfruit cuts through the richness of avocado, while still complementing its flavor in a very unexpected way. Avocados are so luscious and velvety that you can make a perfectly creamy sorbet, like this one, without adding any emulsifiers.
Avocado Sorbet
2 cups fresh or thawed frozen passionfruit puree*
¾ cup plus 2 tablespoons sugar (you can sub coconut sugar)
2 small ripe avocados
½ teaspoon kosher salt
1 tablespoon freshly squeezed lime juice
In a small saucepan, combine the passionfruit puree and sugar. Cook over medium-high heat, stirring, until the sugar dissolves. Remove from the heat and allow to cool to room temperature.
Cut the avocados in half lengthwise. Remove the pits and scoop the flesh into a blender or food processor. Add the cooled passionfruit mixture and the salt and process until smooth, scraping down the sides of the blender jar or bowl as needed. Add the lime juice and process just until combined. Pour the mixture into a bowl, cover, and refrigerate until cold, about 2 hours.
Freeze and churn in an ice cream maker according to the manufacturer's instructions. For a soft consistency, serve the sorbet right away; for a firmer consistency, transfer it to a container, cover, and allow to harden in the freezer for 2 to 3 hours.
*Note: Look for frozen passionfruit puree in Latin American markets and specialty grocery stores.

Fany Gerson
A graduate of the Culinary Institute of America, Fany has worked in a range of fine-dining kitchens around the world. She is the founder of La Newyorkina, a catering company, roving food truck, and soon-to-be brick-and-mortar restaurant in Manhattan, and Dough bakery. Her work has been featured in the New York Times, Gourmet, Fine Cooking, Daily Candy, and more. She's the author of Mexican Ice Cream, Paletas, and My Sweet Mexico.