Stop Everything And Make This Protein-Packed, Sugar-Free Deep-Dish Chocolate-Chip Cookie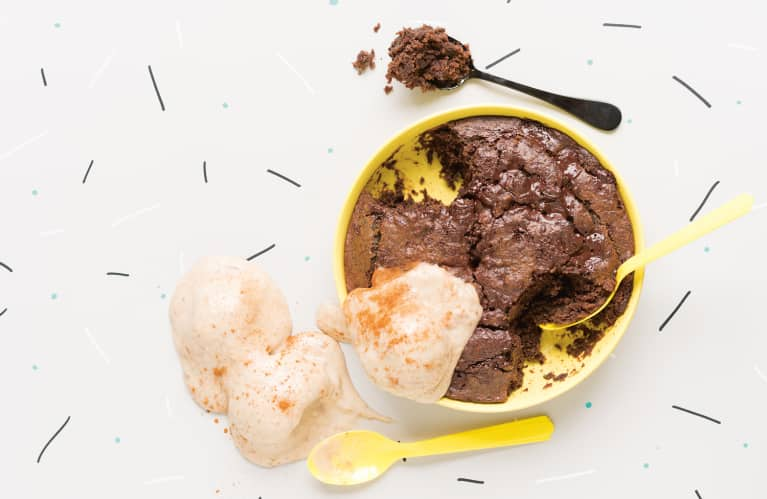 Our editors have independently chosen the products listed on this page. If you purchase something mentioned in this article, we may
earn a small commission
.
Chickpeas are the secret ingredient du jour—you can make meringues from their juice, whiz the legumes themselves up into a hummus, and now, apparently, use them to make a protein-packed dessert. This chocolate-chip cookie, from Margie Broadhead's Guilt-Free Nice Cream, sweetened only with applesauce and a touch of maple syrup, gets a ton of protein and fiber from chickpeas. Top it with the dairy-free cinnamon "ice cream," and you're in for a decadent, healthy treat.
Don't shudder when you see beans listed as an ingredient in this cookie recipe. I promise you can't taste them, and they make the most decadent-tasting cookie that is naturally gluten-free and deliciously squidgy. Just don't tell your friends what is in the cookie before they eat it!
Deep-Dish Chocolate-Chip Cookie with Cinnamon Nice Cream
Serves 4 to 6 people
Ingredients
For the Cinnamon Nice Cream:
2 ounces coconut oil, melted
2 teaspoons ground cinnamon
1 teaspoon vanilla extract
6 bananas, peeled and frozen
2 tablespoons coconut yogurt
8 pitted Medjool or ordinary dates, roughly chopped
For the chocolate chip cookie:
14 ounces canned chickpeas (garbanzo beans), drained and rinsed
1 cup rolled oats
⅓ cup unsweetened applesauce
2 tablespoons melted coconut oil
2 teaspoons vanilla extract
½ teaspoon bicarbonate of soda (baking soda)
2 teaspoons baking powder
½ teaspoon sea salt
4 ounces maple syrup
½ cup coconut sugar
1 cup dark chocolate chips
For the Cinnamon Nice Cream, simply blend everything together (except the dates) in a food processor until smooth and creamy. Finally, stir in the chopped dates and pop into the freezer to firm up for a couple of hours.
To make the cookie, preheat the oven to 375°F. Take a round 10-inch pie dish and grease it lightly with coconut oil. Put all the ingredients (except the chocolate chips) in a food processor and blend until smooth, scraping down sides every 30 seconds. Fold in the chocolate chips. Pour the mixture into the prepared tin, sprinkle with more chocolate chips if you want, and bake for 35 to 40 minutes or until firm to the touch. Don't be tempted to overbake the cookie. Remove from the oven and leave to cool for 10 minutes.
To serve, top with scoops of the Cinnamon Nice Cream and take to the table with lots of spoons so people can dig in. Of course, for a more formal affair, slice the cookie up and put on individual plates along with a scoop of nice cream.
And do you want to turn your passion for wellbeing into a fulfilling career? Become a Certified Health Coach! Learn more here.