This Vegan Chocolate Mousse Has A Surprising Secret Ingredient (It's Not Avocado!)
Contributing Food Editor
By Liz Moody
Contributing Food Editor
Liz Moody is a food editor, recipe developer and green smoothie enthusiast. She received her creative writing and psychology degree from The University of California, Berkeley. Moody is the author of two cookbooks: Healthier Together and Glow Pops and the host of the Healthier Together podcast.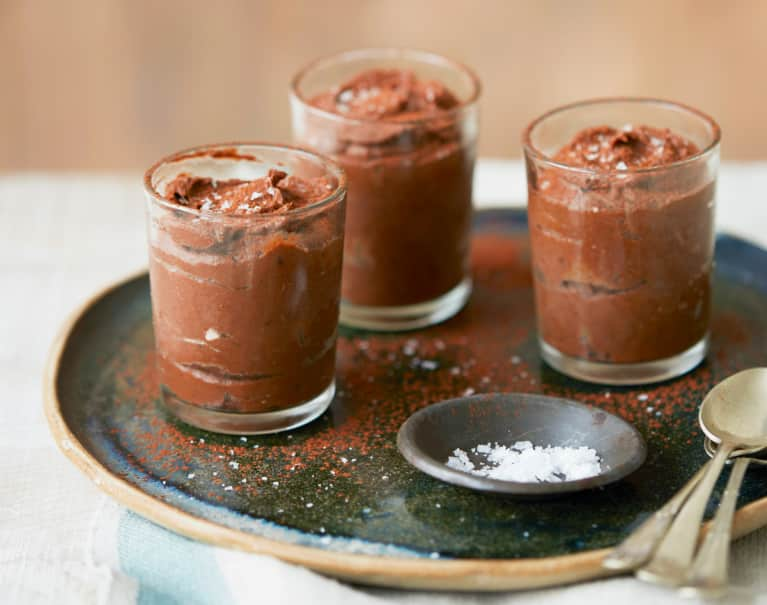 Our editors have independently chosen the products listed on this page. If you purchase something mentioned in this article, we may
earn a small commission
.
Leah Vanderveldt's cookbook, The New Nourishing, is packed to the brim with delectable comfort-food favorites, all remade with ingenious uses of healthier ingredients to create results that are truly, well, nourishing to the body and soul. It's no coincidence Leah has such an mbg-friendly approach to food—she spent years as a food editor at the site, learning from the best doctors and R.D.s and honing her own recipe-development skills. This chocolate mousse forgos the very trendy avocado for fiber and vitamin-A-packed sweet potato, which will soothe your gut and make your skin glow. Did we mention it's completely delicious?
Sweet Potato Chocolate Mousse
Serves 2
I was very surprised by these little cups of mousse when I first made them. They were so easy to throw together (just seven ingredients all in one bowl!), and the flavor was just what I was looking for—dark chocolaty and lightly sweetened. This mousse is more true to a dense (yet fluffy) chocolate mousse than avocado-based versions. I love portioning them into little jars for a snack or dessert to grab throughout the week—they keep well in the fridge for five to six days. I like to serve them with a little sprinkle of sea salt and coconut whipped cream, if I have it.
Ingredients
1 large sweet potato, scrubbed clean
5 tablespoons good-quality cocoa powder
¼ cup maple syrup
3 tablespoons coconut cream
1 tablespoon coconut oil
1 tablespoon ground chia seeds
sprinkle of flaky sea salt, to serve
2 small sterilized jars or glasses (optional)
Preheat the oven to 400°F.
Poke the sweet potato with a fork a few times, place on the oven rack, and bake in the preheated oven for 45 to 60 minutes or until it's soft when you squeeze it.
Remove from the oven and allow the sweet potato to cool in the foil.
Once cool, peel the skin off (it should come off easily now). Put the sweet potato flesh into a medium-size bowl and mash roughly with a fork to break it up.
Mix in the remaining ingredients (apart from the sea salt to serve) using a wooden spoon or a handheld electric whisk, until smooth. For the fluffiest, best results, I use a handheld electric whisk.
Portion into small jars or glasses and place in the fridge for at least an hour or overnight. Sprinkle the mousses with flaky sea salt when you are ready to eat.