How To Use CBD For Nerve Pain & Our Top Picks For Oils, Gummies & Balms
Contributing writer
By Jamey Powell
Contributing writer
Jamey Powell is a writer and editor living in Brooklyn, NY. Previously the senior market editor at Healthline.com, she has years of experience scouring endless product reviews and testing out the latest and greatest products in the sleep, fitness, and nutrition markets.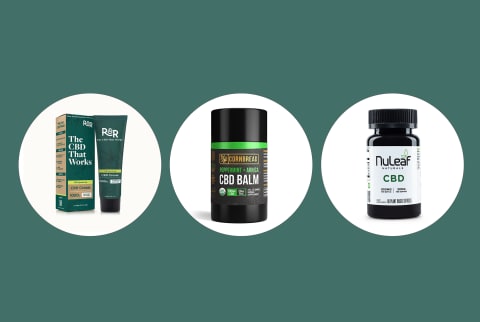 April 2, 2023
Our editors have independently chosen the products listed on this page. If you purchase something mentioned in this article, we may
earn a small commission
.
Nerve pain can be a frustrating symptom of disease or injury to the nervous system. It's typically a type of chronic pain that feels like shooting, tingling, or numbness throughout the body. According to the National Institute of Neurological Disorders and Stroke (NINDS), an estimated 20 million people (and likely more) in the U.S. have experienced some form of peripheral neuropathic pain in their lifetime.
Health care providers who treat nerve pain may suggest a wide variety of treatments, ranging from prescription medicines and injections to stretching, physical therapy, and nerve stimulation therapy. But what about CBD?
While studies are limited, preliminary research and anecdotal evidence suggest that hemp CBD may be a helpful tool for nerve pain.* To learn more about CBD's potential role in helping with nerve pain, we consulted a medical cannabis expert.
Does CBD help with nerve pain?
Among its many purported benefits (such as easing mood and promoting sleep) hemp-derived CBD might also be a promising approach for helping manage with nerve pain.* However, while there are some preliminary, animal-based studies to refer to (as well as a great deal of anecdotal evidence1 about CBD's pain-management benefits), research on CBD alone for nerve pain is limited.
Still, board-certified anesthesiologist Jessica Jameson, M.D., FASA—who also developed her own CBD line—tells us that some preclinical research has produced encouraging findings about CBD's mechanisms in helping with nerve pain.
CBD works by interacting with our endocannabinoid system (ECS), a complex system that manages our body's sense of regulation and balance (i.e., homeostasis). Researchers believe that bioactive plant compounds from hemp like CBD help support the body's inflammatory responses and help reduce stress levels in our bodies—this is especially true with full-spectrum hemp CBD products, which include the full array of compounds of the cannabis plant and offer a greater therapeutic effect called the "entourage effect" (more on this in the "how to choose" section).
Of the few studies on CBD for nerve pain to date, there are some hopeful findings:
This small study from 20202 found that people who used a topical CBD felt relief from nerve-related pain and itchiness.
A 2019 study in rats3 found that CBD was helpful in reducing pain from nerve injuries and minimizing pain-related anxiety.
Two case reports from 20204 found significant relief from using a topical CBD cream to treat lower-back neuropathic pain.
Another 2022 review5 suggests that while the body of research around CBD for nerve pain is small and recent, the existing findings should encourage researchers to take a deeper (more clinical) dive into the relationship between phytocannabinoids from hemp and our body's nervous system.
What can't CBD do for nerve pain?
It's important to note that while CBD may help relieve neuropathic pain,* there is currently no evidence to suggest it may reverse or heal nerve damage. It's advantageous to manage your expectations when trying any new treatment but especially CBD, which can affect each person differently.
When it comes to finding the right CBD dose for you, Jameson says, "You should always check with your health care professional before deciding what route and dosage to use, and it is important to start low and go slow."
Types of CBD for nerve pain
Hemp-derived CBD products come in several ingestible and topical forms, such as:
oil tinctures (ingestible)
capsules (ingestible)
gummies (ingestible)
balms or salves (topical)
lotions or creams (topical)
"Topical agents act locally on the area to improve symptoms, while ingestible products exert their effect throughout the entire body. Some people prefer to use one or the other or both," says Jameson.
Most of the existing research on CBD for nerve pain uses topical methods of application, such as a balm or cream, as nerve pain is often targeted and felt just under the skin. But oral CBD products can also work to take a broader stab at whole-body health and may be a good fit for people looking to reap additional benefits.*
Whatever you choose, Jameson says that there are three important boxes to tick when shopping for a CBD product: full-spectrum, third-party lab testing and organic farming. We took those criteria to heart when picking the products for this list.
How we picked:
Transparency
Per Jameson's recommendation, we only included brands that are transparent about their ingredients, provide proof of third-party testing certificates of analysis (COAs) to ensure quality and safety, and use organic hemp to ensure you're not exposed to unnecessary toxins.
Brand reputation
We only featured brands that have reputable certifications and outstanding business practices and read the reviews to ensure each product lived up to the hype. Plus, most of the brands on our list have additional sustainability initiatives baked into their business, which we of course love to see.
Price
Quality, organic CBD products can get expensive, especially with higher potencies. We included a range of products with varying price points and potencies to meet every budget.
Variety
Topicals can help target your CBD dose toward a specific area, while ingestibles take a more holistic approach. Whether you're hoping to try a topical cream or chew a gummy, there's a quality product on our list for you.
A few of our favorite CBD products:
Advertisement
This ad is displayed using third party content and we do not control its accessibility features.
Advertisement
This ad is displayed using third party content and we do not control its accessibility features.
Advertisement
This ad is displayed using third party content and we do not control its accessibility features.
How to choose
Pick your preferred hemp type:
Per Jameson's recommendations, we focused on full-spectrum hemp CBD products on our list, with the exception of our "best broad-spectrum" pick. As you hunt for your best CBD for nerve pain, it helps to know the difference between the different terms out there:
Full-spectrum: Full-spectrum products contain CBD and an array of other cannabinoid compounds, including 0.3% or less THC by dry weight (which is within the federal limit), plus terpenes, flavonoids, and more. Researchers6 believe full-spectrum hemp CBD benefits from the "entourage effect," a theory that the combination of compounds makes it a more powerful product.
Broad-spectrum: While this type contains other compounds like terpenes and flavonoids, it is filtered to contain 0.0% THC. If you're routinely drug tested or simply want to avoid THC, this is probably a better pick for you.
Isolate: This is the simplest form of CBD. It doesn't have any additional compounds. There aren't any CBD isolate products on this list.
Topical vs. ingestible CBD:
As Jameson noted, whether you choose a topical or ingestible CBD product depends mostly on personal preference. Still, nerve-related pain may benefit from targeted topicals like balms or salves, while more holistic problems might be better off with an ingestible like a gummy, capsule, or oil tincture.*
If you opt for a topical, consider the possible scents or sensations (such as cooling menthol), and if you go for an ingestible, you may want to shop around for a flavor that entices you (but always keep in mind the other ingredients added to the formula).
Ease of application:
If you do go for a topical, consider how easy it'll be to use the product on a regular basis. Some CBD users prefer a balm in a handy twist tube, while others like the feel of a silky lotion. This is another personal preference factor, but it's worth considering if you travel often or have an injury that makes your problem areas hard to reach.
Budget vs potency:
As you'll notice, CBD gets more expensive when the potency is higher. For some folks, a higher-potency option may be worth the price, especially if you're a seasoned CBD user or are opting for a topical that might need a little extra oomph to feel effective.
If you're shopping on a budget, it's something to be aware of, especially for newer CBD users. "If this is your first time taking cannabidiol, then it's probably better to start with a lower dose and slowly increase over time," says Jameson.
FAQ
Do CBD gummies work for nerve pain?

It's still early days for research around hemp CBD and nerve pain, and there aren't any studies to suggest that gummies with CBD-containing hemp extracts in particular are a beneficial approach for nerve pain.

There are some encouraging findings in the general study of CBD, however, which suggest that CBD may help support the body's inflammatory response and help with pain (comfort) levels.* Just know that people respond to CBD differently, and it may take some trial and error to find a dosage that works for you.
Which type of CBD is best for nerve pain?

At this point, the jury's still out on whether there's a best type of CBD product or delivery format for nerve pain. If you're hoping to take a more full-body approach, an ingestible CBD product like a gummy, capsule, or tincture may be for you. If you're hoping to take a more targeted approach to nerve pain, balms and creams are an easy way to apply CBD directly to the areas causing you pain.
What are the side effects of CBD?

Some possible side effects of CBD are sleepiness, fatigue, and appetite changes. You should speak to your doctor before using any type of CBD if you're breastfeeding or pregnant, and avoid CBD if you are allergic to the hemp plant (this is rare).
The takeaway
There's still a lot we don't know about the relationship between CBD and nerve pain. But, while the effects of CBD vary and it may take some trial and error to find the right dose and product for you, there's enough early data to suggest that CBD may be a helpful tool in helping with nerve pain.* CBD is likely not the answer for nerve pain, but it may indeed be a useful piece of the puzzle. If you're suffering from nerve pain and are unsure what to try, be sure to speak with your health care provider.
These statements have not been evaluated by the Food and Drug Administration. These products are not intended to diagnose, treat, cure, or prevent any disease.
If you are pregnant, breastfeeding, or taking medications, consult with your doctor before starting a supplement routine. It is always optimal to consult with a health care provider when considering what supplements are right for you.
Meet The Experts
Jamey Powell
is a writer and editor living in Brooklyn, NY. Previously the senior market editor at Healthline.com, she has years of experience scouring endless product reviews and testing out the latest and greatest products in the sleep, fitness, and nutrition markets.
Eloise Theisen is a board-certified Adult Geriatric Nurse Practitioner who specializes in cannabis therapy.
6 Sources