The 8 Best CBD Oils & Topicals For Inflammation In 2023
Contributing writer
By Jamey Powell
Contributing writer
Jamey Powell is a writer and editor living in Brooklyn, NY. Previously the senior market editor at Healthline.com, she has years of experience scouring endless product reviews and testing out the latest and greatest products in the sleep, fitness, and nutrition markets.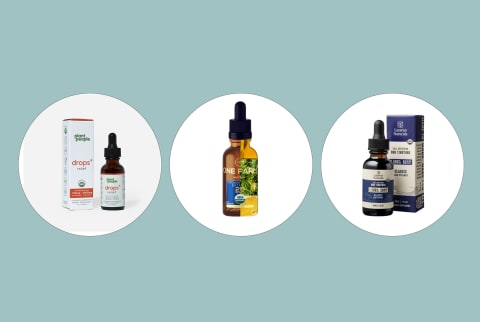 March 23, 2023
Our editors have independently chosen the products listed on this page. If you purchase something mentioned in this article, we may
earn a small commission
.
Inflammation may sound like a scary word, but it's actually a natural part of our body's immune system. Still acute inflammation from muscle strain or dietary choices can be uncomfortable at best, while chronic inflammation left unchecked over time can lead to serious health issues. But early research suggests that CBD from hemp may help modulate inflammatory responses in our bodies—yep, yet another reason folks are turning to the cannabinoid.*
The best CBD oils & topicals for inflammation:
Disclaimer: Our website includes general information and instruction relating to health and wellness topics. This content is not a substitute for medical advice from your healthcare provider. All treatment decisions should be determined in partnership with a health care practitioner. Hemp CBD products are derived from U.S. industrial hemp (less than 0.3% THC) and European hemp (less than 0.2% THC). While hemp CBD products are legal on a federal level in the U.S., some states have specific laws, so you'll want to check your state's laws to be sure
What causes inflammation?
Inflammation1 is typically our body's response to defend against infection, injury, or disease—in the best case, it's our immune system going to work to protect us! Potential causes of inflammation include injury or bacteria, although certain foods, alcohol, chronic conditions, and some medications can also be triggers.
There are two main types of inflammation: acute and chronic inflammation. The former is the body's natural inflammatory response to help you heal, often a result of pain from exercise or an injury. On the other hand, chronic inflammation is when your body's inflammatory response is permanently on, leading to problematic health issues2 over time.
Can CBD help with inflammation?
The research behind CBD's impact on inflammation is still in the early stages, but medical cannabis expert and double-board certified doctor Dave Gordon, M.D., says it's promising.
"CBD has many anti-inflammatory properties and is an effective tool to help reduce inflammation throughout the body,"* explains Gordon. "This is important for optimal health, as too much inflammation is part of the root cause of nearly every single chronic disease."
When it comes to understanding the benefits of CBD from the hemp plant, research has a long way to go. Still there have been some early studies3 that suggest that CBD could be a promising tool for combating inflammation by binding to our bodies' endocannabinoid receptors4. One 2020 study5 in particular found that CBD might decrease chronic inflammatory pathways in people with joint concerns like rheumatoid arthritis.*
Are oral or topical CBD products best for inflammation?
Ever since hemp-derived CBD exploded on the scene, the types of CBD products on the market have continued to expand. With gummies, creams, oils, and salves to choose from, we asked Gordon what worked best for encouraging a healthy inflammatory response.*
"I typically recommend ingested CBD products for reducing inflammation," he says. "There is more research on using CBD systemically (throughout the body). Also, pain and irritation in other body parts is often caused by gut inflammation, and oral CBD has been shown to improve gut health6."*
Still, if your inflammation is centralized, a CBD cream or balm may be worth a try. "Topicals work just on or under the surface where they are applied and can be an option for hand and foot symptoms or sore muscles," explains Gordon.
Understanding CBD types:
Most experts (Gordon included) recommend full-spectrum hemp CBD products. "Full-spectrum" means that the product contains the full array of compounds from the cannabis plant, such as cannabinoids, terpenes, and flavonoids. Researchers believe this mega-mix provides an "entourage effect," where all of the plant's compounds work together to create the most beneficial outcome.
However, it's worth noting that full-spectrum hemp contains 0.3% or less THC (i.e., trace levels) by dry weight—that's within the legal U.S. federal limit7 (and won't produce mind-altering effects). For those hoping to avoid THC entirely, broad-spectrum hemp may be a better fit (we included a great option on this list!). Broad-spectrum hemp retains the same compounds as full-spectrum, but filters out the THC. However it may still have undetectable amounts that could pop up on a drug test.
CBD Glossary:
Endocannabinoid system (ECS): A cellular-level communication network involving cannabinoids, cannabinoid receptors, and specific enzymes. This unique, whole-body system is responsible for maintaining homeostasis across all the body's organs and physiological functions, including but not limited to stress resilience, mood, sleep, appetite, inflammatory balance, and pain modulation.
Cannabinoids: Unique bioactive compounds that interact with your body's endocannabinoid receptors. Your body creates cannabinoids (called endocannabinoids, like anandamide and 2-AG) and you can also ingest them (called phytocannabinoids, like CBD) from certain plants like Cannabis sativa, aka hemp.
Cannabidiol: The formal name for CBD, a unique phytocannabinoid compound found in the hemp plant (Cannabis sativa).
Terpenes: Unique aromatic bioactive phytonutrient compounds that give many plants their unique aroma, flavor, and beneficial biological properties.
Flavonoids: A large family of polyphenolic phytonutrients found in many plants (including hemp) that give particular flavors, colors, and health properties.
How we picked:
Organic hemp
When it comes to hemp CBD, going organic means you're avoiding putting nasty pesticides and herbicides into your body (and into the environment). All of the picks on this list use USDA certified organic hemp in their products, which means they come from farms that are accredited by the U.S. Department of Agriculture for organic farming practices.
Variety
As Gordon explained, some inflammation is better treated orally, while some ailments can be tackled topically. We made sure to offer a few topical options, as well as a mixture or oral CBD products, so you can find what works best for you.
Ratings & reviews
We read hundreds of reviews on these products, especially focused on feedback that mentioned support for inflammatory processes.
Transparency
As part of our vetting process, it's crucial that brands provide access to third-party testing results and share information about their sourcing. All of the picks on our list are open and informative about where their hemp comes from and how they manufacture their products.
A guide to CBD dosage
Hemp CBD affects each person differently, so finding the right dose for you might take some trial and error. For a baseline reference, here's how we categorize hemp CBD potency here at mindbodygreen:
Gentle: Less than 20 mg of hemp CBD per serving
Moderate: 20 to 40 mg of hemp CBD per serving
Strong: 40+ mg of hemp CBD per serving
Our picks of the best CBD products for inflammation:
Advertisement
This ad is displayed using third party content and we do not control its accessibility features.
Advertisement
This ad is displayed using third party content and we do not control its accessibility features.
Advertisement
This ad is displayed using third party content and we do not control its accessibility features.
Advertisement
This ad is displayed using third party content and we do not control its accessibility features.
How to choose
Topical or oral
As Gordon mentioned, topical CBD products, like creams or balms, can be beneficial for targeted pain on or just below the skin. Otherwise, ingestible CBD products may be a better fit for more widespread inflammatory processes going on.
Choose your carrier oil
CBD oils are usually paired with a carrier oil(aka diluent), which can be anything from MCT oil (almost always derived from coconut) to sunflower oil, extra virgin olive oil, or hempseed oil. Be sure to read the ingredient list to ensure you're aware and good with the other ingredients in the product before making a purchase.
Pick your potency
CBD products from hemp extracts come in a pretty wide range of potencies, and determining the right strength for you will depend on your body size, experience with CBD, the type of product (topical or ingestible) you're using, and the health support area you're focusing on. If you're new to CBD, most experts (Gordon included) recommend starting small, around 15 to 20 mg of CBD per serving and working your way up. If you're a seasoned CBD pro, you may want a stronger potency product, which could be anywhere between 40 to 70 mg of CBD per serving.
Mind your budget
While it's true that a quality CBD product may cost a little more than a sketchy one (or one with cheaper "other ingredients"), buying from a reputable brand doesn't need to cost an arm and a leg. Dig around to find the brands that prioritize financial accessibility with lower costs and assistance programs (like Lazarus Naturals on this list). And remember that higher potency options will cost more so, if you're a newbie, save some cash and start with a lower dosage!
FAQ:
Does CBD bring down inflammation?

While research has a long way to go, early studies (and anecdotal evidence) suggest that CBD can be an effective tool for fostering a healthy inflammatory response, especially as it relates to the health of our joints and GI tract.* It also may be a helpful tool for alleviating muscle pain from exercise. People are increasingly interested in finding effective alternatives or adjuncts to pain medications.
How much CBD does it take to fight inflammation?

CBD dosing varies greatly from person to person and product to product. Still, Gordon says that when it comes to full-spectrum oils for targeting inflammatory pathways, taking 10 to 15 mg of CBD twice a day is a good starting point. It's always best to start small and increase your dosage slowly until you find your personal sweet spot with a product.
How quickly does CBD reduce inflammation?

"Studies show CBD can have fairly immediate effects on reducing inflammatory markers, and for many individuals they feel a response within minutes to hours,"* says Gordon. "However, the benefits of CBD are cumulative, and I typically recommend trying a given dose for a couple weeks and then increasing if you're not seeing the desired effects."
The takeaway.
While there's still a lot to learn about the benefits of CBD, early research suggests it may help our bodies produce a healthier, more balanced inflammatory response.* And these days, there's no shortage of ways to incorporate hemp CBD in your routine, whether it's through gummies, capsules, or massage oil.
*These statements have not been evaluated by the Food and Drug Administration. These products are not intended to diagnose, treat, cure, or prevent any disease.


f you are pregnant, breastfeeding, or taking medications, consult with your doctor before starting a supplement routine. It is always optimal to consult with a health care provider when considering what supplements are right for you.
Meet The Experts
Jamey Powell
is a writer and editor living in Brooklyn, NY. Previously the senior market editor at Healthline.com, she has years of experience scouring endless product reviews and testing out the latest and greatest products in the sleep, fitness, and nutrition markets.
Eloise Theisen is a board-certified Adult Geriatric Nurse Practitioner who specializes in cannabis therapy.